This is Anita's mom's recipe for pimento cheese. Anita makes it for almost every family get-together. People love it heaped up on bread as a sandwich. There's never any leftovers.
Leave it to me to trash a family tradition and shove the pimento cheese spread inside a fattie! But hey, it's really, really good! I did stay true to Anita's mom's recipe by not making any substitutions. Some things you just don't mess with.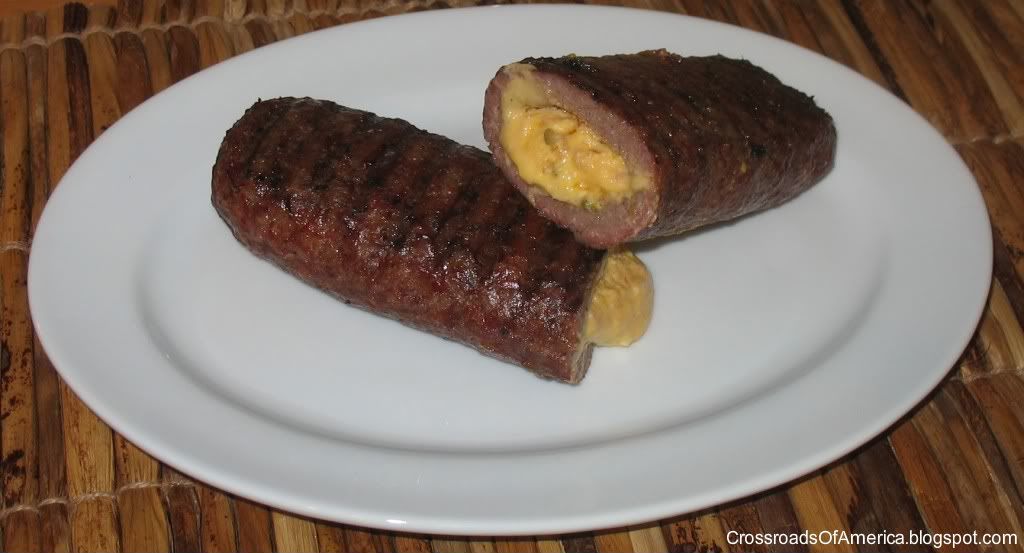 The best way to make the cheese mixture is with a meat grinder. You can also do it by hand, but it'll take a lot of work. A food processor might also work, but I've never tried that. You'd want to be careful to not over-process the mixture.
Makes: 8 sandwiches, or 1 fattie and a few sandwiches
Prep time: 15 minutes
Cook time: 0 minutes (for fattie cook time, see our
fattie page
)
Printable Recipe
Ingredients:
24 slices Kraft American cheese
1 small jar diced pimentos, drained

3 boiled eggs, peeled
Salt and sugar, to taste
3/4 cup Miracle Whip dressing, plus more as needed

5 sweet pickles
1. Feed ingredients except Miracle Whip into a meat grinder. Combine mixture by hand.
2. Stir in Miracle Whip. Add more as needed. You don't want an overly wet mixture, but something that is firm and can hold up in a sandwich.
3. Serve cold for sandwiches or use as a fattie filling.