These came out so tasty and tender.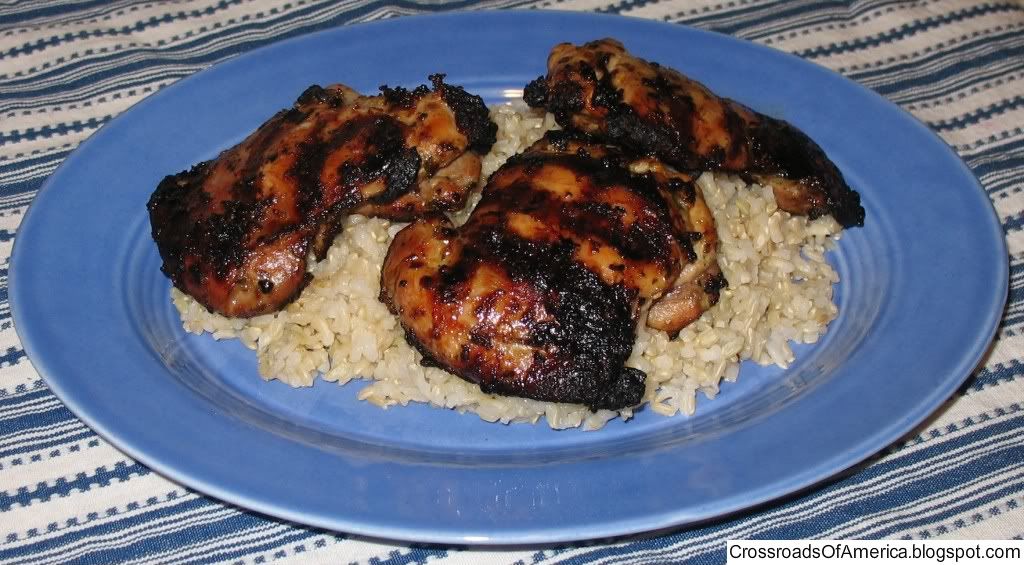 I served this over rice, with Szechuan green beans on the side. Next time I may put the chicken on small buns and top with an Asian slaw - instant Thai Sliders!
I found the original recipe over on
Blues BBQ
. Think I may pick up some of their hot sauces, specially the Habanero Reserve.
Makes: 3 servings
Prep time: 2-4 hours
Cook time: 10-18 minutes
Printable Recipe
Ingredients:
6 boneless, skinless chicken thighs
1/3 cup fresh cilantro, minced
6 cloves garlic, minced
2 T vegetable oil
1 1/2 T soy sauce (I used low sodium)
1 T rice wine vinegar
2 t sugar (I used Splenda)
1-2 t red pepper flakes (or more)
1. Place thighs in a large baggie.
2. Combine remaining ingredients and pour over chicken. Seal bag and toss to coat.
3. Place baggie in the fridge for 2-4 hours to marinate.
4. Heat grill to medium-high heat.
5. Place chicken on grill and cook until done, about 10 minutes per side.