These were fun to make, and even more fun to eat!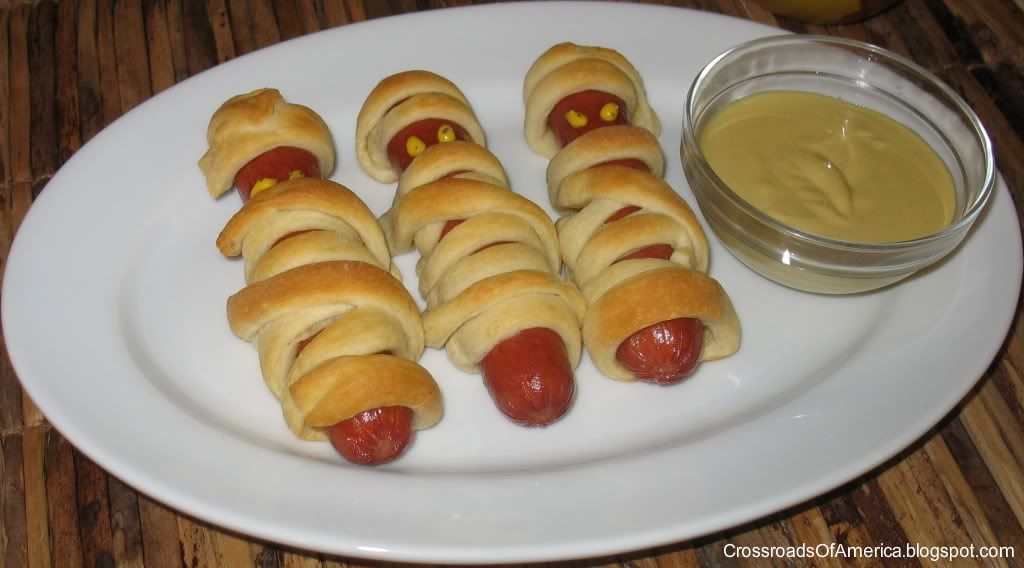 Super easy, too!
Makes: 5-10 servings
Prep time: 5 minutes
Cook time: 13-17 minutes
Printable Recipe
Ingredients:
1 8oz tube Crescent Roll dough
10 hot dogs
Poppy seeds
Mustard and ketchup
Cooking spray
1. Preheat oven to 375 F.
2. Unroll dough and pinch perforations together to form 4 rectangles. Using a pizza cutter, cut each rectangle into 10 strips. You'll end up with 40 strips total.
3. Wrap the strips around the hot dogs, using 4 strips per hot dog, making them look like mummy wrappings. Leave a gap at the top for the face.
4. Place hot dogs on a baking sheet that has been lightly sprayed with cooking spray. Bake 13-17 minutes or until browned.
5. Make eyes on the faces using mustard. Place a single poppy seed in the center of the eyes. Serve with mustard and ketchup.