These shrimp were sooooo good and the rice was amazing -fluffy and flavorable.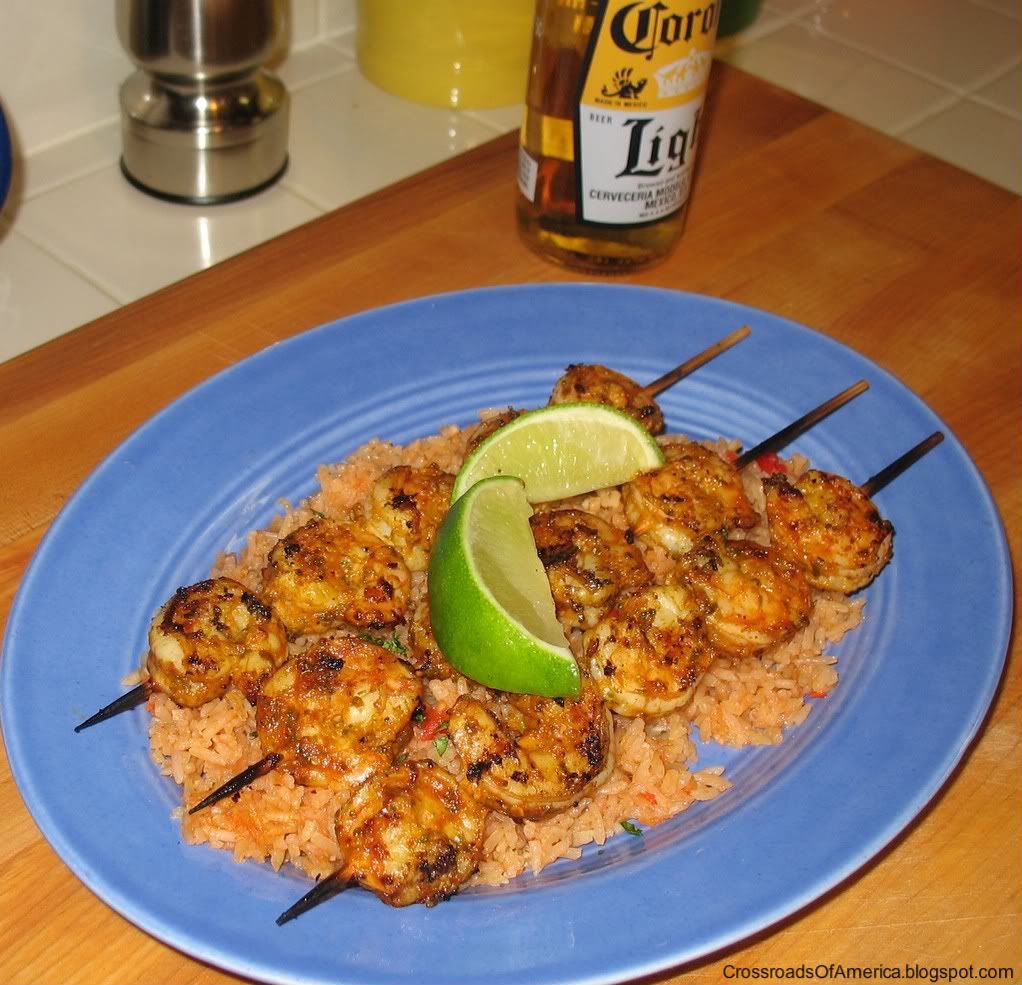 Printable Recipe
For the rice (Note: Start the rice first if you are also making the shrimp recipe):
12 ounce can diced tomatoes
1 medium white onion
3 medium jalapeños, minced
2 cups long grain white rice
1/3 cup canola oil
4 minced garlic cloves
2 cups chicken broth
1 1/2 t salt
1/2 cup fresh cilantro, minced
1 lime
1. Preheat oven to 350° F.
2. Put tomato and onion into blender and pureé. Reserve 2 cups.
3. Place rice in a strainer and rinse under cold water until water runs clear. This make take several minutes, but it is critical that you rinse all the starch off of the rice. Shake rice vigorously to remove excess water.
4. Heat oil in an ovensafe pan or Dutch oven that has a tight fitting lid for about 2 minutes. Drop a few grains of rice into the oil. They will sizzle when the oil is ready. Add rice and fry for 6-8 minutes, until the rice is lightly golden. If you are also making the shrimp recipe below, begin marinating the shrimp now.
5. Reduce heat to medium, add garlic and 2 of the jalapeños and cook, stirring constantly until fragrant, about 2 minutes.
6. Stir in broth pureéd tomato mix, and salt. Increase heat to medium high and bring to a boil.
7. Cover pan and transfer to oven until rice is tender and all liquid has been absorbed, about 30 minutes. Stir and check after 15 minutes. If you do not have a tight-fitting lid you may have to add a small amount of water. If you are also making the shrimp, put them on your preheated grill about 5 minutes before the rice is done. The rice will be done before the shrimp, but it'll need a few minutes to cool slightly before serving.
8. Stir in cilantro and last two jalapeños (to taste). Squeeze fresh lime wedges over top of rice (and shrimp) and serve.
For the shrimp:
2 pounds of large shrimp, cleaned and deveined
1/2 cup olive oil
1/2 cup lemon juice (you can also use lime juice)
1/2 cup fresh parsley
1/3 cup fresh cilantro
4 t garlic, minced
1 T paprika
2 t ground cumin
3/4 t crushed red pepper flakes
1/2 t salt
1/4 t pepper
wooden skewers
1. Soak skewers in water.
2. Throw all ingredients except the shrimp into a blender and process until pureéd.
3. Stir shrimp and marinade together in a large bowl, cover and chill for 30 minutes.
4. Drain shrimp and reserve marinade. Thread shrimp on skewers.
5. Grill shrimp over medium high heat until they just turn pink, turning frequently and brushing with reserve marinade up until when the shrimp are half done. Total cook time will be 10-15 minutes.