I picked up this great recipe over on the
Life's Ambrosia blog
. The meatballs are great, and the slaw is beyond excellent.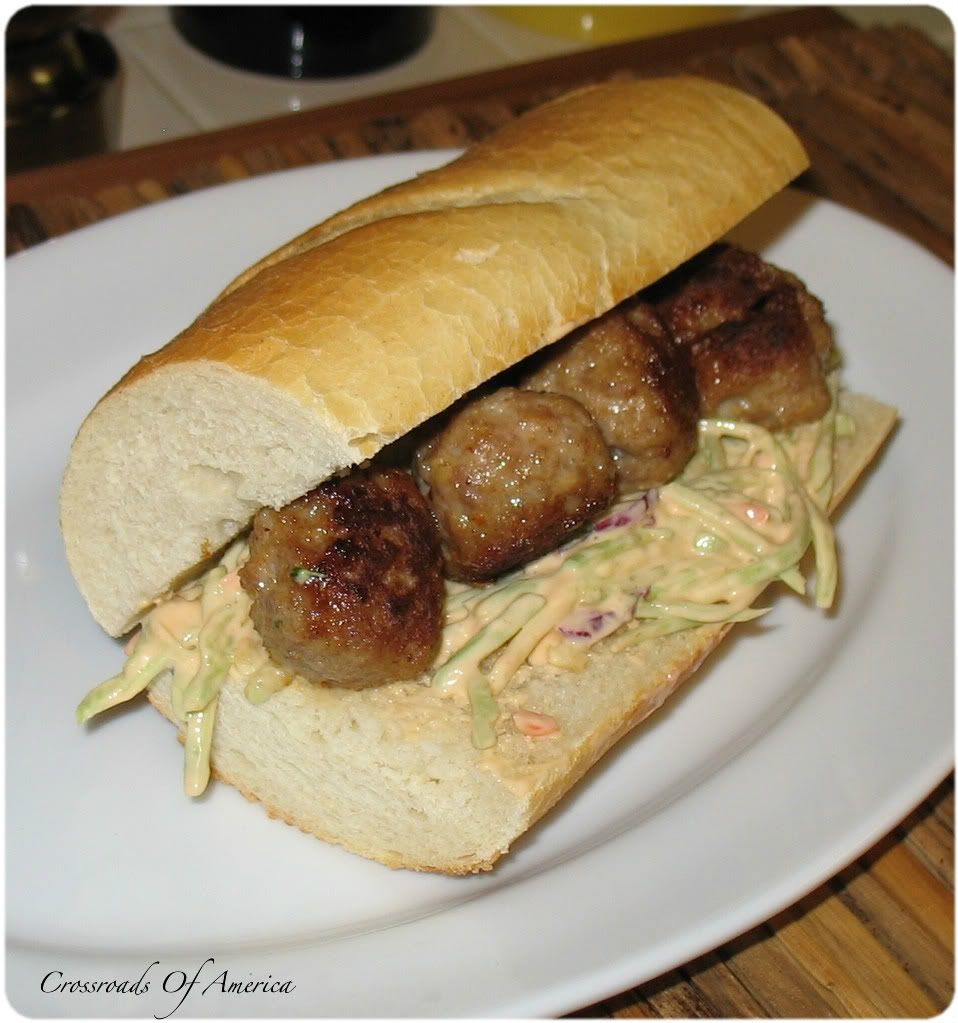 We are big fans of Sriracha sauce. The Sriracha slaw on these sandwiches is really good. Next time I'm going to make up a batch of the slaw and put it on grilled burgers or even brats.
Makes: 4 sandwiches
Prep time: 10 minutes
Cook time: 30 minutes
Printable Recipe
Ingredients:
1 pound ground pork
1 egg, beaten
1/3 cup plain bread crumbs
1 teaspoon oyster sauce
1 teaspoon sesame oil
1 teaspoon soy sauce
1/2 teaspoon ground ginger
1/2 teaspoon salt
2 habanero peppers (can use jalapeños if you want less heat), minced
2 tablespoons oil
4 sandwich rolls
Sriracha slaw (see below)
1. Preheat oven to 350 F.
2. Place the pork, egg, bread crumbs, oyster sauce, soy sauce, ginger, salt and habanero peppers into a large bowl. Using your hands, combine the mixture.
3. Heat oil in a large skillet.
4. Form pork mixture into golf ball-sized balls (you'll get about 20 or so of them).
5. Working in batches, brown meatballs in the skillet. Remove to a baking dish sprayed with non-stick spray.
6. Bake meatballs for 15-20 minutes or until done.
7. Toast rolls if desired. Top with slaw and meatballs. Serve with additional Sriracha sauce for drizzling on top.
For the sriracha slaw:
Prep time: 5 minutes
Cook time: 30 minutes
Ingredients:
1/2 cup mayonnaise
2 teaspoons Sriracha sauce (or more, to taste)
1/2 teaspoon ground ginger
2 tablespoons rice vinegar
10 oz bag broccoli slaw
1. Whisk together the mayonnaise, Sriracha sauce, ginger and vinegar in a large bowl. Add in the slaw and toss to coat. Cover and refrigerate for 30 minutes.