Well, truth be told, we made it before Thanksgiving. I bought this cooker a few weeks ago and wanted to give it a trial run before the big day. Its a
Char-Broil Big Easy Infrared Turkey Fryer
. I was going to get an oil-based deep fryer, but I was leery of using oil, so I went with this cooker instead. No oil, and beyond easy to use!
To make the turkey I injected it with a simple sauce (see below). Then I mixed a few tablespoons of
Todd's Original Dirt
with a little olive oil and rubbed the outside down good. I fired up the cooker and lowered the turkey inside. Exactly two hours (10 minutes/pound), the turkey was done perfectly with a great crisped skin! You don't have to check on it, adjust the temperature, baste it, rub it, hover over it.... nothing! And the meat was soooo tasty and soooo tender and juicy! The dripping ban underneath captured all of the dripping yum-yums that I needed to make a gravy.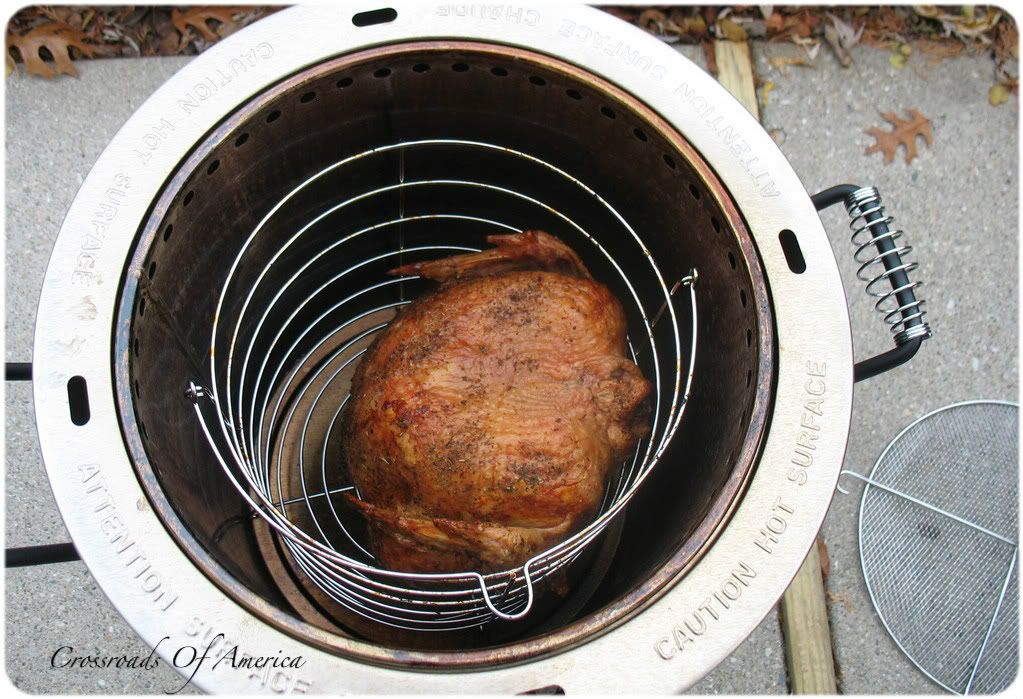 This is definitely the way I'm doing all future turkeys! Did I mention the easy cleanup? And the fact that it frees up your oven for making sides?
(As an aside, you can fit up to a 16 pound turkey in this cooker. If you have a really big get-together, you'll want to buy 2 of them!)
Basic Butter-Based Injection Sauce
Printable Recipe
Ingredients:
1 cup chicken broth
1/4 cup tablespoons butter
2 tablespoons lemon juice
1 teaspoon garlic powder
1. Melt butter in a small saucepan. Add remaining ingredients and mix. Add fresh ground black pepper and salt to taste. Add enough salt to make the sauce taste a little on the salty side.
2. Load sauce into meat injector and inject the turkey every 1/2"-1".