We were happy to see Jeff Mauro win this years Next Food Network Star. Not that we're really into food competition shows, but we really liked Jeff's approach to sandwiches (or as they call it on the show, his 'culinary point-of-view').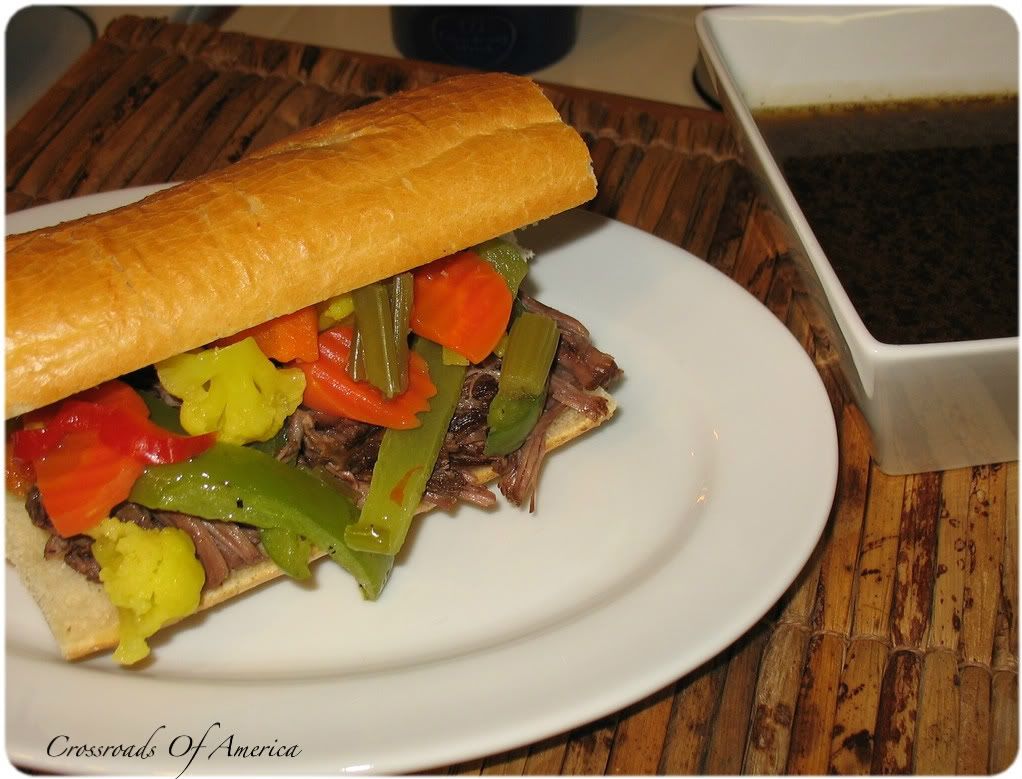 This recipe
comes from the first episode of Jeff's new show,
Sandwich King
. I made a few changes. If you don't like cooking with wine just add more beef stock.
Makes: 4 servings
Prep time: 45 minutes
Cook time: 4 hours
Printable Recipe
Ingredients:
For the beef:
1 3 lb boneless beef chuck eye roast
2 tablespoons vegetable oil
1 medium white onion, chopped
1 tablespoon dried Italian seasoning
2 teaspoons crushed red pepper
6 cloves garlic, chopped
1/2 cup dry red wine
3 cups beef stock
1 teaspoon dried thyme
For the sweet peppers:
4 green bell peppers, seeded and cut into strips
2 tablespoons olive oil
1 teaspoon granulated garlic
For the sandwiches:
4 sub rolls
1 cup hot Giardiniera (in the pickle section of your grocery store)
1. Preheat oven to 300 F.
2. Sprinkle roast with salt and pepper. Add oil to a Dutch oven and heat. Add roast and brown on all sides.
3. Remove roast and reduce heat to medium. Add onions and saute until brown, 8-10 minutes.
4. Add Italian season and pepper flakes and cook until fragrant.
5. Add garlic and cook for 30 seconds.
6. Add in the wine and deglaze the pan.
7. Add the beef stock and thyme. Add salt and pepper to taste.
8. Add roast back to pot and place in oven. Cook for 3 1/2 - 4 hours or until fall-apart tender, turning every 30 minutes.
9. Remove roast and let cool slightly. While cooling, make the sweet peppers by placing them in a bowl. Add in the oil, granulated garlic, and salt and pepper. Increase oven temperature to 350 F. Place peppers on a baking sheet and bake 20 minutes until softened, turning once.
10. Shred the beef.
11. Strain the jus and return to the pot, heating until simmering, adding salt and pepper to taste.
12. To assemble sandwiches, top buns with meat, peppers and some of the Giardiniera. Dunk sandwiches in jus.