This was a truly great dinner. Everything was just delicious. The tenderloin was so moist and tender and tasty, and not overly spicy. The potatoes (I like mine with a big ole pat of butter on top) and green beans were also excellent.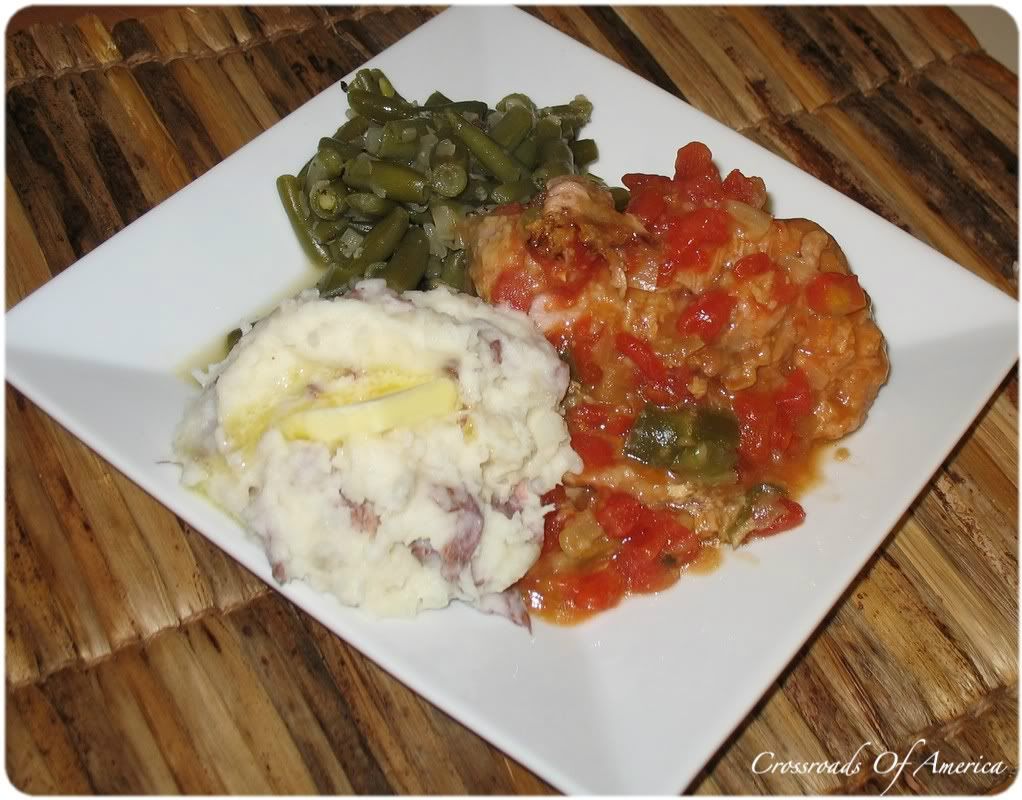 We can't wait to make this again. I made the tenderloin in a Dutch oven but you could use a crockpot instead.
For the Creole Pork Tenderloin:
Makes: 6 servings
Prep time: 5 minutes
Cook time: 7-9 hours
Printable Recipe
Ingredients:
2 pork tenderloins
1/2 cup flour
1 tablespoon Creole seasoning
1 small white onion, chopped
1 small red bell pepper, chopped
1 rib celery, sliced
1 package chicken gravy mix (or use our favorite mixture, below)
1 14.5 oz can diced tomatoes
1. Cut tenderloins in half.
2. Combine the flour and Creole seasoning in a bowl. Dredge the tenderloins in the mixture then transfer to a Dutch oven.
3. Cover tenderloin in onion, pepper and celery. Cook on low for 7-9 hours.
4. The last 30 minutes, add the gravy mixture and tomatoes. Cook another 30 minutes then serve.
For the Gravy Mix:
3 tablespoons chicken bouillon granules
3/4 cup plus 1 tablespoon all-purpose flour
1/4 to 1/2 teaspoon pepper
1. Mix well (I used a spice grinder to make sure the mixture was well combined).
For the Homestyle Green Beans:
Makes: 6 servings
Prep time: 5 minutes
Cook time: 45-60 minutes
Ingredients:
1 lb frozen green beans
1 medium white onion, chopped
2 garlic cloves, minced
4 slices bacon, halved
1 tablespoon butter
1 15 oz can chicken broth
1 dash Tabasco
1. Cook bacon in a large saucepan until lightly crisped.
2. Add the onion, garlic and butter. Cook until onion starts to turn translucent, stirring often.
3. Add the green beans and chicken broth. Cover and simmer 45-60 minutes or until the beans are tender.
4. Add salt, pepper and Tabasco to taste.
For the Creamy Parmesan Mashed Potatoes:
Makes: 6-8 servings
Prep time: 15 minutes
Cook time: 25 minutes
Ingredients:
3 lbs red potatoes, unpeeled
1 1/2 cups half-and-half
1/4 lb unsalted butter
1/2 cup sour cream
1/2 cup freshly grated Parmesan cheese
1. Place enough water in a large pot to cover the potatoes. Bring to a boil and add a generous amount of salt. Add potatoes and let cook 25-30 minutes or until fork tender.
2. Drain potatoes and return to pot.
3. In a small saucepan, heat the half and half. Add the butter and melt.
4. Pour the butter/cream mixture into the potatoes and mash with a potato masher.
5. Mix in the sour cream, Parmesan cheese, and salt and pepper to taste.