If you haven't ever checked out the
BBQ Pit Boys
, you should. They make some of the best food around. Their videos on YouTube are instructional, very well made, and everything they make will make you hungry. And the soundtracks are even good!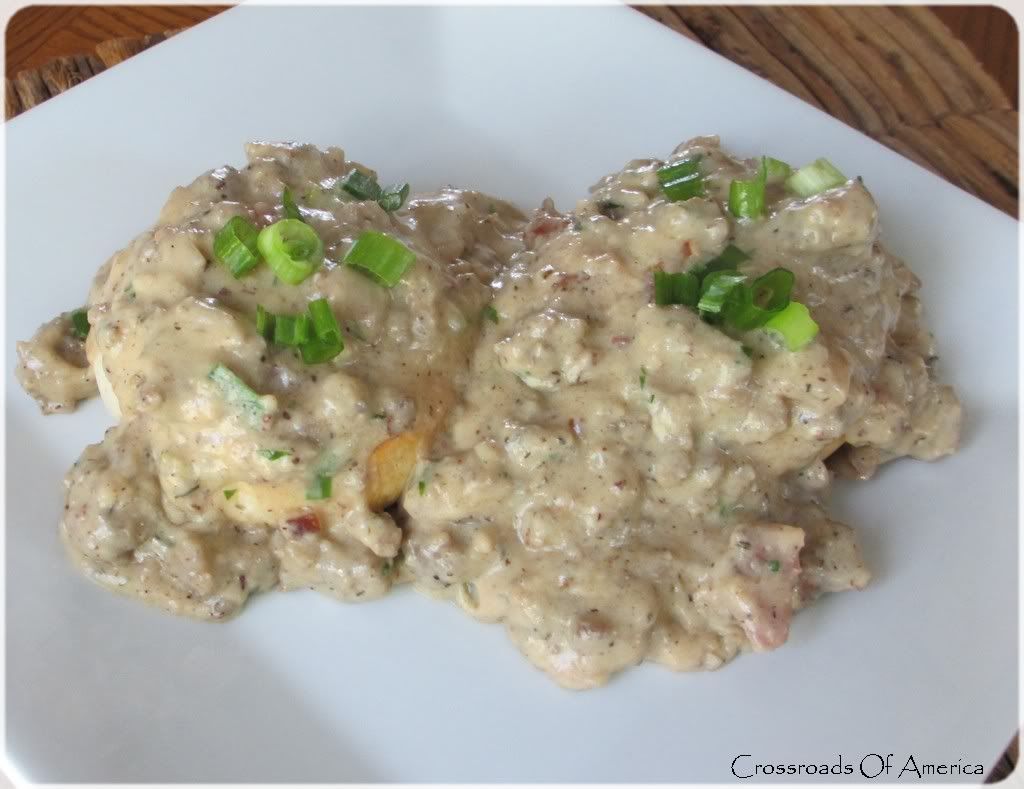 This country style sausage came from
their video
. It's fantastic and pretty easy. Great over biscuits or country-fried steak.
Makes: 4 servings
Prep time: 10 minutes
Cook time: 30 minutes
Printable Recipe
Ingredients:
4 slices thick-cut bacon
1 pound bulk pork sausage
4 tablespoons butter
1 small red onion, chopped
2 large cloves garlic, minced
4 tablespoons all-purpose flour (plus more, maybe)
2 cups whole milk (plus more)
2 chicken bouillon cubes, ground
1 teaspoon dried sage
1 teaspoon thyme
1 teaspoon Cajun seasoning (I used Slap Ya Mama Hot)
1 tablespoon Worcestershire sauce
1 tablespoon fresh parsley, chopped
4 tablespoons green onion, chopped, divided
1. Heat a cast iron skillet over medium-high heat. Add in the bacon and cook until crisp. Remove.
2. Crumble the sausage into the skillet and cook until done. Remove.
3. Add in the butter. Melt and add the red onion. Cook until the onion just starts to soften.
4. Add the garlic and cook for 30 seconds.
5. Next, make a roux by slowly adding the flour, stirring constantly. Cook and stir until the flour starts to brown, but don't burn it.
6. Add the milk, 1/2 cup at a time, while stirring constantly. The mixture will get good and thick.
7. Add the chicken bouillon, sage, thyme, Cajun seasoning, Worcestershire sauce, and salt (not much) and pepper to taste. Stir constantly.
8. Add the meat back in, along with half of the green onion and parsley. Stir and heat through. Add more milk if necessary.
9. Serve garnished with remaining green onion.