I noticed some really large heads of broccoli at the grocery store the other day. Cheap. So, I searched around and found
this great recipe
.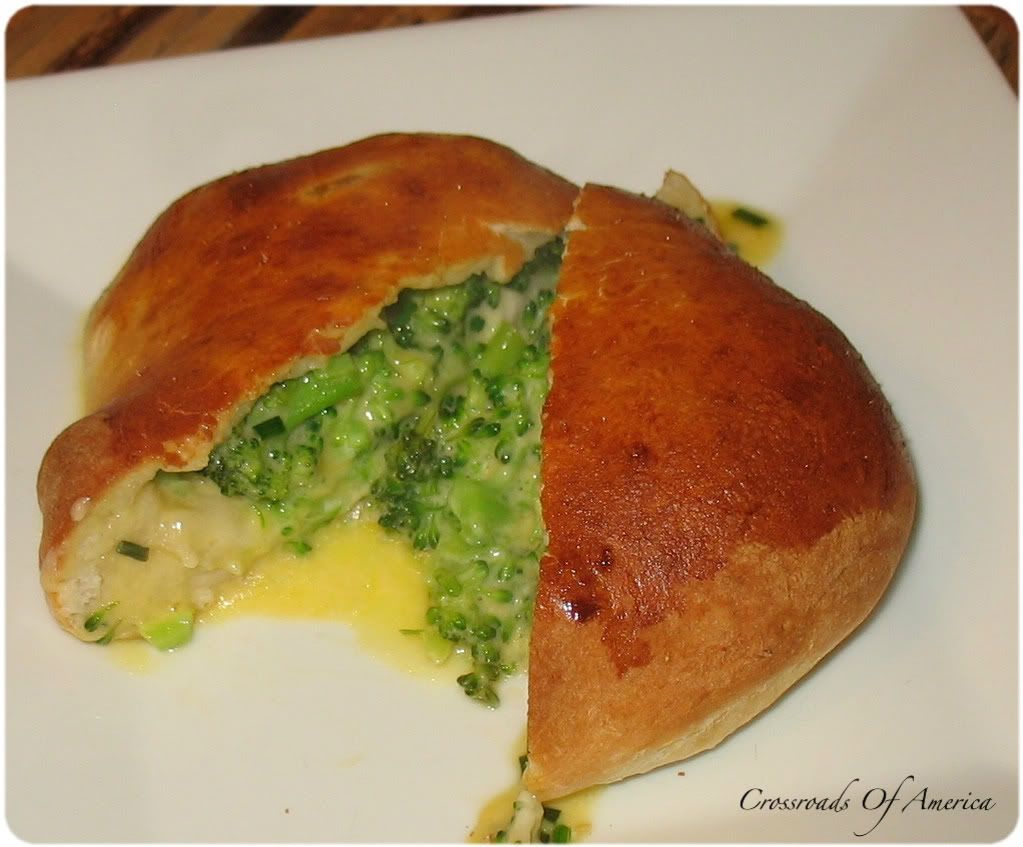 We folded the pockets somewhat like a round Hot Pocket (if they made round Hot pockets!). Next time, I think we'll try to fold them more like empanadas.
Makes: 4 servings
Prep time: 5 minutes
Cook time: 25 minutes
Printable Recipe
Ingredients:
1 florets from large head broccoli
2 cups shredded sharp cheddar cheese
3 tablespoons sour cream
2 tablespoons fresh chives, chopped
All-purpose flour
1 11 oz tube refrigerated French bread dough
1 large egg
1. Preheat oven to 425 F.
2. Bring a large pot of salted water to a boil. Add broccoli and cool for 1 minute. Remove, drain, and pat dry.
3. Place broccoli, cheese, sour cream and chive in a large bowl. Combine, then pack tightly with your hands.
4. Lightly flour a flat surface. Roll out the bread dough into a large rectangle. Cut into 4 8x16" rectangles.
5. Dollop the broccoli mixture into the center of each dough rectangle. Fold the two short sides over the broccoli (you might have to stretch the dough slightly). Then fold over the longer sides and seal.
6. Place pockets onto a baking sheet sprayed with non-stick spray. Combine egg with one tablespoon warm water. Brush onto tops of the pockets.
7. Bake until golden, about 15 minutes.