I love
Cajun Delight's blog
! I'm a total fan of anything Cajun. It's by far my favorite cuisine.
Marguerite posted the
recipes
(and some music to go with them!) for this omlette and hashbrowns and I just knew I'd have to make them soon. They are fantastic! The crab in the omlette is great and there is some serious kick in the hashbrowns. The flavors are so good.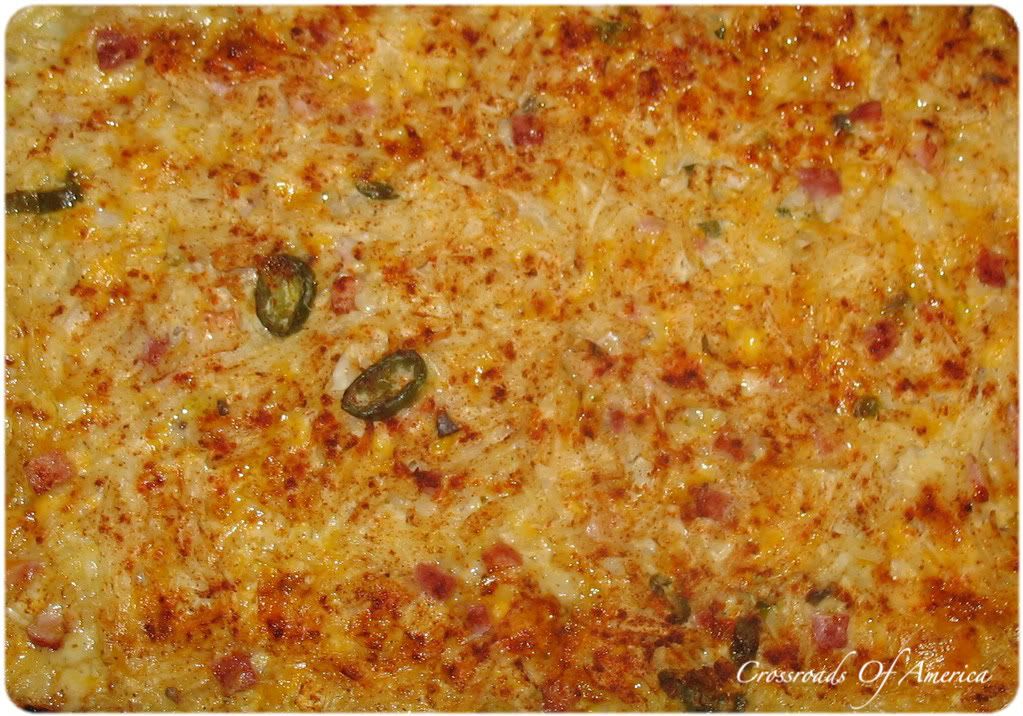 I need to practice my omlette flipping technique. A lot. So, my omlettes are more... scrambles. Still super tasty, just not as pretty. It didn't matter because the omlettes didn't last very long.
By coincidence, not 5 minutes after I wrote this post I received an email from
Fine Cooking on the proper technique for making an omlette
. How'd they know I needed help? Kinda spooky!
For the Crab Omlettes:
Makes: 2-3 servings
Prep time: 10 minutes
Cook time: 25 minutes
Printable Recipe
Ingredients:
6 eggs
1/2 cup half and half
1 teaspoon (or more) Cajun seasoning
3 tablespoons butter
1/4 cup red onion, chopped
2 tablespoons green bell pepper, chopped
2 tablespoons red bell pepper, chopped
1 jalapeño pepper, seeded, minced
2 teaspoons garlic, minced
1/2 lb lump crab meat
1/4 cup (plus more for garnish) fresh parsley, chopped
Salt and Hot sauce
1 cup shredded cheese (I used Monterrey Jack)
1. Crack eggs into large bowl. Beat lightly. Stir in the cream and Cajun seasoning.
2. Melt butter in a large skillet over medium-high heat. Add the onion, peppers and garlic and saute for 5 minutes.
3. Add crab, parsley, a pinch of salt and hot sauce, to taste. Stir and saute another 5 minutes.
4. Add eggs and cheese and cook 2-3 minutes. Do not stir.
5. Fold mixture in half and cook another 3 minutes. Flip and cook another 3 minutes.
6. Slice into serving sizes and serve garnished with parsley.
For the Jalapeño Hashbrowns:
Makes: 4-6 servings
Prep time: 10 minutes
Cook time: 50 minutes
Ingredients:
1 (24 oz) package of frozen, hashbrowns, thawed
1 1/2 cups cheddar cheese, shredded
1 small onion, chopped
1 cup cooked ham, diced
1/2 cup (or more) pickled jalapeño slices
1/2 stick butter, melted
8 oz sour cream
1 can cream of mushroom soup
1 tablespoon (or more) Cajun seasoning
Salt and Hot sauce, both to taste
1/2 cup milk
Paprika
1. Place all ingredients except the paprika and milk in a large bowl. Mix well.
2. Slowly stir in the milk. You want the mixture to be a spreadable (a little thick and not runny).
3. Spray a 9" x 13" baking dish with non-stick spray. Pour in potato mixture and spread out evenly. Sprinkle top with paprika.
4. Bake 45 minutes-1 hour or until lightly browned and bubbly hot.