The more recipes I try, the more I start to build up a list of my go-to recipes. This
mac n' cheeese recipe
from Guy Fieri is definitely on my go-to list now.
I made only minor changes to the original idea. This mac n' cheese is outstandingly good.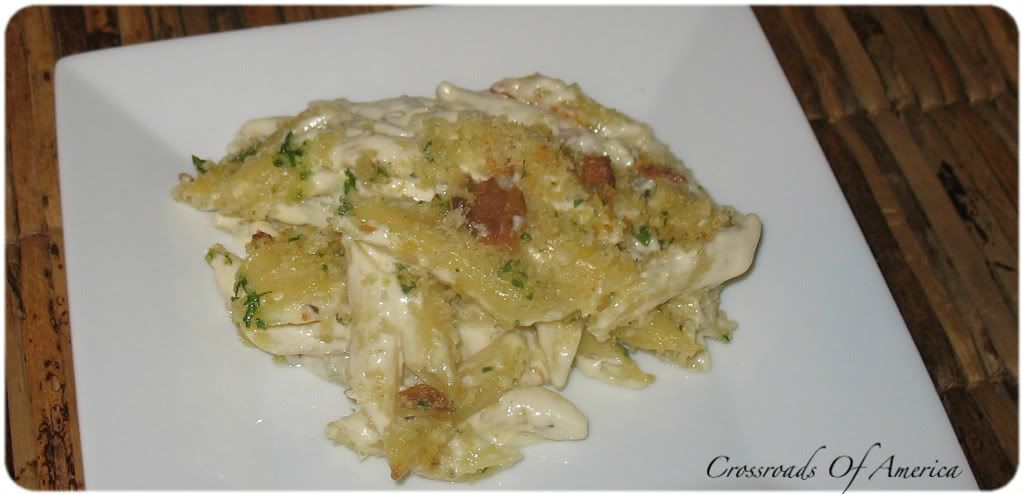 Makes: 8 servings
Prep time: 10 minutes
Cook time: 1 hour
Printable Recipe
Ingredients:
1/2 medium red onion, peeled, quartered
3 cloves garlic
1 teaspoon olive oil
3 pieces bacon
2 tablespoons flour
4 cups heavy cream
1/2 teaspoon dried thyme
1 cup shredded pepper jack cheese
2 cups shredded cheddar cheese
Salt and white pepper
1 pound penne pasta
1/2 cup Panko bread crumbs
2 tablespoons butter
2 tablespoons fresh parsley, chopped
1. Preheat oven to 350 F. Place onion and garlic on a piece of foil. Drizzle with oil and seal. Place on baking sheet and bake for 20-30 minutes or until the onion and garlic become fragrant. Let cool slightly. Squeeze the garlic cloves out from their skin and chop. Also chop the onion.
2. Meanwhile, cook the pasta per package instructions. Drain well.
3. While the onion and garlic and pasta are cooking, cook the bacon in a large saute pan. Reserve 1 tablespoon of the fat. Crumble the bacon and reserve.
3. Add garlic and onion to pan and cook for 1 minute. Whisk in the flour and cook another minute.
4. Whisk in the cream and thyme, simmer and reduce by 1/3rd.
5. Remove from heat and stir in the cheeses. Season to taste with salt and white pepper.
6. Spray a 9x13 inch baking dish with non-stick spray. Add the pasta and spread evenly. Pour the cheese sauce over the top of the pasta and spread evenly.
7. Melt the butter in the microwave. In a small bowl, combine the butter, bread crumbs and parsley. Sprinkle over top of cheese and pasta.
8. Bake at 350 F for 20-25 minutes or until lightly browned and bubbly.