We ordered calamari tempura for an appetizer when we were at
Bubba Gump's in Gatinburg, TN, over the Thanksgiving holiday
. The tempura came with red pepper and pepperoncinis. I've been wanting to recreate them at home ever since, so I did!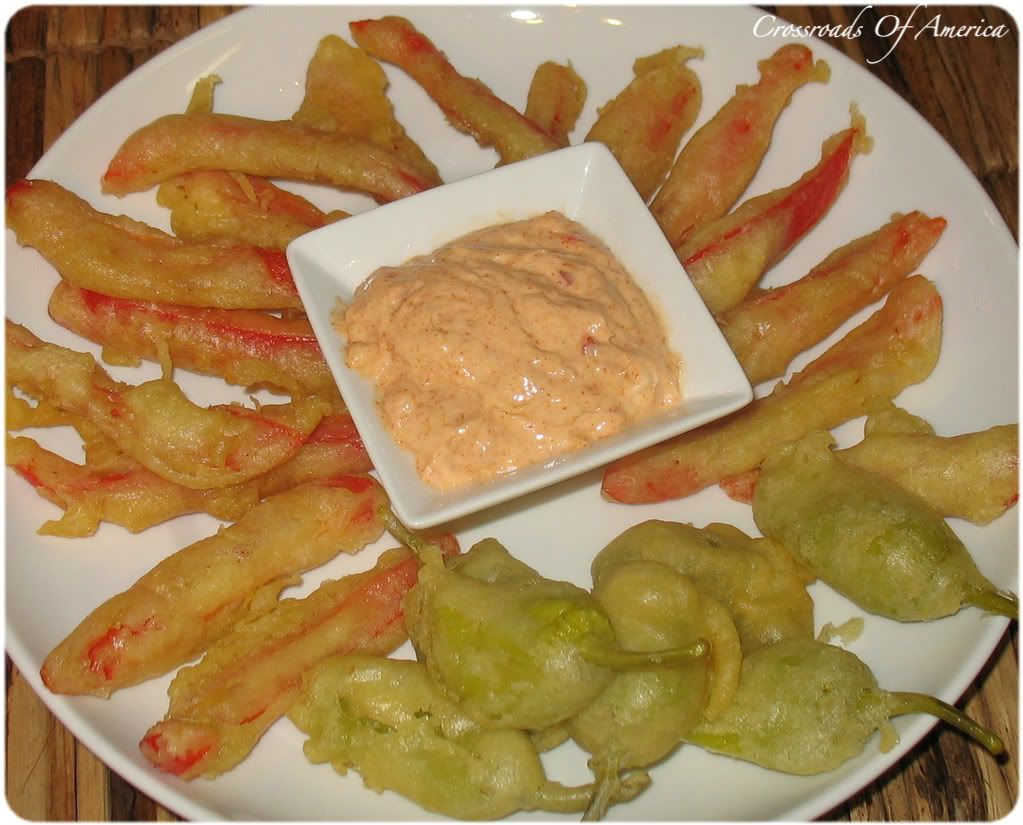 We did up some red bell peppers, pepperoncinis, and broccoli. They were all outstanding! You can try pretty much any vegetable you have on hand. Make sure they aren't wet or they'll splatter when you put them into the hot oil.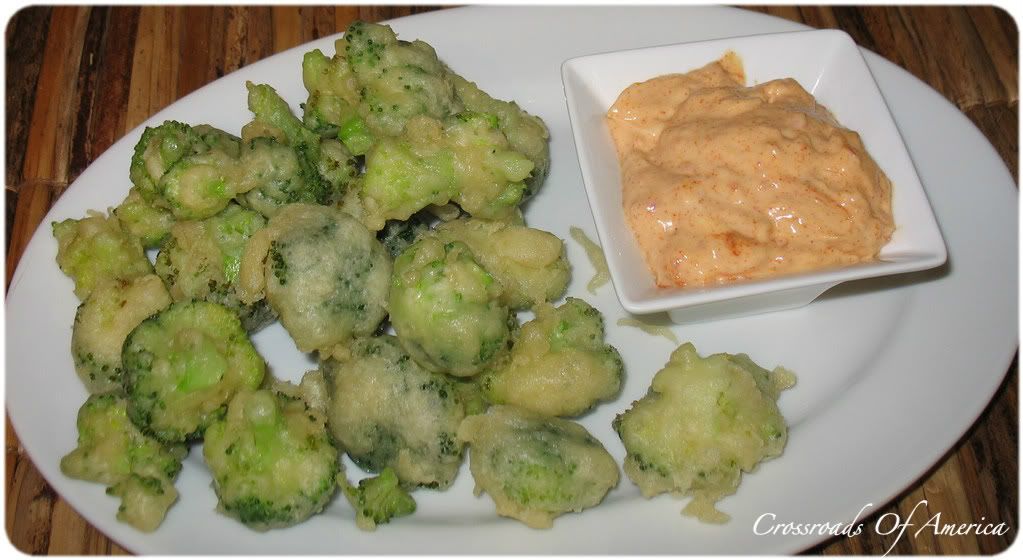 I found the original recipe for the tempura on
Simply Recipes
. The spicy aioli is by
Giada
.
Makes: 1 batch*
Prep time: 5 minutes
Cook time: 10 minutes
Printable Recipe
Ingredients:
Vegetables
Canola oil
1/8 teaspoon baking soda
1 teaspoon salt
1/4 cup corn starch
3/4 cup all-purpose flour
1 egg yolk
1 cup very cold sparkling water
* This makes enough for 1 bell pepper and a few pepperoncinis or a large head of broccoli.
1. Slice vegetables as desired.
2. Heat oil to 375 in a deep fryer or Dutch oven.
3. Mix baking soda, salt, corn starch and flour in a large bowl.
4. In a small bowl, mix the egg yolk and cold water. Pour into dry ingredients and mix to make the batter. The batter will not be smooth like a pancake batter and it's ok if there are a few lumps.
5. Working in batches, dip the vegetables into the batter and then gently place into the oil. Do not shake off the excess batter. Cook for about 1 minute per side and remove to paper towel-lined plates.
6. Serve with the spicy aioli for dipping.
For the Spicy Aioli:
Ingredients:
2 cups mayonnaise
1/4 cup Thai-chili paste
1 tablespoons chile powder
2 tablespoons lime juice
1 tablespoon salt
1/2 tablespoon cayenne pepper
1. Mix all ingredients in a small bowl. Refrigerate until needed.