What a wonderful change from your usual nachos!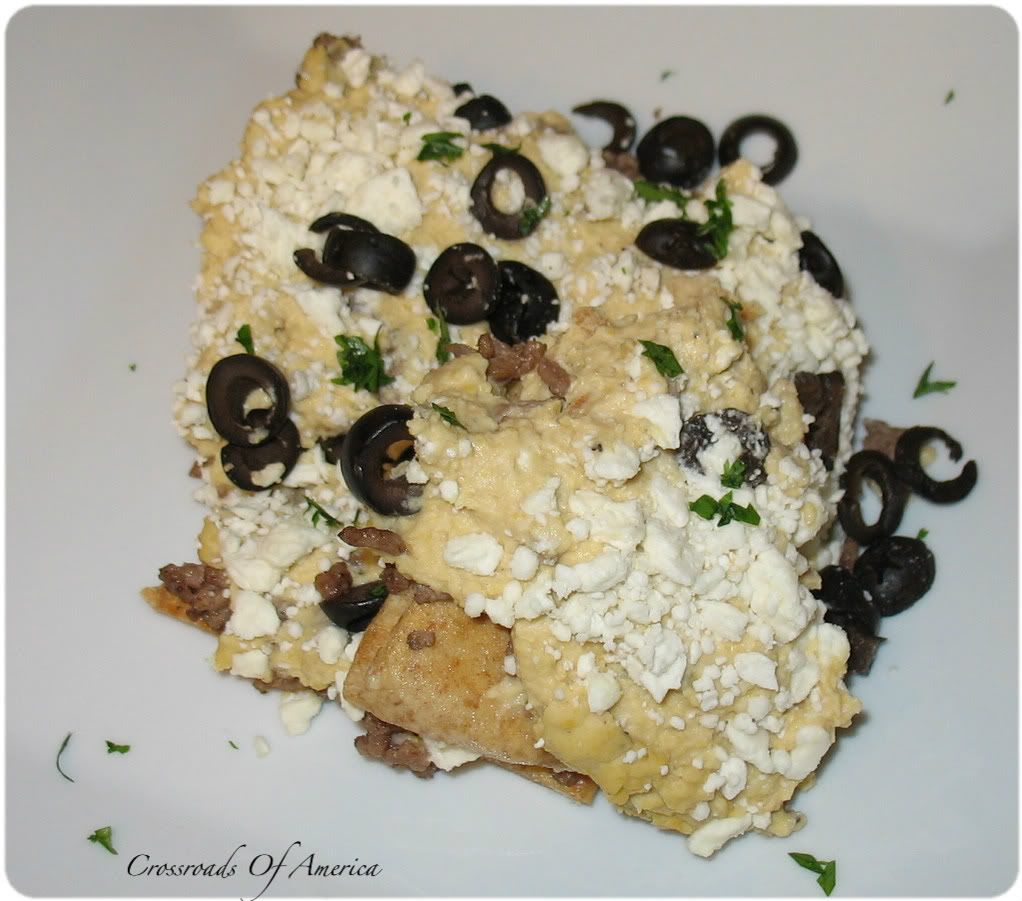 These nachos are piled high with homemade pita chips and humus, topped with black olives and feta. Really good eatin'! The
original recipe for the nachos comes from Claire Robinson
. The hummus recipe came from
here
.
Makes: 4-6 servings
Prep time: 10 minutes
Cook time: 25 minutes
Printable Recipe
Ingredients:
1 lb ground lamb
3 pitas
1 1/2 cups hummus (see below)
1/2 cup crumbled feta cheese
1/4 cup chopped fresh flat-leaf parsley
1/4 cup black olives, sliced
1. Preheat oven to 350 F.
2. Cook lamb in a medium skillet until done. Season with salt and pepper and remove from skillet, leaving the fat.
3. Brush pitas with fat from cooking the lamb. Cut into 8 wedges, then place on a baking sheet. Bake until golden and crunchy, about 10 minutes.
4. Spray an 8x8 baking dish with non-stick spray. Layer half the pita chips, lamb, hummus, and feta. Repeat with remaining chips, lamb, hummus and feta and top with black olives. Bake for 5 more minutes. Serve garnished with parsley.
For the hummus:
Makes: About 3 cups
Ingredients:
2 (15 oz) cans garbanzo beans, drained, liquid reserved
1/2 cup tahini
2 lemons, juiced
3 garlic cloves, minced
1 teaspoon ground cumin
1. Place all ingredients along with 1/4 cup of the bean liquid into a blender or food processor and process until smooth.