This is a take on
Denny's Scram Slam
. It's easy and tasty.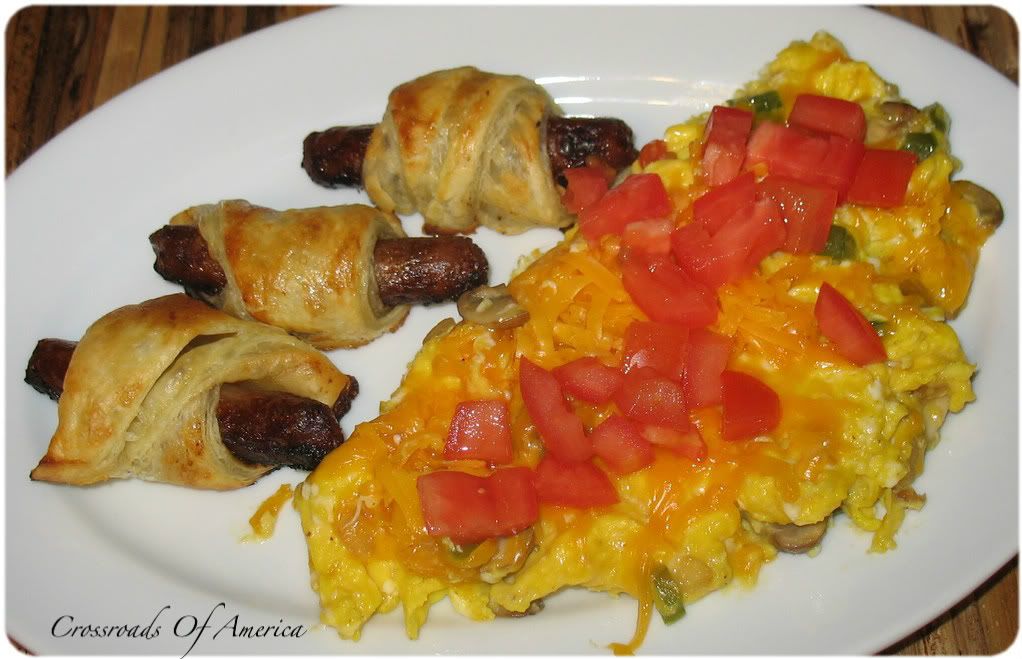 I served the eggs up with some
sausage puffs
. They're rather addicting.
For the eggs:
Makes: 2 servings
Prep time: 5 minutes
Cook time: 20 minutes
Printable Recipe
Ingredients:
1/4 cup white onion, diced
1/4 cup green bell pepper, diced
1 cup whole mushrooms, sliced
1 1/2 tablespoons butter
6 eggs, beaten
1 cup cheddar cheese, shredded
1/2 tomato, chopped
1. Melt 1 tablespoon of the butter in a skillet over medium-high heat. Add the onion, pepper and mushrooms. Saute until crisp tender, about 5 minutes. Remove to a plate.
2. Melt remaining butter and add the eggs. Stir eggs constantly while they cook, 5-7 minutes, or until starting to set.
3. Sprinkle the cheese over the eggs and stir.
4. Add the sauteed vegetables and a pinch of salt. Cook until eggs are done.
5. Divide in half and serve topped with the tomatoes.
For the sausage puffs:
Makes: 4 servings
Prep time: 5 minutes
Cook time: 40 minutes
Ingredients:
1 sheet puff pastry, thawed
1 lb breakfast sausage links
2 tablespoons real maple syrup
1 egg, whisked
1. Preheat oven to 425 F.
2. Cook sausages in a large skillet until almost done. (They'll finish cooking in the oven). Remove and let cool slightly.
3. Roll out pastry dough in a square about 12" on each side.
4. Brush dough with the maple syrup.
5. Using a pizza cutter, cut the dough into equal-sized squares, then cut each square into a triangle.
6. Place a sausage on the lower edge of a triangle and roll. Place on a parchment paper-lined baking sheet. Repeat with remaining sausages.
7. Brush tops of puffs with the egg.
8. Bake 16-18 minutes or until golden brown.