These wings are not tame. They are hot and spicy. If you can't take the heat, cut back on the cayenne. I found these wings to be heavily addicting.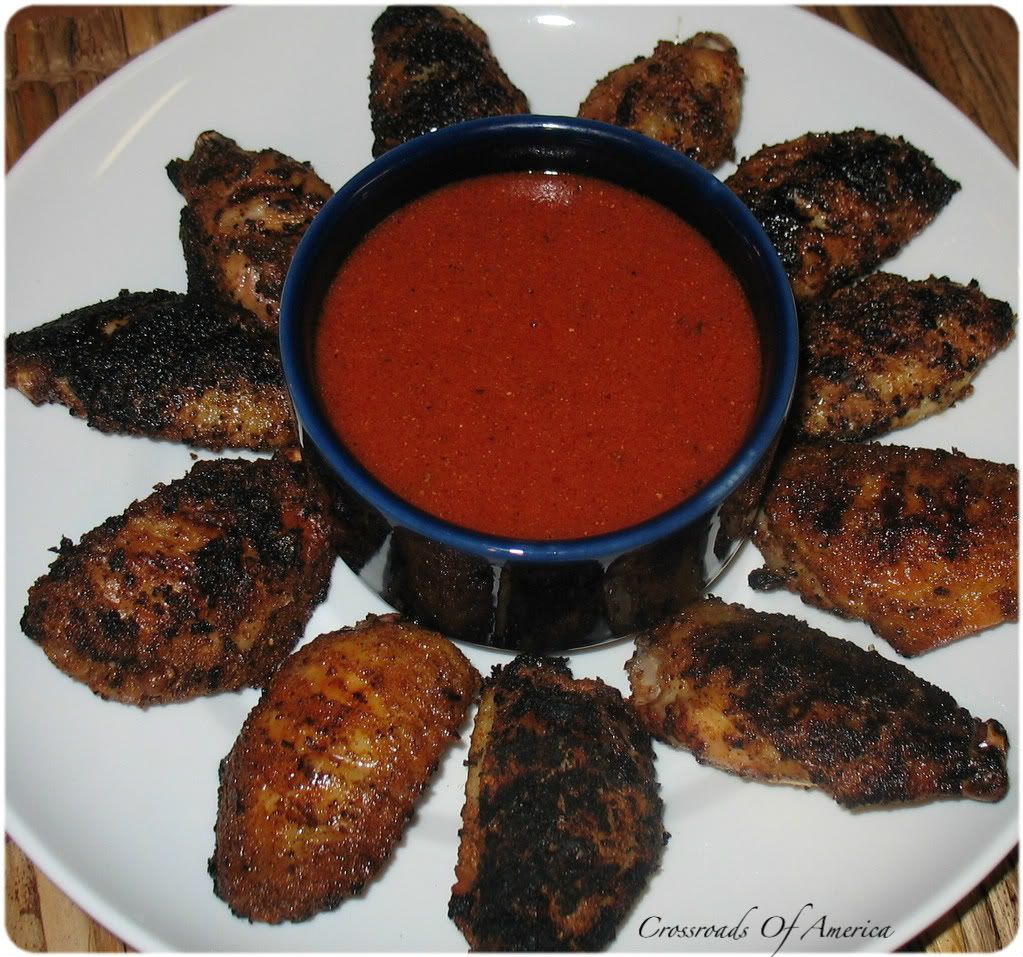 It's entirely possible that I doubled the rub mixture when I made this. It's not a bad idea if you really want the wings hot. Keep a bowl of cold ranch or blue cheese dressing on the side for dipping.
The
original recipe came from Guy Fieri
.
Makes: 4 servings
Prep time: 2 hours
Cook time: 1 hour
Printable Recipe
Ingredients:
1 tablespoon garlic salt
1 tablespoon cayenne pepper
1 tablespoon dry mustard
1 tablespoon black pepper
1/2 teaspoon white pepper
2 teaspoons ground cumin
4 pounds chicken wings
1. Rinse wings. Cut into wings and drumettes. Pat dry. Place into a large resealable baggy.
2. Combine the dry ingredients. Add all but two tablespoons to bag with the chicken. Seal and toss to coat the chicken. Place in refrigerator for at least 2 hours, or overnight if possible.
3. To cook on the grill: set up grill for direct and indirect cooking. Brown wings over direct coals then remove to indirect heat and cook until done, flipping once.
4. To cook in the oven: preheat oven to 375 F. Line a baking sheet with foil. Add wings and cook for 25 minutes. Flip and continue cooking until done.
5. Serve with sauce.
For the dipping sauce:
Ingredients:
2 tablespoons olive oil
1 tablespoon garlic, minced
1 habanero, minced
2 tablespoons reserved wing rub, from above
3 cups hot sauce (I used Frank's)
1/2 stick butter
1 tablespoon white vinegar
1/2 lime, juiced
1. Heat oil in a medium saucepan. Add garlic and habenero and saute for 1 minute.
2. Add the wing rub and hot sauce. Bring to a boil and reduce to a simmer.
3. Add remaining ingredients. Bring to a simmer and continue simmering until wings are done cooking and are ready to serve.