I ran across some wild caught lobster tails on sale the other day. I had a hankerin' for a po'boy, and after some research, ran across this recipe from the
Neelys
.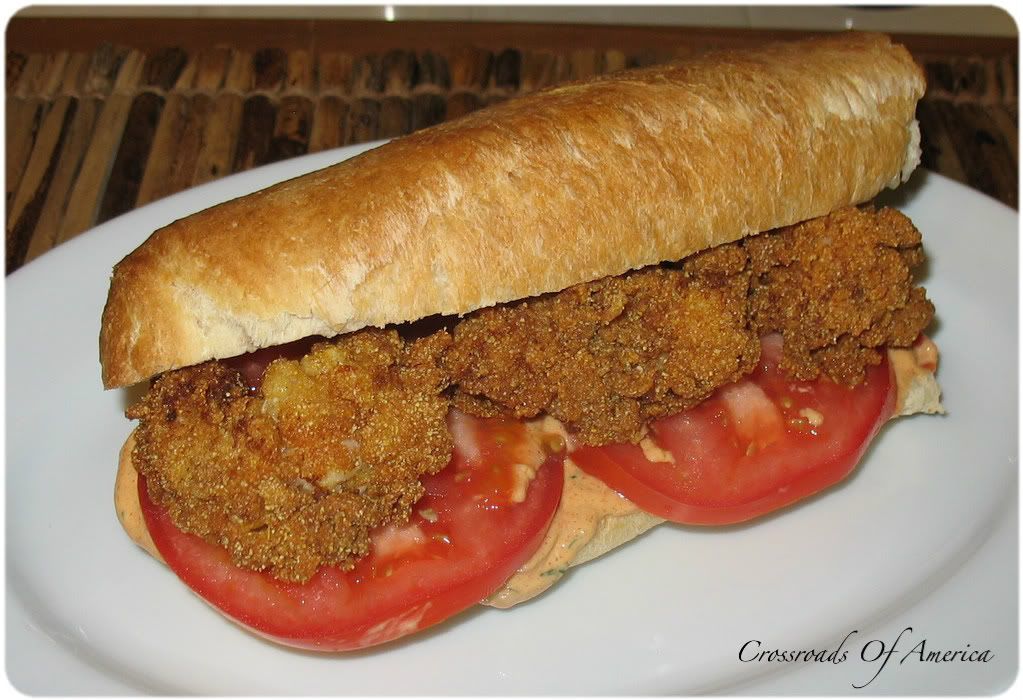 This is the first time I've cooked lobster tail like this, and I was really pleasantly surprised how good it was. The remoulade is great, and would be great with a shrimp po'boy too... which is what I think I'll make next!
Makes: 2 large sandwiches or 4 small sandwiches
Prep time: 10 minutes
Cook time: 20 minutes
Printable Recipe
Ingredients:
1 cup yellow cornmeal
1 cup self-rising flour (see below)
1 tablespoon (or more) Cajun seasoning
2 tablespoons garlic powder
2 eggs, beaten
1 cup milk
1 teaspoon (or more) hot sauce
2 tablespoons Creole mustard (see below)
1 tablespoon yellow mustard
4 frozen lobster tails, thawed and cut in half lengthwise
Salt and fresh ground black pepper
4 club rolls or 1 loaf French bread, halved
Sliced tomato
Remoulade (see below)
Canola or peanut oil for frying
Note: If you don't have self-rising flour, combine 1 cup all-purpose flour with 1/2 teaspoon of salt and 1 1/2 teaspoons of baking powder.
Note: If you don't have Creole mustard (which for some reason is getting harder and harder for me to find in our local grocery stores), 2 tablespoons of Dijon mustard with a 1/2 teaspoon of Worcestershire sauce and a dash of Tabasco or hot sauce.
1. Add oil to a deep fryer or Dutch oven to a depth of about 3". Heat to 375 F.
2. Combine dry ingredients in one bowl and wet ingredients in another. Dredge lobster tail in wet mixture then place in breading and coat well. Place in fryer and cook 5-7 minutes or until crispy and golden brown. Remove to a paper towel-lined plate.
3. Serve lobster on bread slathered with remoulade sauce and sliced tomato.
For the remoulade:
Ingredients:
1 1/2 tablespoons yellow mustard
1 1/2 cups mayonnaise
1 tablespoon Worcestershire sauce
1 tablespoon paprika
1/2 teaspoon garlic salt
1 1/2 tablespoons prepared horseradish
1 1/2 teaspoons hot sauce
2 tablespoons white wine vinegar
1/4 cup parsley leaves, chopped fine
Salt and fresh ground black pepper
1. Combine all ingredients. Refrigerate until ready to use.