Minestrone soup is a great way to clean out your fridge and freezer of leftovers.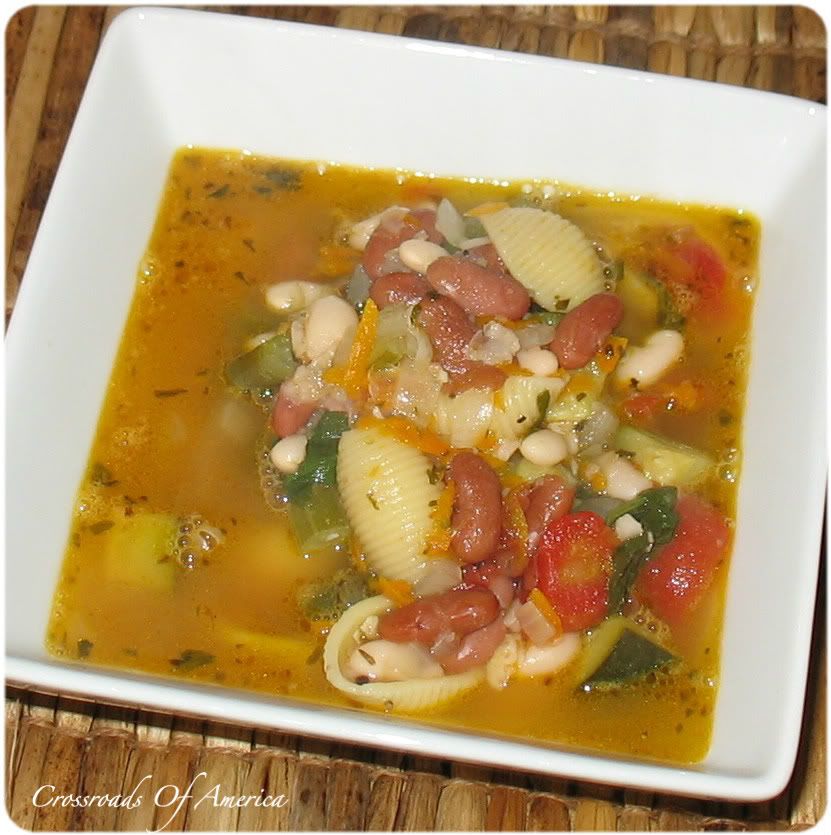 This is a
copy cat of the Olive Garden's minestrone soup
. You can substitute rice or barley for the pasta if you wish. Instead of canned beans I used dry beans that I soaked overnight.
Makes: 8 servings
Prep time: 15 minutes
Cook time: 50 minutes
Printable Recipe
Ingredients:
3 tablespoons olive oil
1 small white onion, chopped
1 small zucchini, chopped
1/2 cup frozen green beans
1/2 stalk celery, minced
4 cloves garlic, minced
4 cups vegetable broth
2 (15 oz) cans red kidney beans, drained
2 (15 oz) cans great northern beans, drained
1 (14 oz) can diced tomatoes
2 medium carrots, shredded
2 tablespoons fresh parsley, minced
1 1/2 teaspoons dried oregano
1 1/2 teaspoons salt
1/2 teaspoon ground black pepper
1/2 teaspoon dried basil
1/4 teaspoon dried thyme
3 cups hot water
4 cups fresh baby spinach
1/2 cup small shell pasta
1. Heat oil in a large pot. Add the onion, garlic, zucchini, celery and green beans. Saute until onions begin to soften.
2. Add broth, tomatoes, beans, carrot, water and spices. Bring to a boil, reduce to a simmer and continue simmering for 20 minutes.
3. Add spinach and pasta and cook another 20 minutes.