Nothing's easier than a grilled French bread pizza. Just grab a loaf of bread, halve it, toast it, top it with whatever you have on hand, and heat until the cheese melts.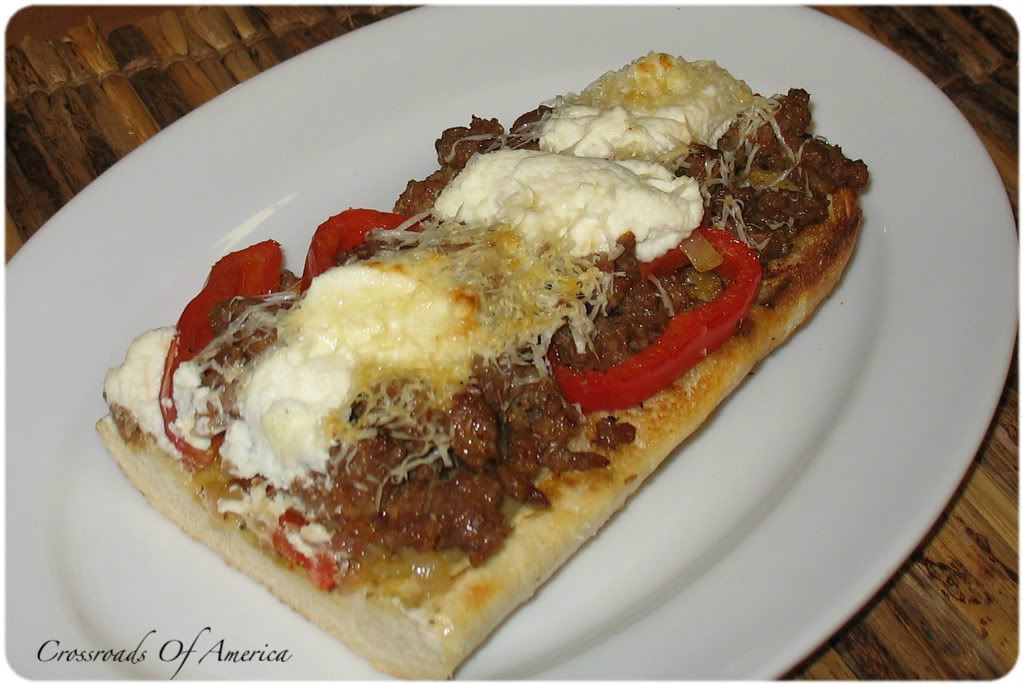 Of course you can make these in the oven too, but I prefer to use the grill whenever possible. I think it adds a little more to the flavor.
Makes: 4 servings
Prep time: 10 minutes
Cook time: 25 minutes
Printable Recipe
Ingredients:
1 loaf French bread, halved both ways
5 tablespoons olive oil, divided
1 lb Italian sausage, removed from casing
2 red bell peppers, sliced
1 onion, sliced
1 tablespoon dried rosemary, crushed
3/4 cup ricotta cheese
1/4 cup grated fresh Parmesan cheese
1. Brush cut sides of bread with 2 tablespoons of oil.
2. Preheat grill (or oven to 400 F). Place bread on grill, cut side down, for a few minutes or until starting to char. Remove.
3. Heat 1 tablespoon of oil in a medium skillet over high heat. Add crumbled Italian sausage and cook until done. Remove.
4. Add remaining 2 tablespoons of oil to skillet and heat. Add onion and pepper and cook until softened. Alternatively, you can roast the onion and pepper on the grill.
5. Sprinkle sausage over bread. Top with onion and pepper rings. Dollop with ricotta and sprinkle with Parmesan. Grill, cut side up, until cheese begins to melt.