These are soooo delicious! They're quite easy to make.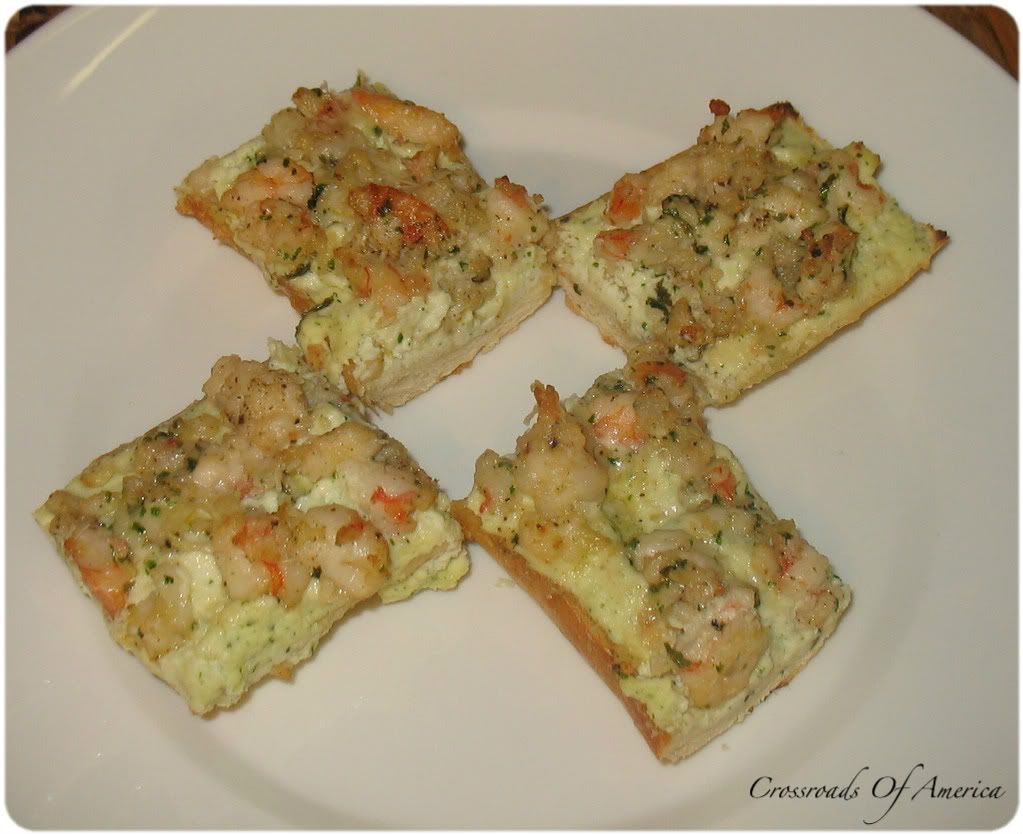 The original recipe made a rather large batch. It really depends on how large your baguette is. The version below made enough for a single baguette about 20" in length.
Makes: 4 servings
Prep time: 10 minutes
Cook time: 25 minutes
Printable Recipe
Ingredients:
1 1/2 tablespoons extra-virgin olive oil
4 cloves garlic, peeled and smashed
2 cloves garlic, peeled and minced
1/2 cup flat-leaf parsley, chopped
15 oz ricotta cheese
1/2 cup freshly grated Parmesan cheese, plus more for topping
Pinch of Creole seasoning (optional)

1 lb shrimp peeled, deveined and chopped (I used 20-24 count shrimp)
1 baguette, halved lengthwise and crosswise
1. Preheat oven to 500 F.
2. Heat oil in a medium skillet over medium-high heat. Add smashed garlic and saute until golden, about 5 minutes. Using a slotted spoon, remove the garlic and place in a food processor.
3. Add parsley, ricotta, Parmesan and Creole seasoning (if using) to food processor. Pulse until combined and creamy.
4. Add minced garlic to skillet and cook for 1 minute. Add in the shrimp, season with salt and pepper, and cook until opaque and done. Stir in 1/4 cup of the ricotta mixture. Remove from heat.
5. Spread the remaining cheese mixture on the cut sides of the bread halves and place them on a parchment paper-lined baking sheet. Top with shrimp mixture and some more Parmesan cheese.
6. Bake 10-12 minutes or until cheese has melted and bread is golden brown.