When I found this recipe over at
Fine Cooking
, I was going to make it pretty much as they had it. But, then I decided to not puree the soffrito. I kept it chunky, and it really came out great.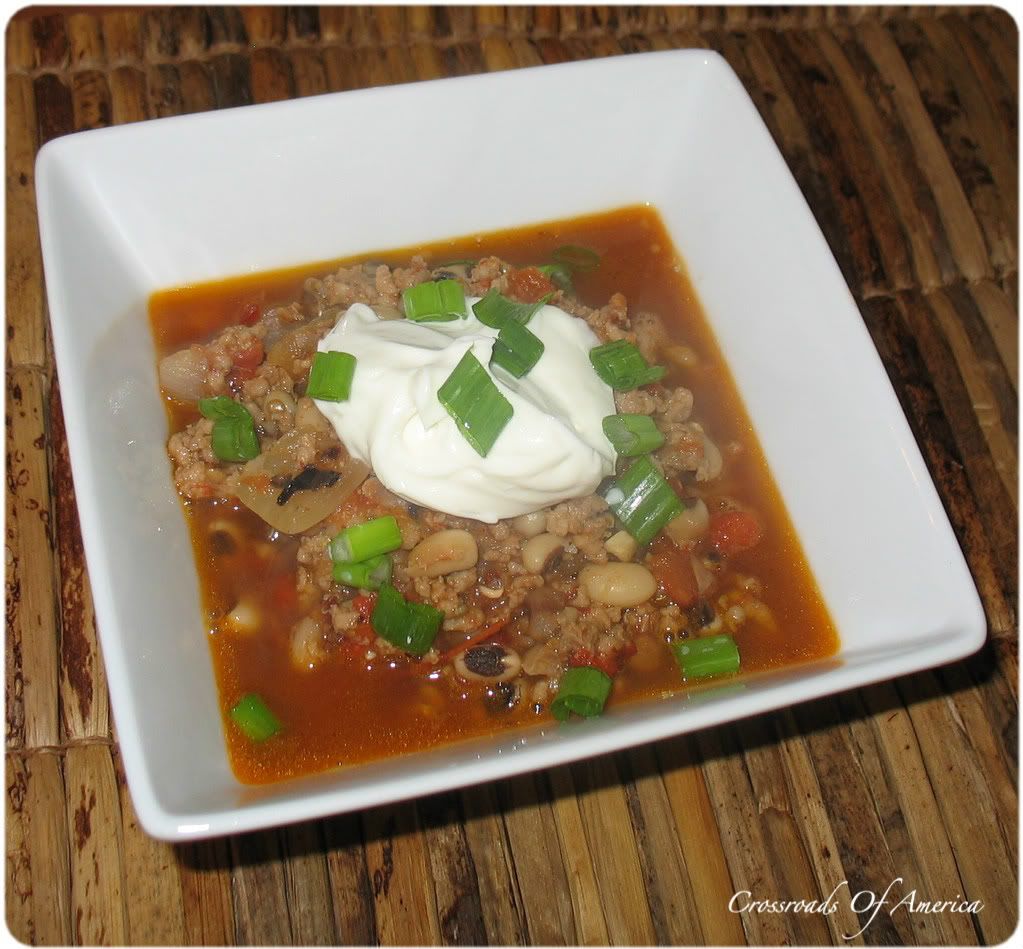 I roasted all of the vegetables for the soffrito on the grill. You could roast them in the oven instead, but I think there's just something better about fire-roasting them. I used dried black-eyed peas instead of canned. I just let them soak for a few hours before using them.
Makes: 8 servings
Prep time: 15 minutes
Cook time: 1 hour 30 minutes
Printable Recipe
Ingredients:
6 Roma tomatoes
1 small head garlic (cut the root section off so the bottoms of the cloves are exposed)
3 jalapeños
1 medium yellow onion, halved
1 medium red bell pepper
1/4 cup red wine vinegar
3 tablespoons olive oil, divided
1 tablespoon dried oregano
2 dried ancho chiles
2 dried New Mexico chiles
2 canned chipotle chiles in adobo sauce
2 lb ground pork
1 tablespoons ground cumin
1 teaspoon chili powder
2 cups chicken broth
3 (15 oz) cans black-eyed peas, drained and rinsed
Sour cream and sliced green onions, for serving
1. Place the tomatoes, garlic, jalapeños, onion, and bell pepper in a large bowl. Add half of the olive oil and red vinegar. Season with salt and pepper. Roast on a grill until dark and charred, 20-40 minutes. Some vegetables will get done roasting before others, so keep an eye on it. Alternatively, you can roast the vegetables on a baking sheet in the oven at 500 F, rotating often.
2. Let vegetables cool slightly. Stem, seed and remove the skins from the jalapeños and bell pepper. Remove skins and core from the tomatoes. Rough chop all vegetables.
3. Meanwhile, roast the dried chiles in a skillet over high heat for 2-3 minutes per side. Place in a bowl and add 2 cups hot water. Let soak 20 minutes or until softened. Reserve the soaking water.
4. Remove seeds from dried chiles. Place them an the two chipotles into a blender along with a few tablespoons of the soaking water. Puree.
5. In a Dutch oven or large pot, add the remaining olive oil, pork, cumin, chili powder, and 1 tablespoon of salt. Brown.
6. Add the chopped vegetables and pureed chiles, along with the rest of the soaking water, the chicken broth, and black-eyed peas. Bring to a boil and reduce to a simmer. Continue cooking until peas are tender, about 45 minutes. Add more salt to taste.
7. Serve topped with sour cream and green onions.