I picked up some smoked sausage on sale the other day. I usually just throw it in the Dutch oven, brown it up, and make some sort of soup.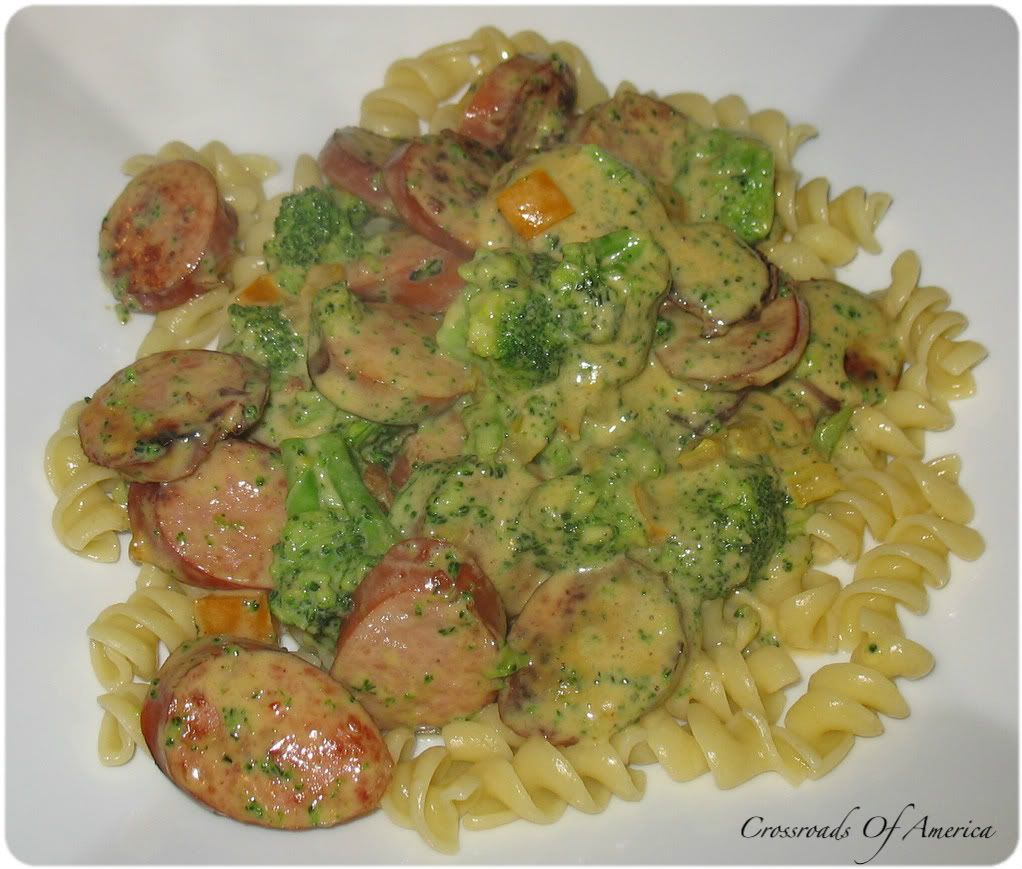 This time I searched around a bit and found
this recipe over on Food.com
. This time I followed the recipe exactly. Next time I think I'll substitute some freshly shredded
Tillamook
sharp cheddar for the Velveeta.
Makes: 4 servings
Prep time: 10 minutes
Cook time: 40 minutes
Printable Recipe
Ingredients:


1 lb smoked sausage, cut into coins
2 medium bell peppers (red, green, orange... whichever you prefer)
1/2 lb Velveeta cheese cut into 1/2" cubes
1/4 cup whole milk
1 teaspoon red pepper flake (optional)
2 medium heats broccoli, cut into florets
2 cups dried pasta (whatever kind you prefer)
1. Bring a large pot of salted water to a boil. Cook pasta per box instructions. Drain.
2. Bring a large pot of salted water to a boil. Add broccoli. Return to a boil and boil 2-3 minutes. Drain and place in an ice bath.
3. Heat a large skillet over medium-high heat. Add sausage and brown, 1-2 minutes per side.
4. Add the bell pepper and cook until starting to soften, about 5 minutes.
5. Reduce heat to medium. Add in the Velveeta, milk, and red pepper (if using). Stir until cheese is melted.
6. Add in broccoli and warm.
7. Serve over pasta.