Ok, I admit it, I watch The Next Food Network Star on TV. I'm not really so much into food competition shows as seeing what foods the contestants crank out. This last year's winner,
Jeff Mauro
, makes some great sandwiches (and other things, like these fries).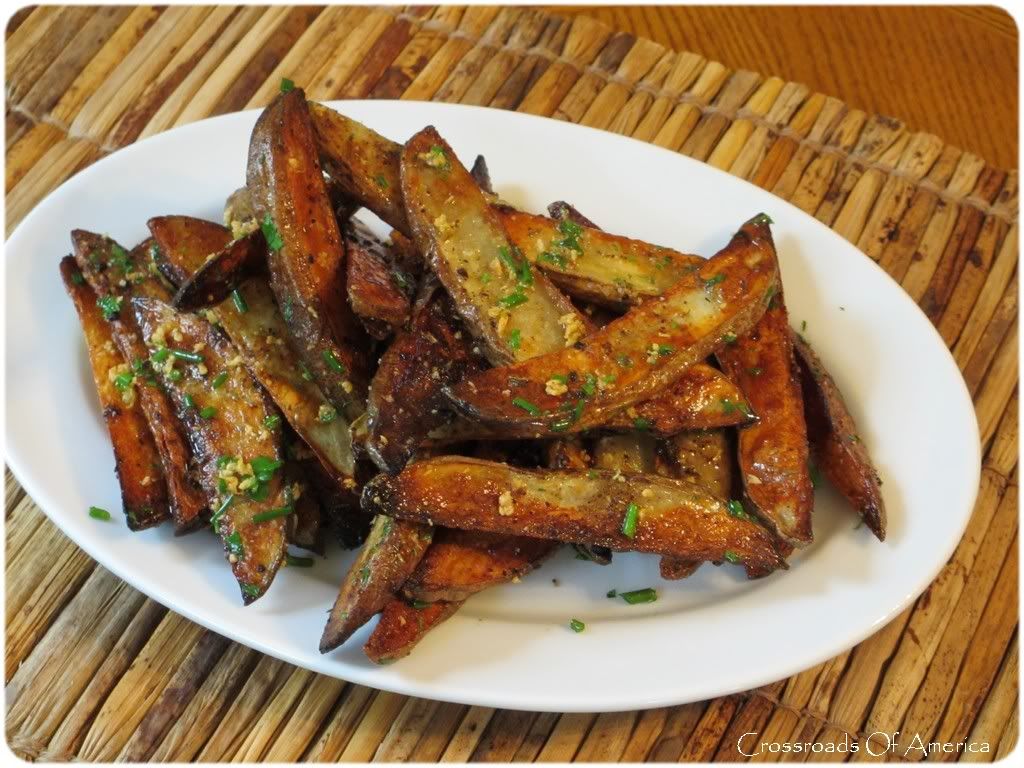 Jeff's show,
Sandwich King
, highlights some great sandwich places in Chicago. I like his approach to food. I hope he stays around.
These fries are like candy. They will disappear before you know it. I doubled the garlic from the
original recipe
because, well, we love garlic! You can substitute dried herbs if needed, just cut back on the amounts. We're lucky this year in that our herb garden came out very early so we have plenty of rosemary, oregano, parsley, catnip (not for us!), thyme, and other things right out our back door.
Makes: 4 servings
Prep time: 5 minutes
Cook time: 45 minutes
Printable Recipe
Ingredients:
3 large russet potatoes
3 tablespoons vegetable oil
Salt and freshly cracked black pepper
3 tablespoons unsalted butter
2 tablespoons grated fresh garlic (I used minced)
1 tablespoon chopped fresh parsley (or sub 1 teaspoon dried)
2 teaspoons chopped fresh chives (or sub 1/2 teaspoon dried)
1 teaspoon fresh thyme leaves, chopped (or sub 1/4 teaspoon dried)
1. Rinse the potatoes and cut into wedges (you'll get about 12 wedges per potato). Place into a large bowl of cold water and let soak for 10 minutes.
2. Meanwhile, preheat your oven to 475 F.
3. Drizzle a baking sheet with 2 tablespoons of the oil. Sprinkle the oil with salt and a generous amount of pepper (to taste, but we used a lot of fresh cracked pepper).
4. Place potatoes in the pan, with a cut side down, and drizzle with the remaining oil. Sprinkle with some more salt and pepper.
5. Cover the pan with foil and bake for 10 minutes.
6. Remove the foil and bake another 10 minutes.
7. Flip the potatoes onto the other cut side and bake, still uncovered, until golden brown, 10-15 more minutes.
8. Meanwhile, melt the butter in a small pan. Add in the garlic and saute for 5 minutes. Remove from heat.
9. Place potatoes in a large bowl. Pour the garlic butter over the tops, and add the herbs. Mix well and serve.