I love Marguerite's blog,
Cajun Delights
. I'm a big fan of food with great flavors (duh!) and a little kick. Head on over to
Cajun Delights
and you'll find plenty of great stuff!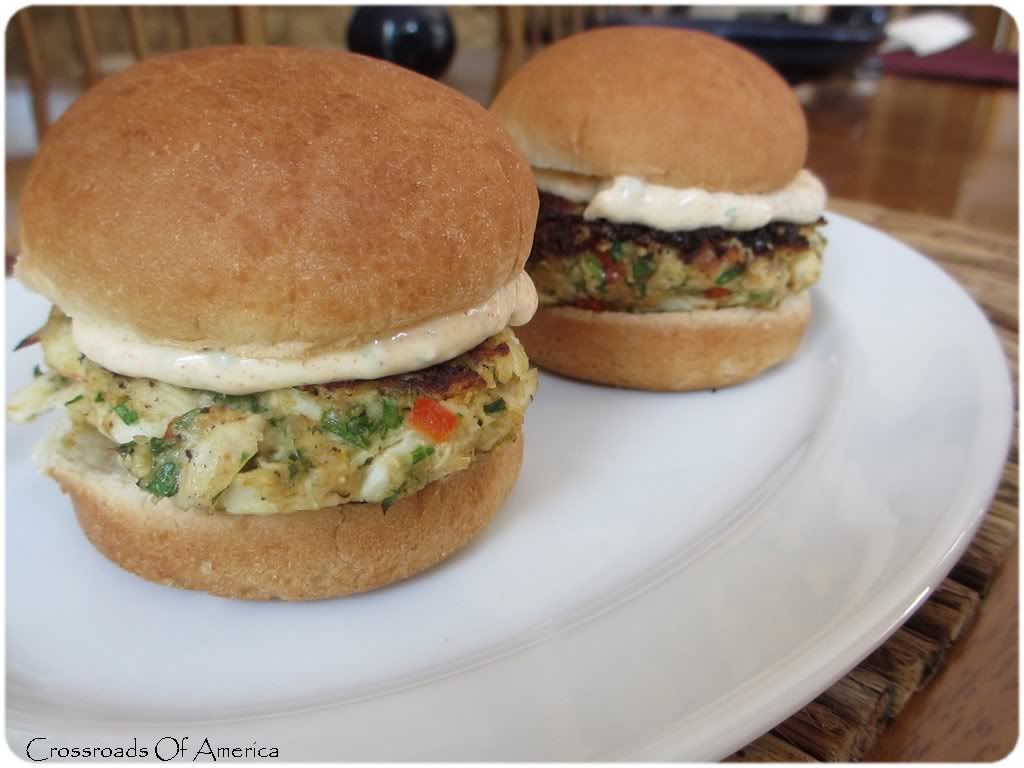 You can serve this crab cakes with or without the slider buns. I thought they'd make them a little different. Oh, and be careful when you flip the crab cakes in the pan. They're very tender and can fall apart on you if you're not gentle.
Makes: 4 crab cakes
Prep time: 10 minutes
Cook time: 6-8 minutes
Printable Recipe
Ingredients:
2 tablespoons mayonnaise
1 tablespoon Creole or Dijon mustard
1/4 cup red bell pepper, diced
1/4 cup green onion, minced
2 tablespoons fresh parsley, chopped
2 cloves garlic, minced
1 teaspoon Worcestershire sauce
Creole seasoning, to taste
1 lb lump crab meat
1/4 cup seasoned bread crumbs
1 tablespoon olive oil
4 slider buns
Remoulade (see below)
1. Mix the mayo, mustard, bell pepper, green onion, parsley, garlic, Worcestershire sauce and Creole seasoning in a large bowl.
2. Add in the crab meat and bread crumbs and combine gently.
3. Heat the oil in a large skillet over medium-high heat.
4. Form the crab mixture into patties about 3" wide and an inch thick. Add to skillet and cook until golden brown, 3-4 minutes, on each side.
5. Serve on buns (if desired), topped with plenty of the remoulade.
For the remoulade:
Prep time: 1 hours
Ingredients:
1 cup mayonnaise
1 teaspoon yellow mustard
1 teaspoon Creole or Dijon mustard
1 teaspoon milk
1-1 1/2 teaspoons. prepared horseradish, to taste
2 tablespoons white onion, minced
1 tablespoon fresh parsley, minced
1/2 teaspoon white vinegar
1/2 teaspoon paprika
1/4 teaspoon cayenne pepper
1/4 teaspoon black pepper
1 teaspoon lemon juice
Salt and hot sauce, to taste
1. Combine all ingredients in a bowl. Cover and refrigerate at least one hour before using.