This is a simple, very tasty dish. I found that it was even better leftover the next day, and absolutely fantastic the day after that.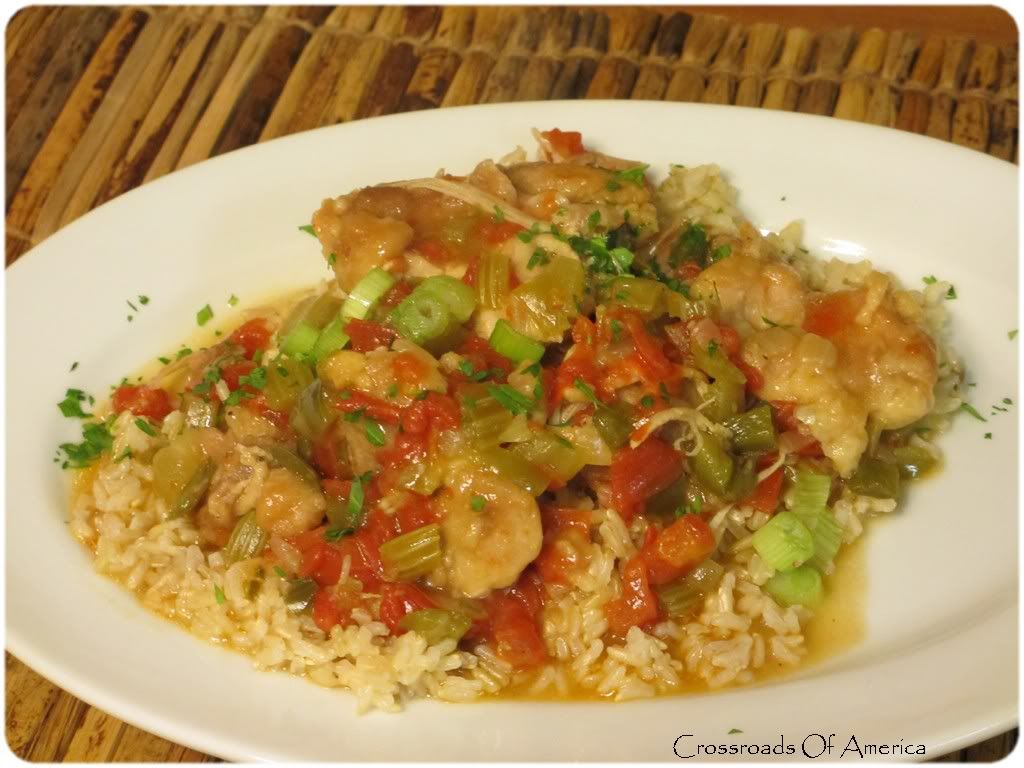 I found the original recipe
here
. I substituted boneless skinless thighs for whole cut-up chicken.
Makes: 8 servings
Prep time: 15 minutes
Cook time: 2 hours 10 minutes
Printable Recipe
Ingredients:
1/4 cup olive oil
3 pounds boneless, skinless chicken thighs
1 1/2 teaspoons Creole seasoning3/4 cup plus 3 tablespoons all-purpose flour
1 1/2 cups yellow onions, chopped
3/4 cup green bell peppers, chopped
3/4 cup celery, chopped
1 teaspoon crushed red pepper flakes
1/2 teaspoon cayenne
4 bay leaves
4 cups plum tomatoes, seeded and chopped (you can sub 2 cans of diced tomatoes)
3 cups chicken stock
1 teaspoon Worcestershire sauce
1 teaspoon (or more) hot sauce
2 cups cooked rice
1/2 cup green onions, chopped
1/4 cup fresh flat-leaf parsley, chopped
1. Heat the oil in a large Dutch oven or pot over high heat.
2. Season chicken with salt. In a small bowl, combine 3/4 cup of flour and the Creole seasoning.
3. Working in badges, dredge the chicken in the mixture, shake off the excess, and place in pot. Brown on both sides and remove.
4.Add the onion, bell pepper, celery, a 1/2 teaspoon of salt, red pepper flake, cayenne and bay leaves to the pot. Stir and cook until the veggies start to soften.
5. Sprinkle the vegetables with the 3 tablespoons of flour. Mix and stir, cooking until the flour is cooked, 1-2 minutes.
6. Stir in the tomatoes, chicken stock, Worcestershire sauce, and hot sauce. Add the chicken.
7. Bring to a boil then reduce to a simmer. Simmer, uncovered, for 1 1/2 hours, stirring every 15 minutes.
8. Remove the bay leaves. Serve over rice, garnished with green onion and parsley.