I got the idea for these from
Pam's Midwest Kitchen Korner post on stuffed Cuban pork tenderloin
. Pam's came out so well that I just had to make it.
I sliced them thin and served them on slider rolls.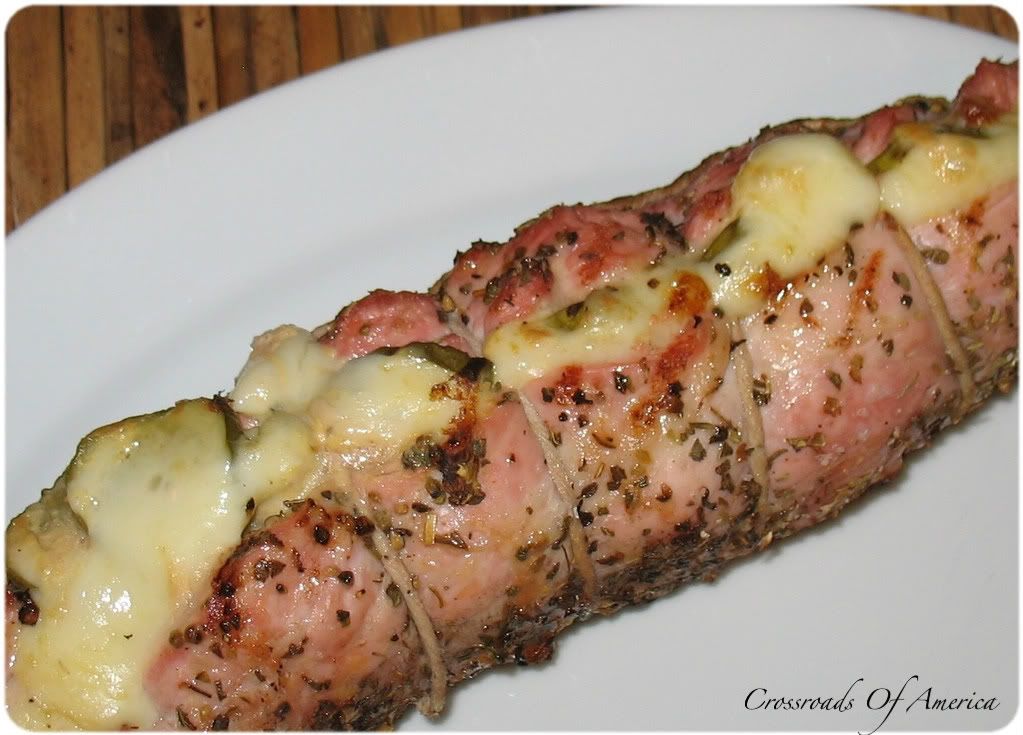 Makes: 8-10 sliders
Prep time: 10 minutes
Cook time: 30 minutes
Printable Recipe
Ingredients:
1 lb pork tenderloin, trimmed
2 tablespoons Dijon mustard
3 slices Swiss cheese, halved, plus 2-3 more for topping the sliders
8-10 dill pickle slices
1 teaspoon dried oregano (I used closer to 2 teaspoons)
8-10 slider buns
1. Fire up your grill for direct/indirect cooking.
2. Cut a slit lengthwise into the tenderloin. Spread it open then, using a meat mallet, pound it out to about a 1/2" thickness.
3. Spread mustard over the inside of the tenderloin. Top with cheese and pickles.
4. Roll up tenderloin along longest edge, then tie with kitchen twine.
5. Combine oregano with a 1/4 teaspoon of salt and 1/2 teaspoon of black pepper. Sprinkle over all sides of the tenderloin.
6. Place tenderloin over direct heat on your grill. Sear, then rotate, searing the remaining sides, but be careful when grilling the open side as you don't want the cheese and other goodies inside to drip out. Remove to indirect heat and continue cooking until desired temperature is reached (I went for 155 F). Remove from grill and let rest 5-10 minutes.
7. Toast buns if desired.
8. Slice tenderloin thin. Top buns with tenderloin and a small piece of Swiss cheese. Serve.