I found this great glaze over on the
Nibble Me This blog
the other day. I thought it'd be perfect on a grilled pork tenderloin.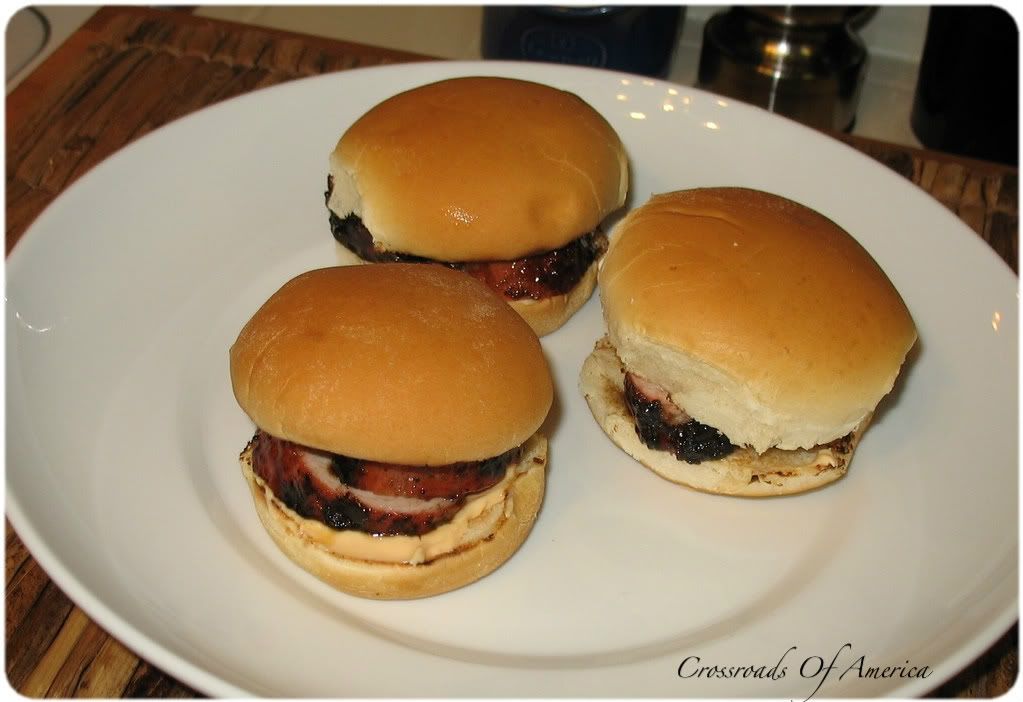 I sliced the tenderloin thin and served it on slider rolls with some sriracha mayonnaise. Yummy!
Makes: 12 sliders
Prep time: 10 minutes
Cook time: 20-30 minutes
Printable Recipe
Ingredients:
1 cup red plum jelly
1 oz sriracha sauce
2 oz terriyaki sauce
2 cloves garlic, minced
1 green onion, sliced
2 pork tenderloins
12 slider buns
1. Place jelly, sriracha, terriyaki, garlic and onion in a medium pan. Heat until blended, stirring often. And salt and pepper to taste.
2. Prepare grill for indirect cooking.
3. Season tenderloins with salt and pepper. Sear on grill on all sides then remove to indirect heat. Brush with glaze. Continue cooking until done (155 F), brushing with additional glaze as you go.
4. Remove tenderloin and let rest. Brown buns on grill.
5. Slather buns with sriracha sauce and top with sliced tenderloin.
For the sriracha sauce:
Ingredients:
1/2 cup mayonnaise
2 tablespoons sriracha sauce
1/2 tablespoons milk
1. Place ingredients in a food processor. Add salt to taste and puree until smooth, 2-3 minutes.