I made up a big ole batch of this slightly spicy popcorn for a family get-together. It's not overly sweet and not overly hot, just right I'd say!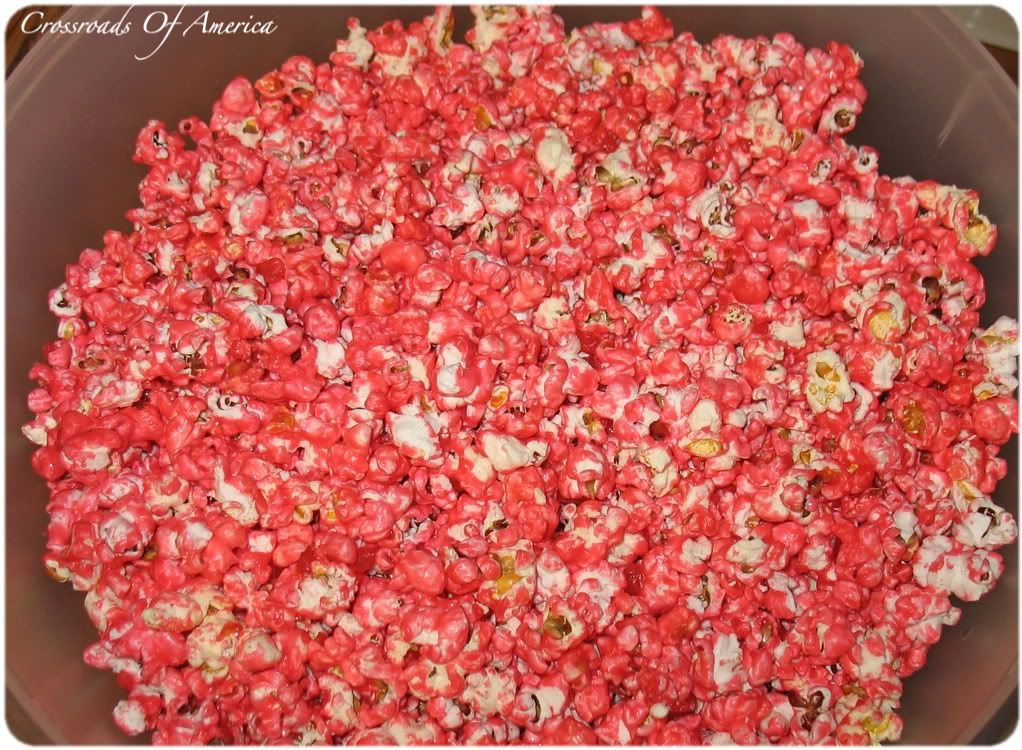 You can substitute any cinnamon candy, like Red Hots if you want. I found the
original recipe
over at
CD Kitchen
. I made the popcorn in our
Whirley Pop popcorn maker
, which makes fantastic popcorn!
Makes: A huge bowlful
Cook time: 1 hour 20 minutes
Printable Recipe
Ingredients:
2/3 cups un-popped popcorn kernels
2 10oz packages Hot Tamale candies
1/2 cup sugar
2 sticks unsalted butter
1/2 cup corn syrup
1 teaspoon salt
1/2 teaspoon baking soda
1. Preheat oven to 250 F. Spray a roasting pan with unflavored non-stick spray.
2. Pop popcorn according to your popcorn popper instructions. Pour popcorn into the roasting pan.
3. In a medium non-stick pot, place the candies, sugar, butter, corn syrup and salt. Over medium-high heat, melt the butter and candies, stirring often. This can take 5-20 minutes depending on the candies. I find that Hot Tamales take a while to melt. Other candies, such as Red Hots, might not take as long.
4. Once the candy is completely melted, remove the pot from the heat and whisk in the baking soda. Pour the mixture over the popcorn, and stir to completely coat the popcorn.
5. Bake popcorn for 1 hour. Every 15 minutes stir the popcorn.
6. Let cool before serving.