Anita loves
hummus
. I thought I'd make something a little different and use roasted red peppers.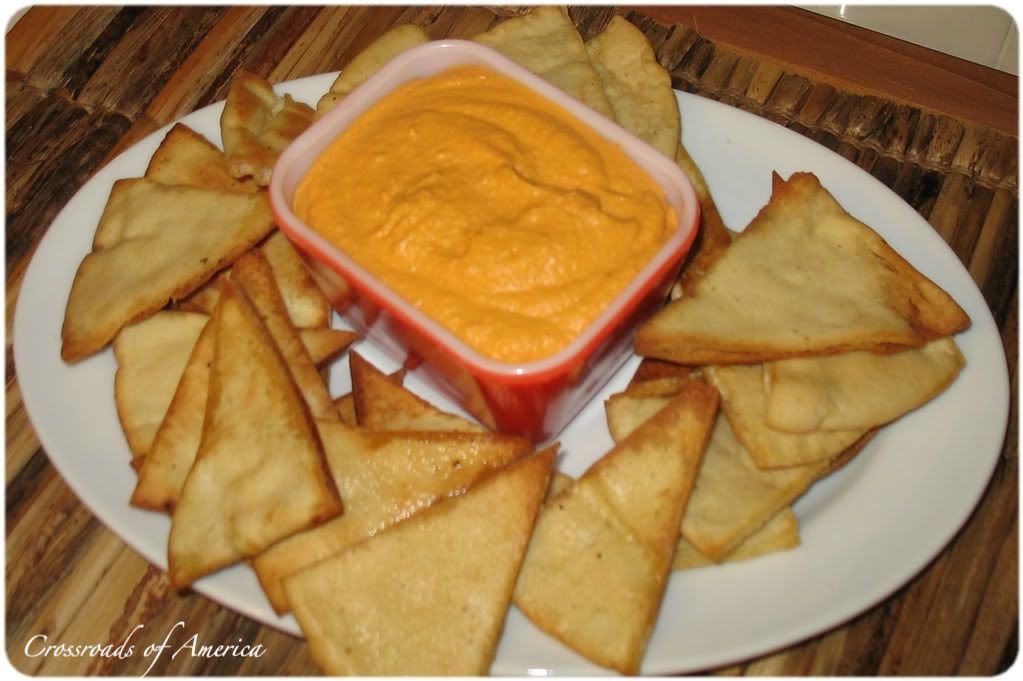 I also made some
pita chips
for dipping. Super easy.
For the hummus:
Makes: 1 1/2 cups
Prep time: 5 minutes
Cook time: 5 minutes
Printable Recipe
Ingredients:
1 15 oz can garbanzo beans, drained and rinsed
1 medium red bell pepper
2 tablespoons tahini
1 lemon
2 tablespoons canola oil
1/4 teaspoon salt
1 teaspoon garlic powder
1. Roast the red bell pepper on your grill or in the oven. Let cool then remove the charred skin, stem and seeds. Chop. Alternatively, you can use 1/2 cup jarred roasted red bell pepper, chopped.
2. Place all ingredients in a blender or food processor and blend until smooth.
For the pita chips:
Makes: 4 servings
Prep time: 5 minutes
Cook time: 15 minutes
Ingredients:
3 pitas, cut into wedges
4 tablespoons olive oil
1 clove garlic, minced
1. Preheat oven to 375 F.
2. Mix oil, garlic and salt and pepper to taste in small bowl. Brush mixture onto pita wedges. Transfer to a baking sheet (or two) and bake for 12-15 minutes or until crispy and lightly golden.