On a rare occasion, I make up my own recipes. That's actually my (eventual) goal: that everything I cook be my interpretation or adaption of things I've seen or tasted. But, I'm a ways away from that goal. I am getting there, though.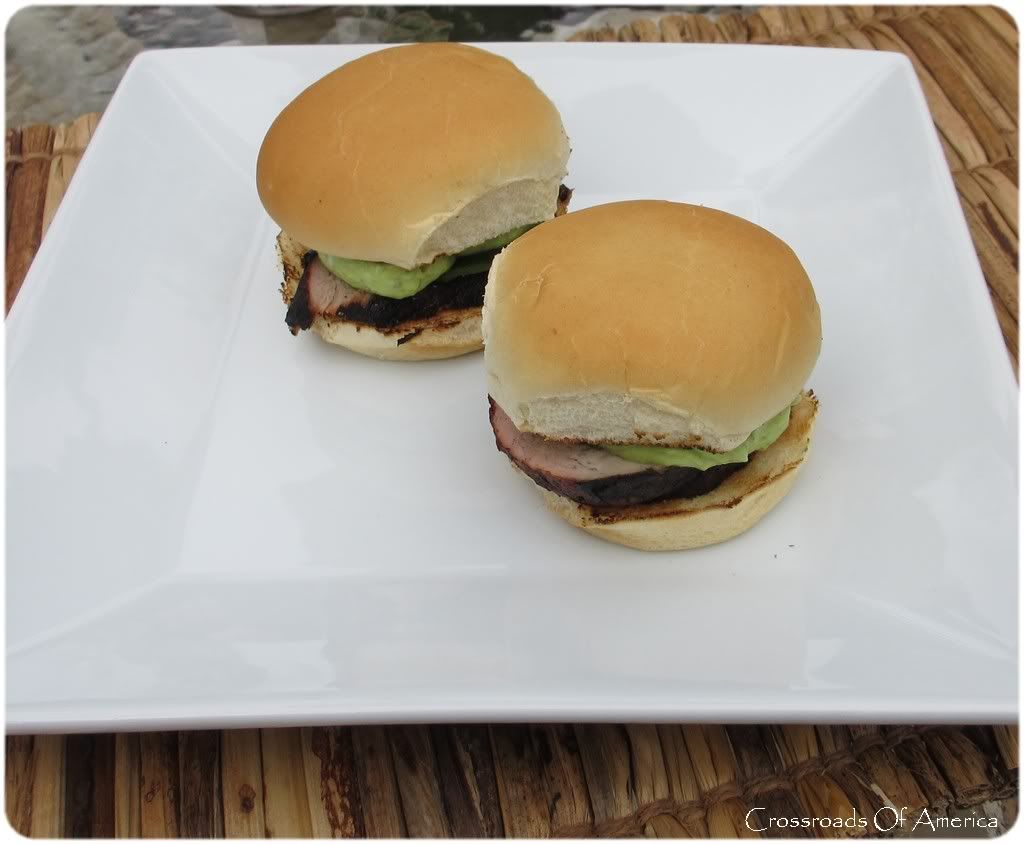 These simple tasty sliders have bring some heat, but the avocado cream will cool you off.
Makes: 10-12 sliders
Prep time: 4 hours
Cook time: 1 hour 30 minutes
Printable Recipe
Ingredients:
8 dried guajillo chili peppers
1 pork tenderloin
4 poblano peppers
Avocado cream sauce (see below)
10-12 slider rolls
1. Heat a large skillet over high heat. Add the peppers. Toast until they start to blister.
2. Transfer the peppers to a large bowl. Cover with hot water and let soak for 30 minutes.
3. Remove the peppers, but DO NOT throw out the water. Remove the stems, veins, and seeds (if desired) and place into a blender. Add 2-3 cups of the soaking liquid. Puree until smooth. Add more liquid if the mixture gets too thick.
4. Place the tenderloin into a large resealable baggie. Add the blended sauce. Place the baggie into a large bowl (in case it leaks) and place in the fridge for 3 1/2 hours.
5. Set up your grill for indirect cooking.
6. Place the poblanos onto the grill and roast until well charred. Remove from heat and let cool. Remove the charred skin, seeds, stems and veins, and cut into wide pieces. Set aside.
7. Sear the tenderloin over direct heat on all sides. Remove to indirect heat and cook until internal temperature reaches at least 155 F. Remove and cover in foil and let rest for 30 minutes. Slice thin.
8. Serve tenderloin on slider rolls topped with poblano slices and avocado cream.
For the avocado cream sauce (from the Eat Clean Now blog):
Ingredients:
1 avocado, pitted, peeled and cut into chunks
6 ounces plain Greek yogurt
1 jalapeño pepper, seeded, stemmed and minced
1/4 cup fresh cilantro, chopped
1. Place all ingredients into a blender and puree until smooth. Refrigerate until ready to use.