Quinoa is a grain-like crop that is actually related to the beet and tumbleweed. Really. It originated in the Andean mountains.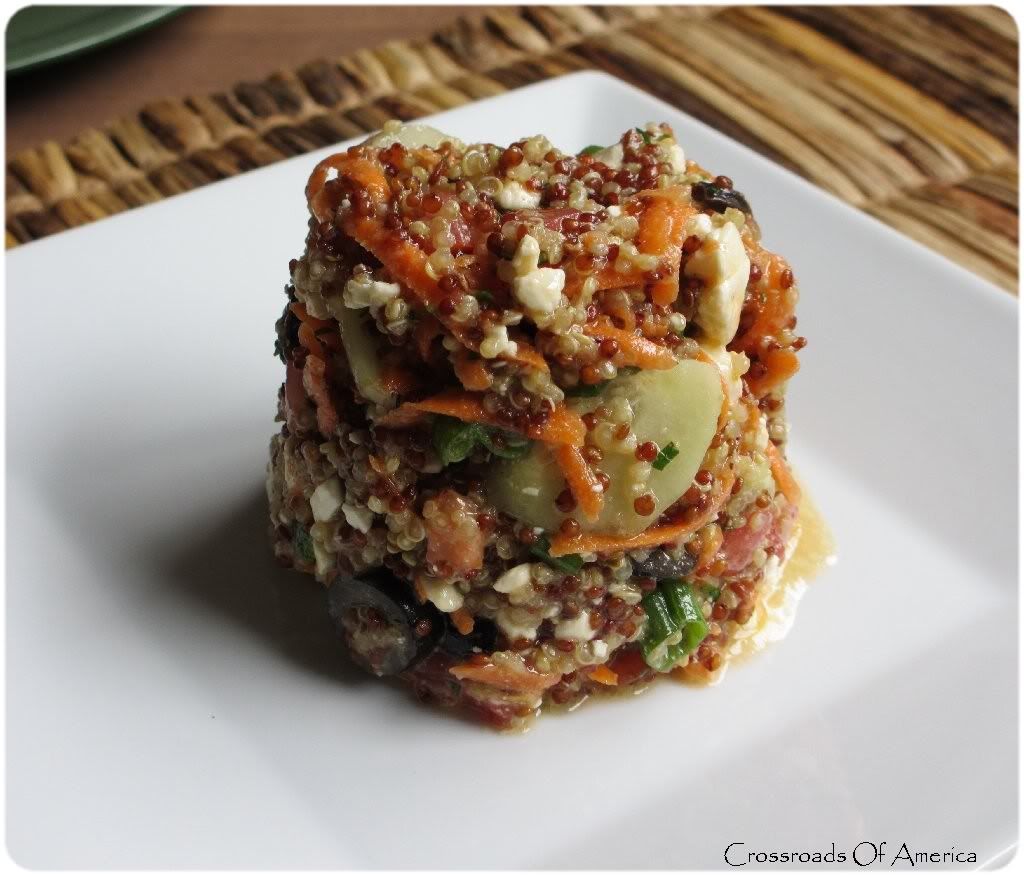 And until now, we've never had it. This salad is really good. It is served cold, so it is perfect to pack in your lunch for work. The original recipe came from the
You Made That? blog
.
Makes: 6-8 servings
Prep time: 15 minutes
Cook time: 20 minutes
Printable Recipe
Ingredients:
1 cup uncooked quinoa (I used 1/2 cup of red, 1/2 cup of white)
3 cups chicken broth
1 carrot, shredded
1/2 cucumber, thinly sliced
1 large tomato, chopped
1 small can of sliced black olives, drained
2 green onions, sliced
3 ounces feta cheese, crumbled
2 tablespoons fresh parsley, chopped
1/2 cup olive oil
1/4 cup fresh lemon juice (2-3 lemons)
1 clove garlic, grated
1 teaspoon dried oregano
1/2 teaspoon salt
1/4 teaspoon fresh black pepper
1. Place broth in a saucepan over medium-high heat and bring to a boil.
2. Add quinoa and stir. Reduce heat to a simmer, and continue simmering until the liquid is absorbed. Remove from heat and let cool.
3. Place the carrot, cucumber, tomato, olives, green onions, feta, and parsley in a large bowl and combine.
4. Pour the olive oil and lemon juice into jar (or bowl). Add the garlic, oregano, salt and pepper. Put the lid on and shake until well combined (or use a whisk to combine if you're using a bowl).
5. Add quinoa to the vegetables. Stir, and pour in most of the vinaigrette. Add more vinaigrette if the salad is still dry, or reserve for adding later.