I love a good gumbo. I've made several variations in the past. I came across
this version
from Chef Frank Brigtsen, and I just had to make it. It takes a lot of time, but it is by far the best gumbo I've ever had. You could shortcut some of the process (say, by using rotisserie chicken or store-bought chicken broth), but I don't think you'll be as happy with the end result.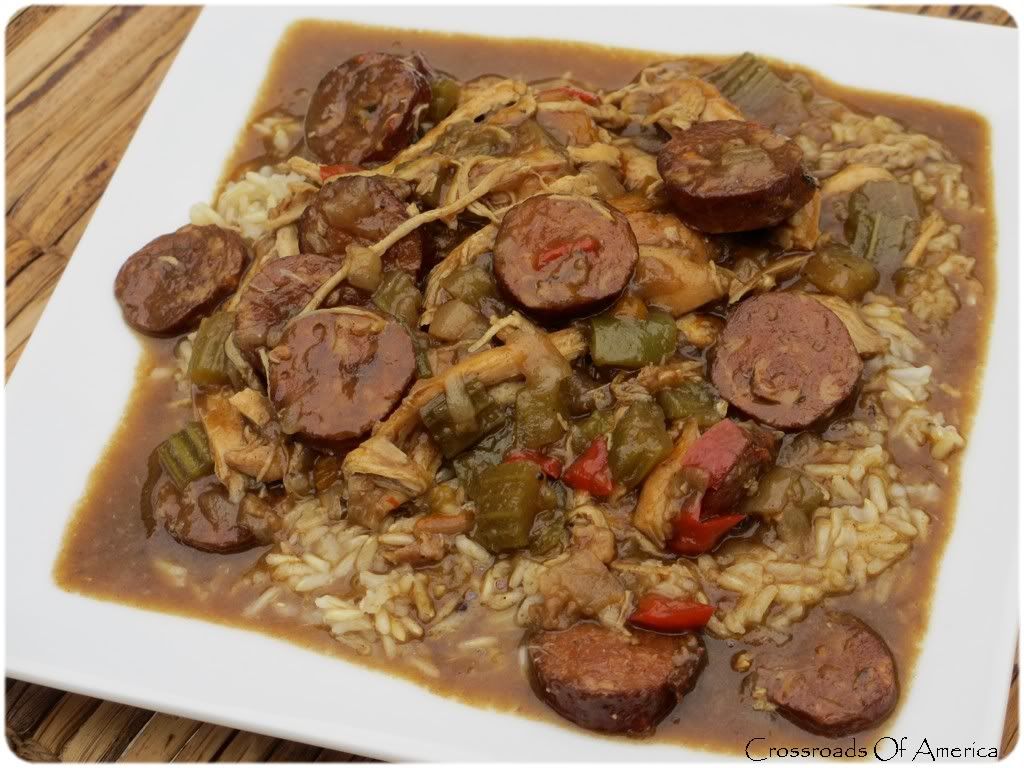 I found some very good andouille at Whole Foods. I admit, I used more than the original recipe called for because I'm addicted to andouille. I made a few other very minor changes also.
Makes: 8-10 servings
Prep time: 1 hour
Cook time: 4 hours
Printable Recipe
Ingredients:
1 pound (or a little more) andouille sausage, sliced into 1/4" thick rounds
2 tablespoons olive oil
4 cups yellow onions, chopped
3 cups celery, chopped
1 cup green bell pepper, chopped
1/2 cup red bell pepper, chopped
1/2 cup yellow bell pepper, chopped
2 bay leaves
1 tablespoon garlic, minced
4 teaspoons salt
1/4 teaspoon dried thyme
1/2 teaspoon black pepper
1/4 teaspoon white pepper
1/4 teaspoon cayenne pepper
3 tablespoons gumbo file powder
12 cups homemade chicken stock
1 whole chicken, cut into parts
4 tablespoons Creole seasoning (I used Slap Ya Mama)
3 cups all-purpose flour
4 cups vegetable oil
4 cups cooked rice
1. Preheat your oven to 350 F. Place the sausage slices onto baking pans and bake until they are starting to brown on the edges, 30-45 minutes. Remove from oven.
2. Heat the olive oil in a very large pot over medium high heat. Add in 3 cups of the onion, 2 cups of the celery, and 1 1/2 cups of the peppers. Also add the bay leaf. Cook until the onions start to brown, 15-20 minutes.
3. Add the remaining onion, celery and bell pepper. Reduce heat to medium and cook another 2-3 minutes or until the onion you just added starts to turn clear.
4. Stir in the garlic, salt, thyme, black and white pepper, cayenne, and file. Reduce heat to low and cook another 3-4 minutes.
5. Add in the chicken stock and sausage. Bring to a boil and reduce heat to a simmer. Cook for 1 hour, stirring occasionally and skimming off any oil off of the surface.
6. Meanwhile, heat the vegetable oil over medium high heat. Combine 2 cups of the flour and 4 teaspoons of Creole seasoning in a shallow bowl.
7. Season the chicken with Creole seasoning. Working in batches, dredge the chicken in the flour mixture and fry until brown and crispy, about 5 minutes per side. Remove to a paper towel lined plate.
8. Add the chicken to the pot and continue simmering another 45 minutes or until the chicken is done and is starting to fall off of the bone.
9. Remove the chicken pieces and let cool. Remove the skin. Remove the meat from the bones and shred.
10. Once the oil from frying the chicken has cooled slightly, pour the oil through a sieve. You need just over 3/4 cups of oil to make a roux.
11. Heat the frying pan and add the oil back in. Slowly whisk in 1 cup of the flour. Bring to a simmer, and stir constantly for 15-20 minutes or until the roux is the color of brown chocolate. Remove from heat and let cool for 15 minutes.
12. Bring pot back to a boil and skim off any oil.
13. Slowly add the roux to the pot, stirring constantly. Reduce heat to a simmer and simmer another 30 minutes.
14. Serve over cooked rice.