My favorite part of this dish is the fantastic tasting chicken. Well, ok, that and the grilled smoked sausage.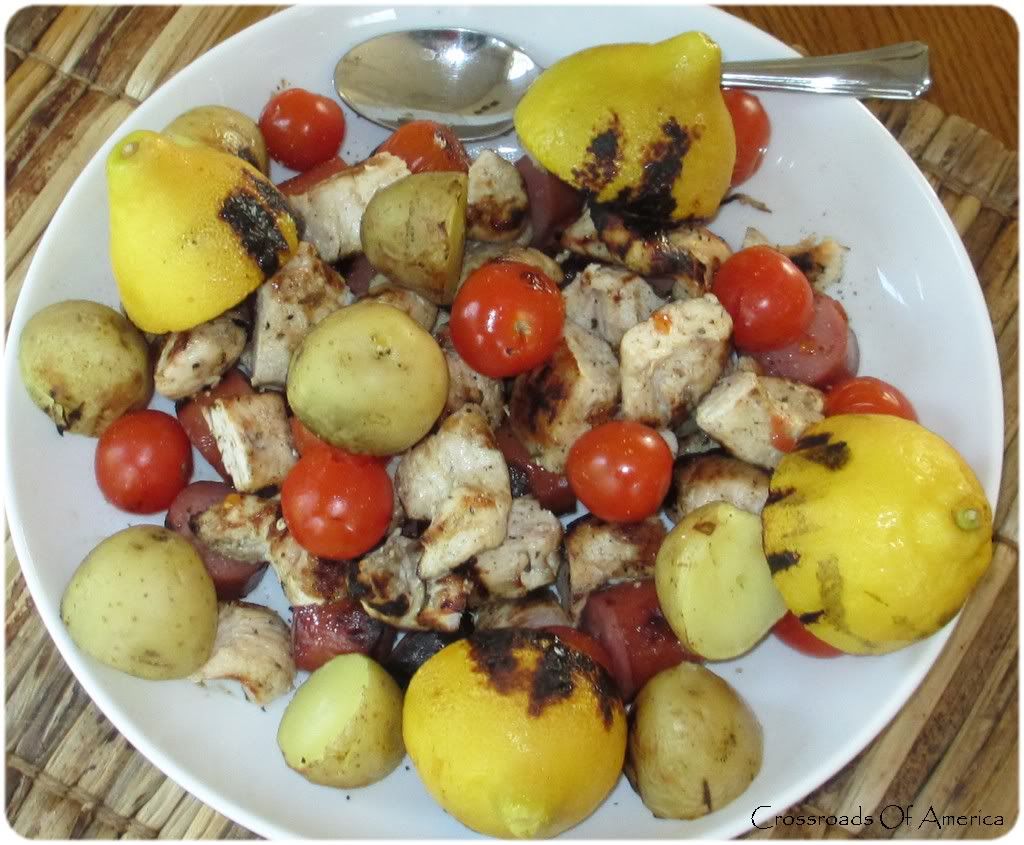 I found the original recipe over on the
Recipe Secrets site
. I added a few par-boiled and then grilled baby potatoes.
Makes: 6-8 servings
Prep time: 3 hours
Cook time: 30 minutes
Printable Recipe
Ingredients:
1/4 cup extra virgin olive oil
5 lemons, 3 juiced and 2 halved
1 teaspoon salt
3 bay leaves, crushed
2 large garlic cloves, minced
2 tablespoons fresh rosemary, chopped
2 pounds boneless, skinless chicken breasts
1 pound smoked sausage
1 pint cherry tomatoes
3 lemons, cut in half
10 baby potatoes
1. Combine the oil, lemon juice, salt, bay leaves, garlic and rosemary in a small bowl.
2. Place the chicken in a large resealable baggie. Pour in the marinade. Seal and place in the refrigerator for 3 hours. Meanwhile, soak some bamboo skewers in water or just use regular wire or metal skewers.
3. Fire up your grill for direct and indirect cooking.
4. Bring a large pot of salted water to a boil. Add the potatoes. Cook until almost tender. Remove and drain.
5. Cut the chicken into 3/4" thick strips and feed onto skewers.
6. Cut sausage into 3/4" thick strips and feed onto other skewers.
7. Feed tomatoes, lemons, and potatoes onto other skewers.
8. Place all skewers over direct heat until lightly charred. Remove to indirect heat and cook until the chicken is done and the sausage and vegetables are heated thoroughly.
9. Serve with all ingredients piled high, family style, with lemons for drizzling.