Oh, these were tasty! It was hard to stop eating them.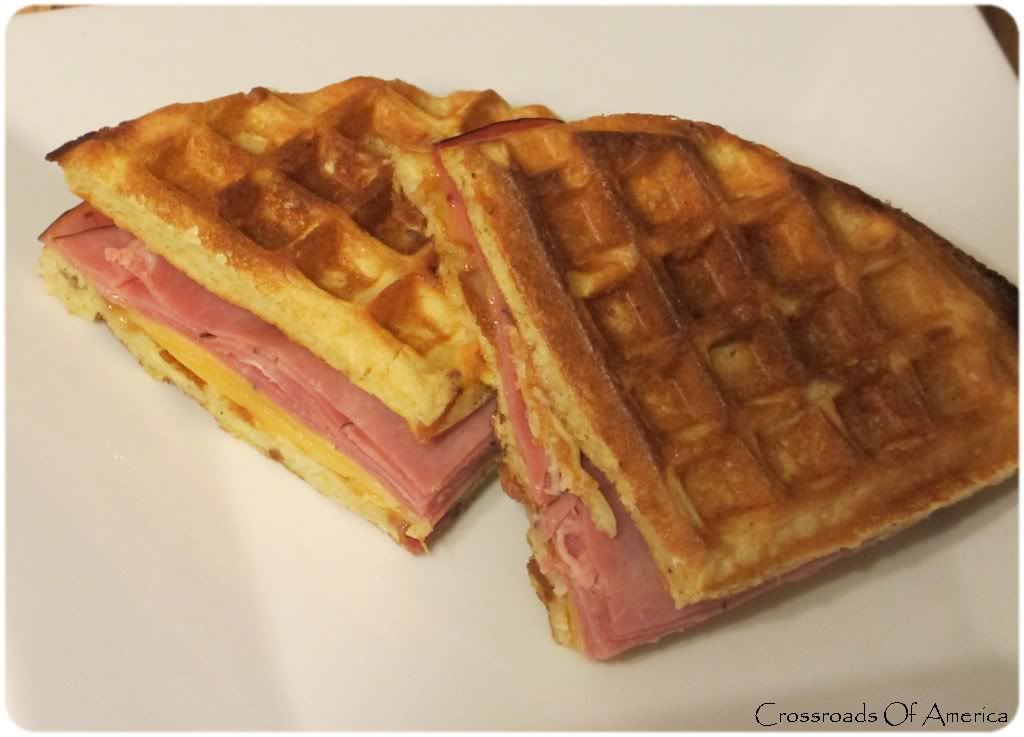 I thought about putting mustard on these, but I couldn't bring myself to do it. Somehow the idea of mustard on a waffle didn't work for me.
I baked these off in the oven, but you can also put a little butter in hot skillet and brown them that way.
Makes: 4-6 servings
Prep time: 5 minutes
Cook time: 30 minutes
Printable Recipe
Ingredients:
4 slices thick-cut bacon
1 1/2 cups all-purpose flour
1 teaspoon baking soda
dash of salt and pepper
2 eggs
1 tablespoon extra-virgin olive oil
1 2/3 cups buttermilk
cooking spray
4 slices sharp cheddar cheese
8 thin slices black forest ham
Dill pickle slice or maple syrup, optional, for serving
1. Preheat your oven to 425 F. Preheat your waffle iron.
2. Cook the bacon. Drain well. Crumble.
3. In a large bowl, combine the flour baking soda, salt and pepper. Make a well in the middle and add the eggs, oil, buttermilk and crumbled bacon. Break up the yokes then whisk the batter together until smooth.
4. Make waffles per your waffle iron instructions.
5. Top two of the waffles with ham and cheese. Add the other waffles on top. Place on a baking sheet and put into the oven until golden brown and the cheese starts to melt.
6. Serve with a pickle or drizzle with syrup.