This is a great dish for a warm day. It's light and refreshing and darned tasty to boot!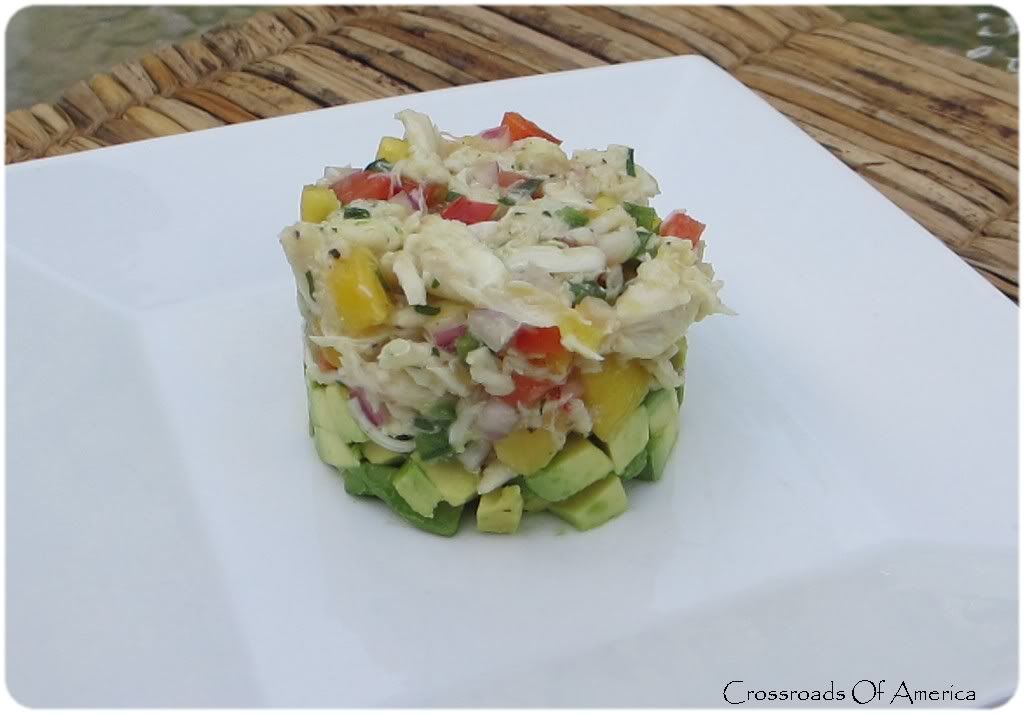 Use a good quality lump crab. I made these by using a cookie cutter to form them. You can also just use an avocado halve to serve them in.
The original recipe came from
Daisy Martinez
.
Makes: 4 servings
Prep time: 10 minutes
Printable Recipe
Ingredients:
1 lime, zested and halved
2 tablespoons olive oil
2 tablespoons cilantro, chopped
1/2 mango, peeled and diced
1/3 cup red bell pepper, diced
1/3 cup red onion, diced
1/2 jalapeno, diced
1/2 pound jumbo lump crabmeat
3 avocados, cut into 1/4" bites
1. Squeeze half a lime into a bowl. Add the oil and cilantro and mix well.
2. Add the lime zest, mango, bell pepper, onion and jalapeno and mix well.
3. Add the crab and mix gently.
4. Drizzle the remaining lime juice over the avocado.
5. Place 1/4th of the avocado in the bottom of a large round cookie cutter or metal ring. Tamp down slightly with the bottom of a spoon.
6. Add in 1/4th of the crab salad and tamp down. Slowly remove the cookie cutter. I put a spoon on top of the salad mixture to hold it down while removing the cookie cutter.
7. Repeat with remaining avocado and crab salad.