I wasn't much in the mood for cooking a lot for dinner the other night, so I threw together this easy stir fry using grilled chicken.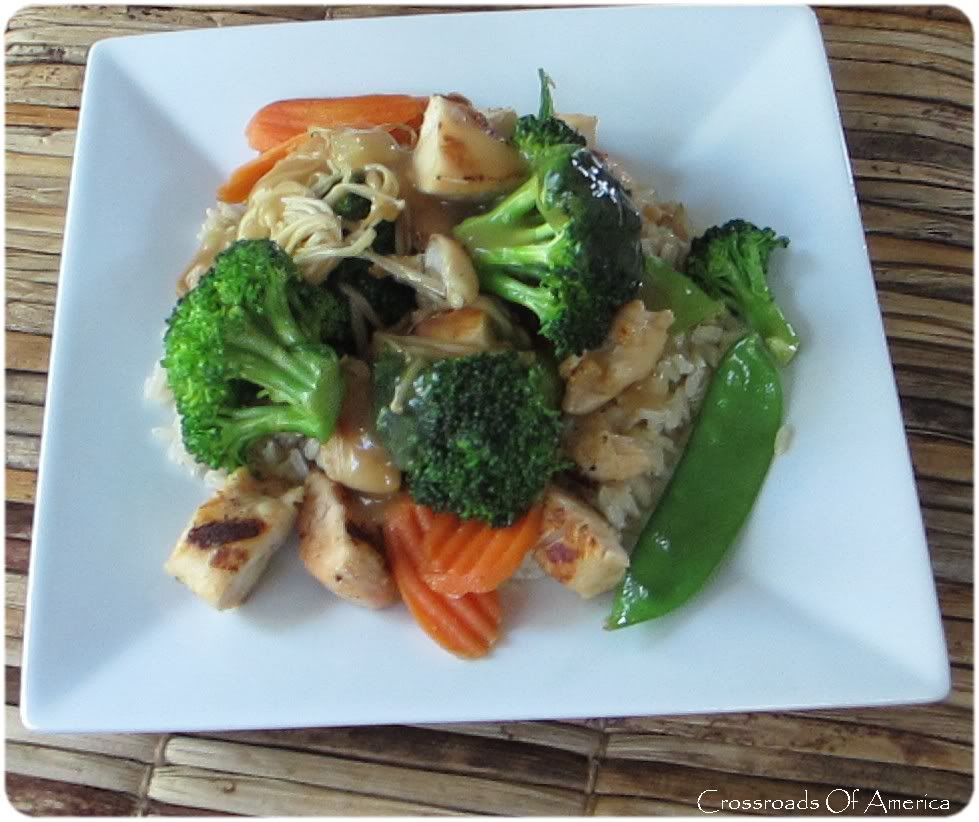 You could use frozen pre-grilled chicken in a pinch.
Makes: 4 servings
Prep time: 5 minutes
Cook time: 20 minutes
Printable Recipe
Ingredients:
1 pound chicken tenderloins
1 tablespoon olive oil
1 package stir fry vegetables
Fresh mushrooms (whichever kind you prefer)
4 tablespoons soy sauce, divided
2 chicken bouillon cubes
4 tablespoons corn starch
Dried pepper flakes, to taste
Cooked rice
1. Season the chicken with salt and pepper and grill until cooked through.
2. Meanwhile, heat the oil in a large skillet. Add in the vegetables and 2 tablespoons of the soy sauce. Stir and cook until vegetables are soft.
3. In a saute pan, bring two cups of water to a boil.
4. Add in the bouillon and stir until dissolved. Reduce heat to a simmer. Add the remaining two tablespoons of soy sauce.
5. Mix 1/4 cup of cold water and the corn starch together. Pour into the water mixture and whisk together until thickened. Remove from heat.
6. Cut chicken into bite-sized pieces and mix in with the vegetables. Serve over rice with the sauce, sprinkled with dried pepper flakes (optional, but good!).