This is my take on the McDonald's Big Mac.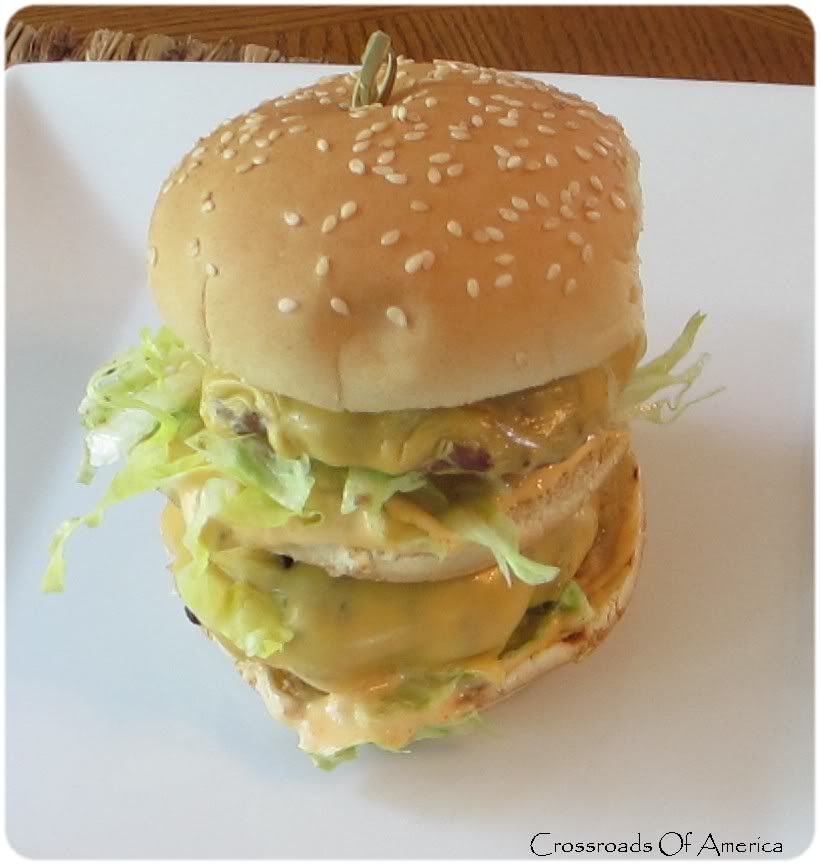 I'm not a big fan of any burger that isn't cooked over fire, so these burgers have that Big Mac taste along with that great grill flavor. They're big, messy, and delicious!
Makes:4 burgers
Prep time: 10 minutes
Cook time: 20 minutes
Printable Recipe
Ingredients:
2 pounds ground beef
Salt and pepper
8 slices American cheese
6 hamburger buns
Special sauce (see below)
1/4 cup white onion, diced
Dill pickles
2 cups shredded lettuce
1. Form ground beef in to 8 patties, each about 3 1/2 ounces each. Season with salt and pepper.
2. Grill burgers until done. Top with cheese.
3. Lightly toast the buns.
4. Assemble burgers by slathering bun bottoms with special sauce. Add some onion and lettuce. Top with a burger patty and dill pickles. Add another bun. Slather it with sauce and add onion, lettuce, a patty and more dill pickle. Top with another burger bun top.
For the special sauce:
Ingredients:
1/2 cup fat mayonnaise
4 tablespoons French dressing
4 teaspoons sweet pickle relish
3 teaspoons onion, minced
1 teaspoon white vinegar
Pinch of salt
1. Combine all ingredients. Refrigerate until ready to use.