I am a big fan of
Alton Brown
. I've always enjoyed
Good Eats
, but I think my favorite series of his was Feasting on Asphalt. The show highlighted some of the greatest locally-owned restaurants and cafes.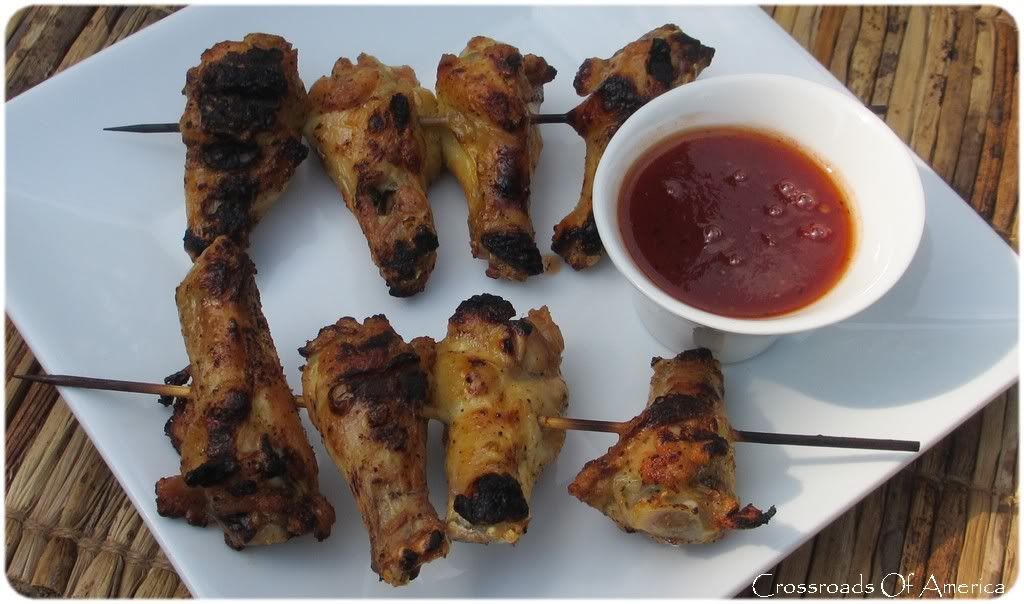 I recently picked up the book
Feasting On Asphalt The River Run
at an antique mall. Besides being a great read (it has much more detail than the TV store), it also has some great recipes in it. Like this one from
Fast Eddie's Bon Air
in Alton, Illinois.
I was smoking wings the other day, and was looking for something different to do with the drummettes.
This recipe is simple and tastes great. This would make a great recipe for a crowd, as you can bake the chicken ahead of time, then throw it on the grill for a few minutes when you are ready to eat.
Makes: 4 servings
Prep time: 5 minutes
Cook time: 1 hour 50 minutes
Printable Recipe
Ingredients:
16 chicken drummettes
1 teaspoon seasoned salt
1 teaspoon Cajun or Creole seasoning
Your favorite dipping sauce (I used warmed Blue's Hog Tennessee Red)
1. Preheat oven to 450 F.
2. Put chicken in a large bowl. Combine the seasonings and sprinkle over the chicken. Toss to cover well.
3. Place chicken on baking sheets lined with parchment paper and back for 45 minutes.
4. Place chicken in fridge for 1 hour.
5. Preheat grill for direct grilling.
6. Skewer the drummettes and grill, rotating once, for 5 minutes per side.
7. Serve with your favorite dipping sauce.