Oh man, grilled meatloaf! On a sandwich! So good, and easy to make. The grill really adds some great flavor.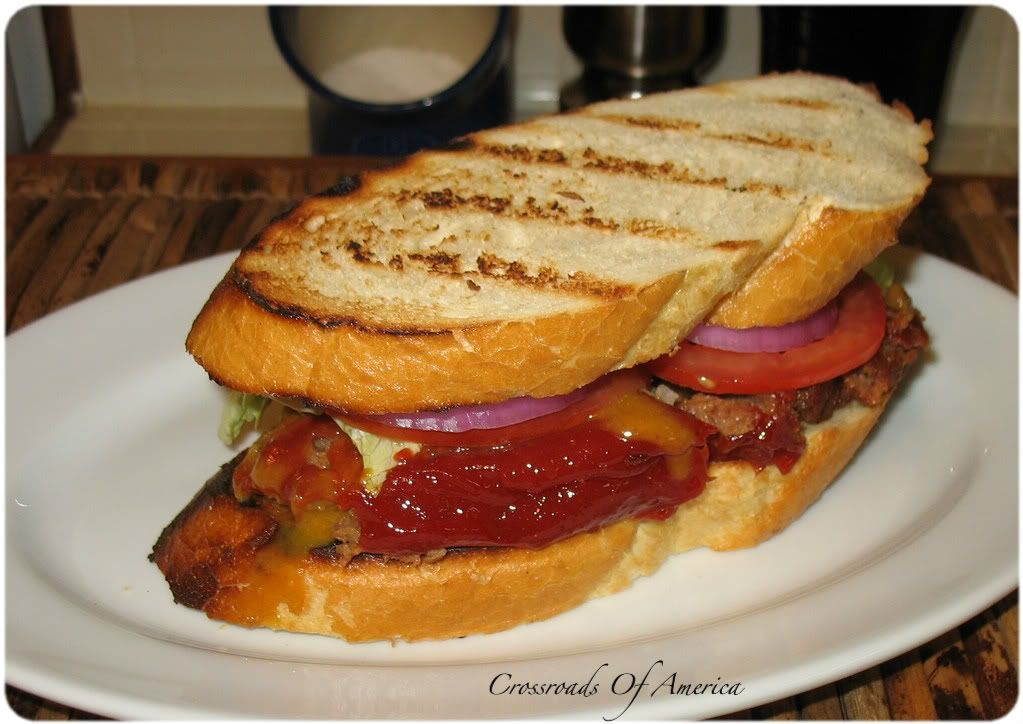 If you want you can make them in the oven, but its more fun (and tastier!) on the grill. I got the original idea from the
Barbeque Lovers
.
Makes: 8 sandwiches
Prep time: 10 minutes
Cook time: 1 hour 20 minutes
Printable Recipe
Ingredients:
1 egg
1/3 cup grated onion
2/3 cup bread crumbs
1 lb ground beef
1 cup ketchup, divided
4 teaspoons Worcestershire sauce
2 1/2 tablespoons fresh parsley, chopped
1/3 cup water
1/3 cup prepared mustard
1/3 cup red wine vinegar
2 1/2 tablespoons firmly packed light brown sugar
1 loaf French bread, cut into 1" slices on the diagonal
Lettuce and sliced tomato and red onion for topping
1. Preheat grill for indirect cooking at 350 F.
2. Spray a baking pan with non-stick spray or line it with foil.
3. In a bowl, combine the egg, onion, and bread crumbs. Add in the ground beef, 1/2 cup of the ketchup, parsley, Worcestershire, and salt and pepper, to taste.
4. Form meat into a loaf shape and place in the pan. Spread 1/4 cup of the remaining ketchup on top of the loaf. Transfer to the grill and cook for 45 minutes to 1 hour, or until the loaf has firmed up and the meat is cooked through.
5. Remove meatloaf from grill and let it rest for at least 10 minutes. While it is resting, combine the remaining ketchup, water, mustard, vinegar and brown sugar in a small sauce pan. Bring to a boil and reduce to a simmer. Simmer for 3 minutes then remove from heat.
6. Grill the bread slices until lightly toasted.
7. Slice the meatloaf and place on bread. Spoon plenty of the sauce on top. Add lettuce, onion, and tomatoes and serve.