I went on a meatball kick for a few days. These Chinese meatballs are what got it all started because they are fantastic.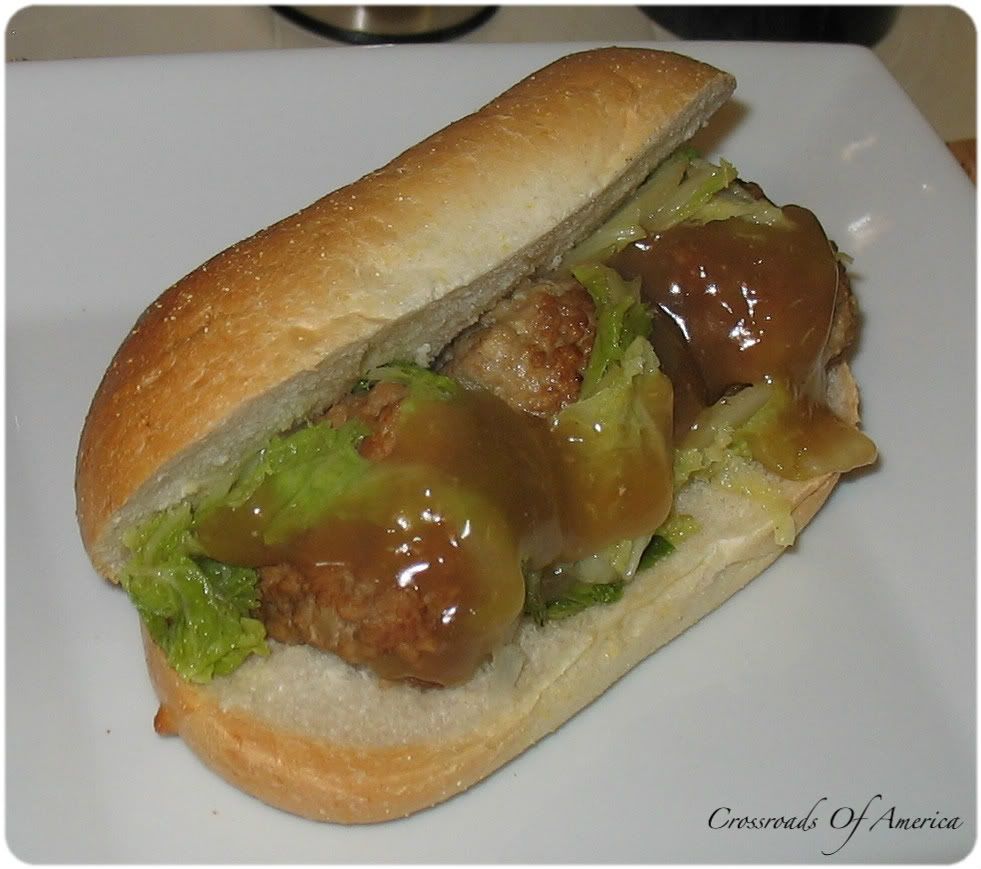 Instead of serving them over noodles, which would be just fine, I decided to make them as sandwiches. Really good, and just as good leftover. I found the original recipe
here
.
Makes: 4 sandwiches
Prep time: 15 minutes
Cook time: 50 minutes
Printable Recipe
Ingredients:
1 lb ground pork
1/4 lb raw shrimp, shelled, deveined, minced
1/4 cup water chestnut, minced
1 teaspoon fresh gingerroot, minced
1 whole green onion, minced
3 tablespoons soy sauce, divided
1/2 teaspoon salt
1 teaspoon sugar, divided
3 tablespoons cornstarch, divided
1 egg, lightly beaten
2 tablespoons vegetable oil
1 1/2 cups chicken broth plus 1 tablespoon
1 head Napa cabbage, cored, chopped into 2" pieces
1 teaspoon sesame oil
4 hoagie rolls
Directions:
1. In a large bowl combine the pork, shrimp, water chestnuts, ginger, green onion, one tablespoon of the soy sauce, one tablespoon of chicken broth, salt, 1/2 teaspoon of the sugar, one tablespoon of cornstarch and the egg. Using your hands, mix well then form 12-16 meatballs, all about the size of a golf ball.
3. Heat oil in a wok. Add the meatballs (working in batches if needed) and cook until browned, about 6-10 minutes. Remove meatballs to a large saucepan.
4. Add the broth and remaining soy sauce and sugar to the pan with the meatballs. Bring to a boil. Reduce heat to a simmer, cover, and let simmer for 30 minutes.
5. Spread cabbage over the tops of the meatballs, cover, and continue simmering for 10-15 more minutes or until the cabbage has started to soften.
6. Remove meatballs from saucepan. In a small cup, mix the remaining cornstarch and three tablespoons of water. Add to the saucepan along with the sesame oil and whisk to thicken.
7. Serve meatballs and cabbage on buns topped with the sauce.