I am a big fan of the Cooking Channel's show, Extra Virgin. I think it is because Gebriele Corcos actually does show some good food that is usually very simple, and looks great.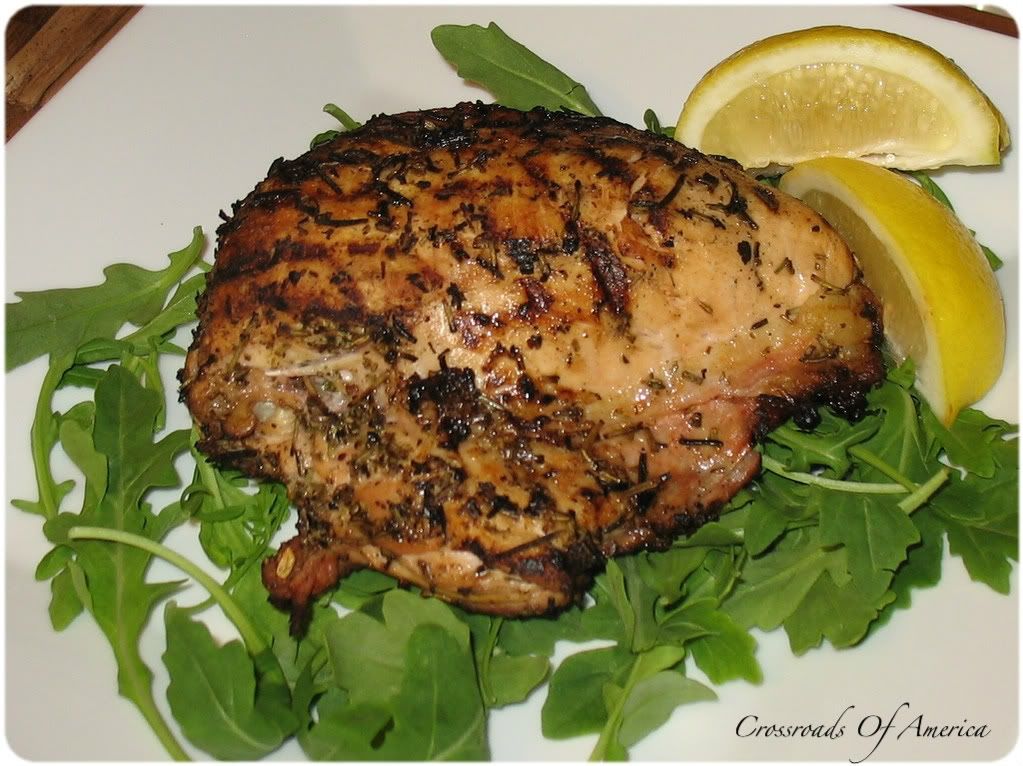 In the
original version of this recipe
, Gabriele Corcos used a whole chicken. I used split bone-in chicken breasts, one skinless for Anita, and the other skin-on for me.
Makes: 2 servings
Prep time: 3 hours
Cook time: 30 minutes
Printable Recipe
Ingredients:
2 small handfuls fresh chopped rosemary (I used a tablespoon of dried rosemary, crushed)
1/4 cup olive oil
2 lemons, one juiced and one sliced for serving
2 large split bone-in chicken breasts
3 large handfuls arugula
1. Place chicken into a large resealable bag. Add rosemary, olive oil, lemon juice, and salt and pepper to taste. Seal and shake. Refrigerate for 3 hours, rotating the bag every 15 minutes or so.
2. Fire up your grill for two zone (direct and indirect) cooking.
3. Remove chicken from marinade, shaking off the excess, and sear on both sides over direct heat. Remove to indirect heat and continue cooking until done. Let rest 5-10 minutes before serving.
4. Serve chicken over arugula with lemon wedges on the side.