These are the best enchiladas we've ever made. Maybe the best we've ever had.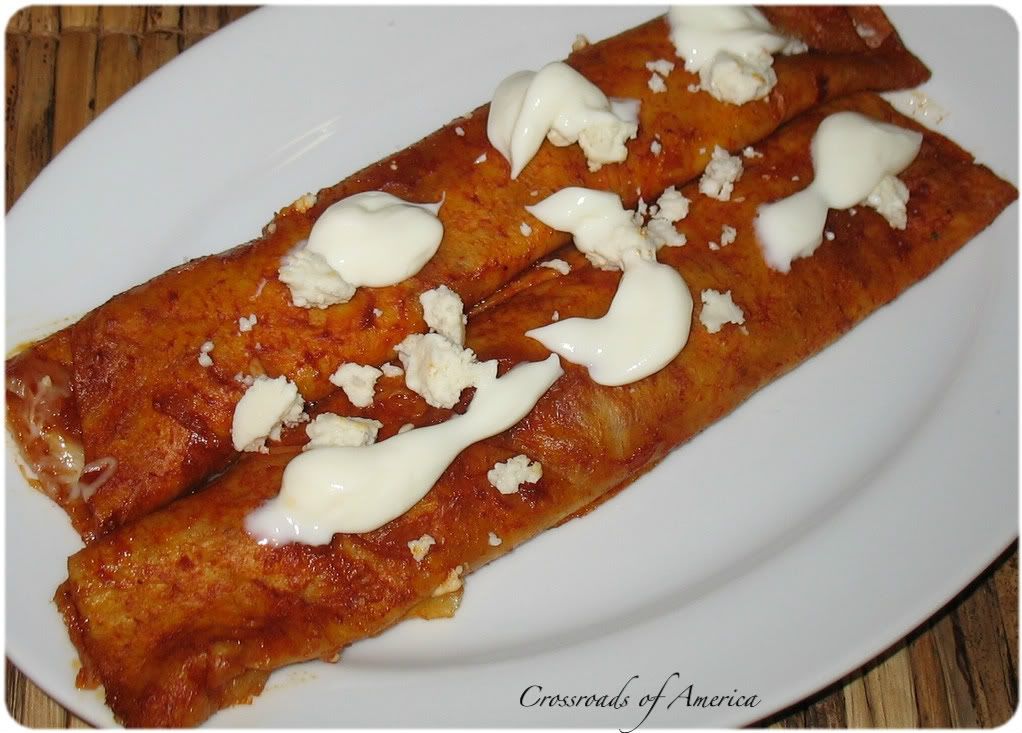 The key to these is dipping the tortillas in the homemade sauce. Next time, we made add some seasoned ground beef to these, but they were excellent with just cheese and onion inside.
The original recipe came from
Saveur
.
Makes: 12 tortillas, 6 servings
Prep time: 30 minutes
Cook time: 10 minutes
Printable Recipe
Ingredients:
20 dried New Mexico chiles
3 tablespoon vegetable oil, plus more for frying
10 cloves garlic
1⁄4 cup fresh lime juice
1 tablespoon ground cumin
2 teaspoon sugar
12 corn tortillas
2 cups shredded mozzarella
2 cups shredded sharp cheddar
3⁄4 cup finely chopped red onion
1⁄4 cup finely crumbled cotija cheese
3 tablespoon Mexican crema (or sour cream)
1. Put the chile peppers into a large bowl and cover with boiling water. Let soften, stirring occasionally, for 20-30 minutes.
2. Remove peppers from soaking water and retain two cups of the liquid. Seed and stem the peppers and place into a blender along with the soaking water.
3. Preheat oven to 450˚ F.
4. Heat the 3 tablespoons of oil in a large skillet. Add the garlic and cook until golden.
5. Transfer garlic to blender. Puree until very smooth.
6. Add lime juice, cumin, sugar, and salt to taste to blender and pulse a few times to combine. Pour mixture into the skillet used to cook the garlic and keep over medium heat.
7. Heat 1/2" of oil in another large skillet. Working one at a time, dip tortillas in the oil and cook until slightly crisp, about 15 seconds. Do not over cook. Remove from oil to a paper towel-lined plate.
8. Spray a 10" x 15" baking dish with non-stick spray. Working one at a time, dip tortillas in chile sauce. Sprinkle center of tortilla with mozzarella, cheddar and red onion. Roll up and transfer to the baking dish.
9. Bake for 5 minutes or until cheese is melted and bubbling.
10. Sprinkle with cotija and drizzle with Mexican crema. Serve.