These were just outstanding. The meatballs are super moist and tasty. I love sesame seeds... can you tell?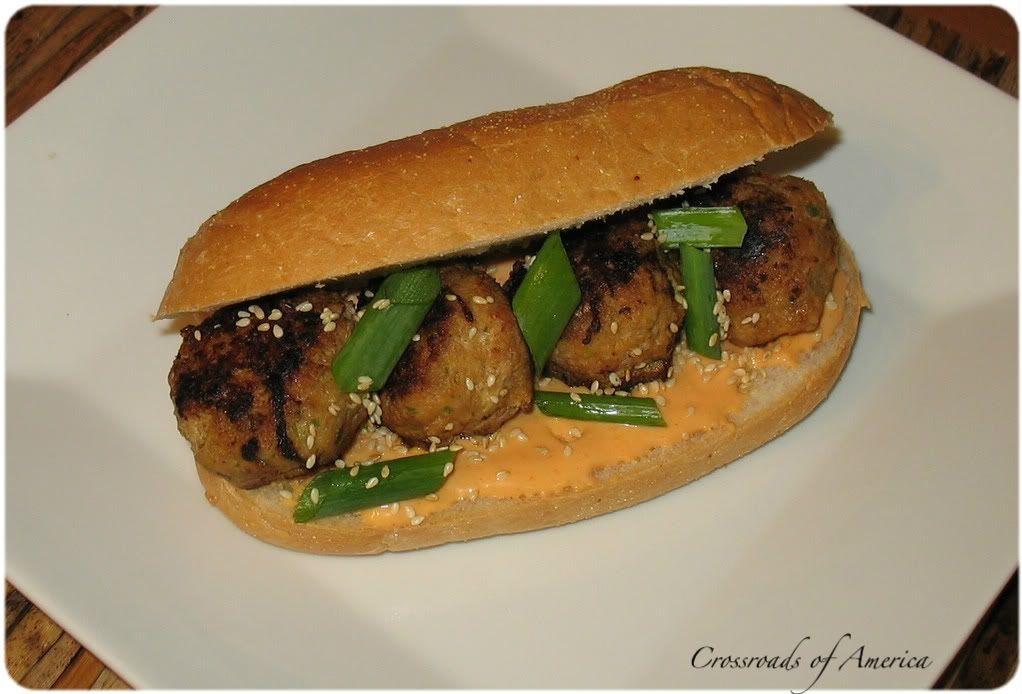 The addition of the sriracha mayonnaise really spices them up even more. The original meatball recipe came from
Kalyns Kitchen
. The mayonnaise recipe came from the
Insane Chicken
.
Makes: 4 sandwiches
Prep time: 10 minutes
Cook time: 30 minutes
Printable Recipe
Ingredients:
1 tablespoon minced garlic
1 tablespoon minced fresh ginger
3 green onions, sliced and then finely chopped
1 1/2 lb. ground turkey (use turkey with less than 10% fat for South Beach Diet)
1 egg, beaten
1/2 cup bread crumbs
1 1/2 tablespoon sesame seeds, toasted
3 tablespoons sriracha sauce
1 teaspoon salt
4 Hoagie rolls
Sriracha mayonnaise (see below)
1 green onion, sliced
1/2 tablespoon sesame seeds, toasted
Oil for frying
1. Combine all ingredients up to the rolls in a large bowl. Form into 12 small meatballs.
2. Heat a few tablespoons of oil in a large pan over medium-high heat. Add meatballs and cook until done and browned, flipping often.
3. To serve, top buns with sriracha mayonnaise. Add meatballs. Sprinkle with additional sesame seeds and green onions.
For the sriracha sauce:
Ingredients:
1/2 cup mayonnaise
2 tablespoons sriracha sauce
1/2 tablespoons milk
1. Place ingredients in a food processor. Add salt to taste and puree until smooth, 2-3 minutes.