There are a lot of different ways to dress up your ordinary hot dogs, and this is one of my favorites.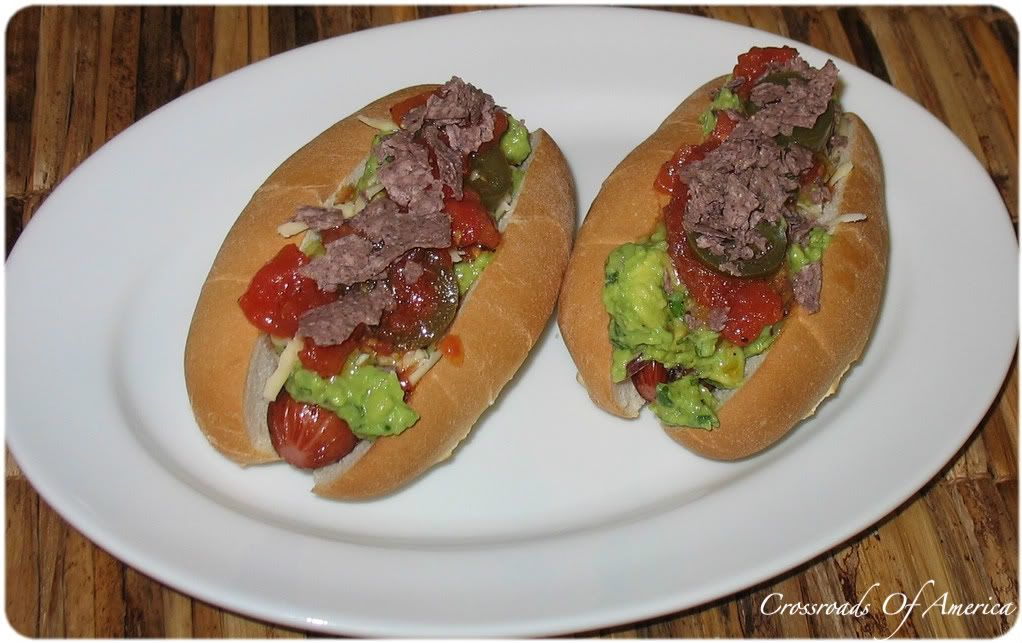 If you're in a hurry you can substitute store-bought salsa, but make the guacamole fresh. I found the original recipe
here
.
Makes: 4 hot dogs
Prep time: 5 minutes
Cook time: 10 minutes
Printable Recipe
Ingredients:
4 hot dogs
4 hot dog buns
3/4 cup shredded cheddar cheese
Pickled jalapeños, to taste
2 handfuls tortilla chips, crushed
Guacamole (see below)
Salsa (see below)
1. Grill dogs and toast buns.
2. To assemble, place dogs on buns. Top with cheese, jalapeño, guacamole, salsa, and crushed chips.
For the salsa:
Cook time: 10 minutes
Ingredients:
2 plum tomatoes
1 tablespoons vegetable oil, divided
1 1/2 tablespoons red wine vinegar
1 teaspoon chipotle in adobo puree
1. Heat grill to high. Brush tomatoes with one tablespoon of the oil and place on grill. Grill until skin is charred but tomatoes are still somewhat firm. Remote from grill and let cool slightly.
2. Cut tomatoes in half and remove seeds. Chop.
3. In a small bowl, whisk together the remaining oil, vinegar, and chipotle. Add in tomatoes, stir. Season with salt and pepper, to taste.
For the guacamole:
Prep time: 10 minutes
Ingredients:
1 ripe avocado, peeled, pitted and chopped
1 jalapeño, minced
1 1/2 tablespoons red onion, minced
1/2 lime, juiced
1 tablespoon vegetable oil
1 1/2 tablespoons fresh cilantro, chopped
1. Combine all ingredients, smashing the avocado slightly as desired. Season with salt and pepper.