I can't begin to tell you how good these are. The berry sauce is fantastic. It is complemented perfectly by the blue cheese butter.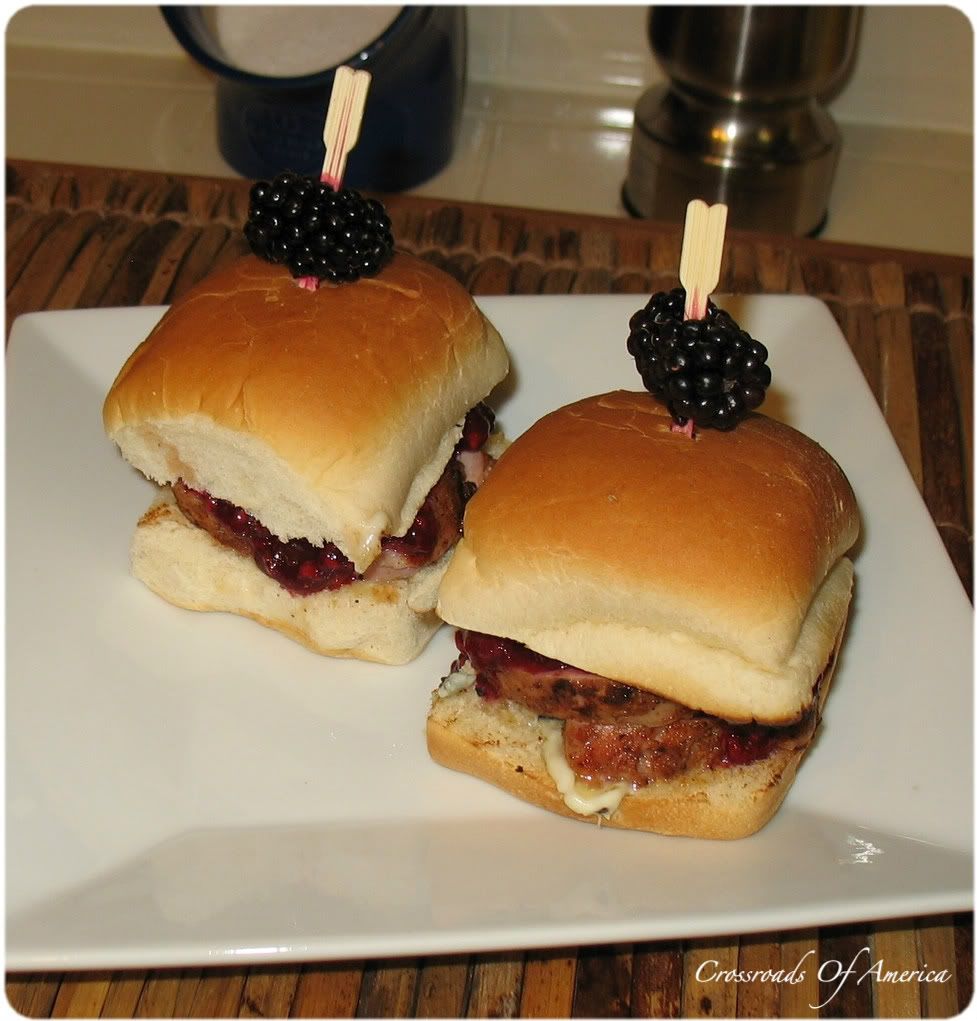 We had a few leftover berries so we had those on the side.
Makes: 4 servings
Prep time: 10 minutes
Cook time: 1 hour
Printable Recipe
Ingredients:
1 pork tenderloin
Favorite BBQ rub (I used Dizzy Pig's Jamaican Firewalk)
8 slider buns, split
Berry sauce (see below)
Blue Cheese butter (see below)
8 blackberries
Olive oil
1. Prepare grill for direct and indirect cooking.
2. Lightly brush tenderloin with oil. Sprinkle with rub. Place over direct heat on the grill and cook until seared. Repeat on other sides, then remove to indirect heat.
3. Cook until internal temperature reaches 145 F. Remove from grill and cover in foil. Let rest for 15-20 minutes before slicing.
4. Toast slider rolls if desired.
5. To assemble sliders, slather bottom of buns with the blue cheese butter. Add a slice or two of the tenderloin. Add a large dollop of the berry sauce, and the top of the bun.
6. Serve garnished with blackberries.
For the Berry Sauce:
Cook time: 20 minutes
Ingredients:
1 1/2 cup blackberries
1 1/2 cup raspberries
1/2 cup blue berries
2 T sugar
1 T water
1 T balsamic vinegar
1. Place berries into a medium sauce pan over low heat. Add sugar, water, and vinegar.
2. Cook, stirring often, until berries have dissolved. Use the back of a spoon to mash the berries as they cook.
3. Remove from heat and let cool.
For the Blue Cheese butter:
Ingredients:
1/4 cup butter, softened
2 T blue cheese, softened
1. Combine all ingredients.