I can't believe I've never made steak fajitas. I did make some
chicken fajitas from a different recipe
a while back, and they were quite good. I hadn't even really thought about making them again until the other day, when I was in the grill section of our local grocery store. They had cast iron servers on sale for about $6 a piece. They are normally as much as $15, I think. So I grabbed a few servers, some meat, some fresh veggies, went home and made these great fajitas!
If you don't like your veggies big and crunchy like we do, just cut them a bit thinner. They'll soften up just fine for ya!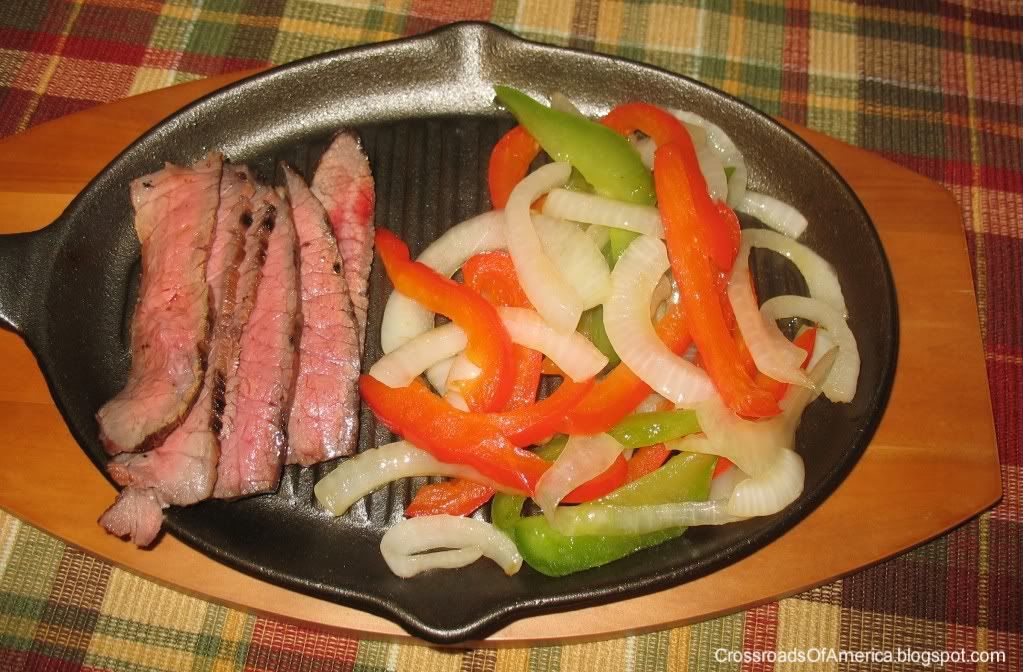 The best part of
this recipe
is the marinade for the meat. It was very, very tasty. We used beef, but you can use chicken, or even shrimp. Just make sure to adjust the marinating time - 15 minutes for shrimp, and 20 minutes for chicken.
Makes: 8 servings
Prep time: 20 minutes
Cook time: 1 hour 15 minutes
Printable Recipe
Ingredients:
1/4 cup vegetable oil, divided
3 T fresh lemon juice
1 clove garlic, minced
1 t ground cumin
1 t garlic powder
1 t onion powder
Hot sauce, to taste
1 1/2 pounds skirt steak
1 medium onion, sliced
1 green bell pepper, sliced
1 red bell pepper, sliced
8 8-inch flour tortillas
For the topping:
1 lime, juiced
Sour cream
Salsa
Guacamole
Cheddar cheese, shredded
1. Place 2 tablespoons of oil, lemon juice, garlic, cumin, garlic powder, onion powder, hot sauce, salt and pepper into a large resealable bag. Add the meat and toss to coat. Place in fridge and marinate for 1 hour.
2. Preheat oven to 400 F.
3. Preheat grill to medium-high. Grill meat until cooked to medium-rare, about 3-5 minutes per side. (Cook chicken until juices run clear, 5 minutes per side, and shrimp about 2 minutes per side until opaque). Let meat rest at least 10 minutes.
4. In a large skillet heat up remaining oil and fry the onions and peppers until crisp-tender. Season with salt and pepper.
5. Wrap tortillas in foil and put in oven with the cast iron servers for 15 minutes.
6. Slice meat thin and place on servers along with peppers and onion. Serve with warmed tortillas and toppings.