It warmed up a bit the other day, so I decided to fire up the grill and cook some chicken thighs.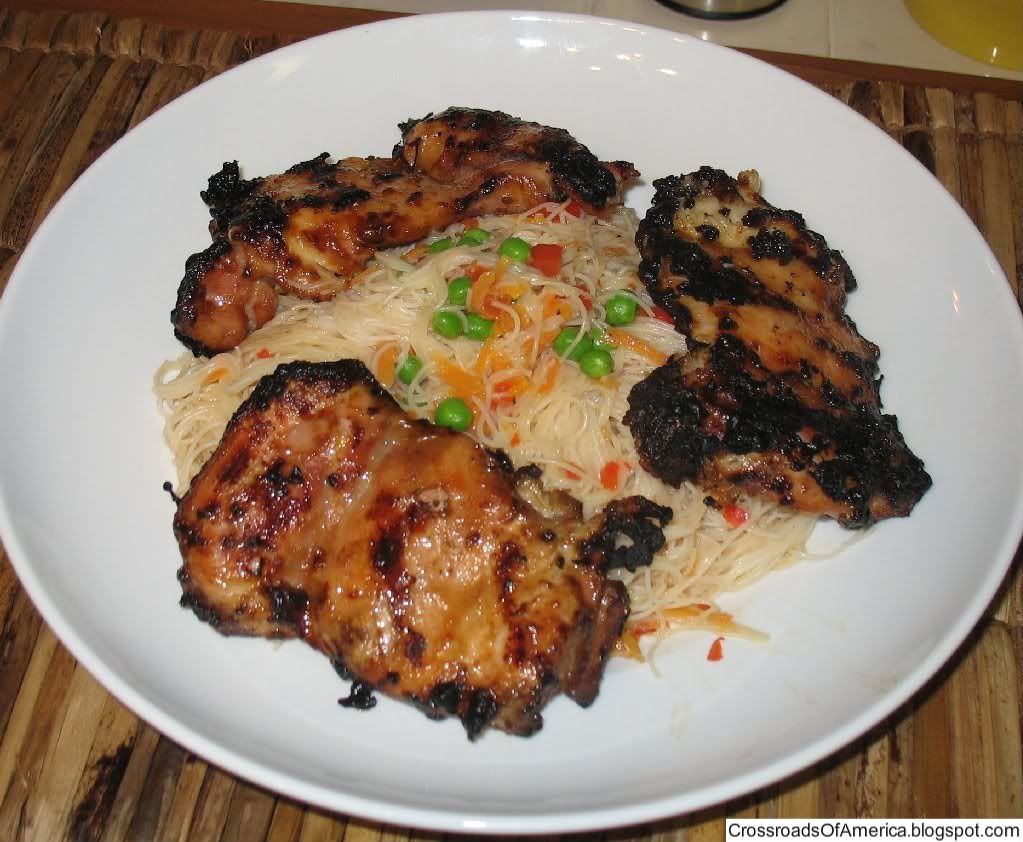 This chicken has great taste. It pairs well with the noodles. The original recipe came from
Nibble Me This
.
Makes: 2 servings
Prep time: 2 hours
Cook time: 15 minutes
Printable Recipe
Ingredients:
4 boneless, skinless chicken thighs
1/2 cup teriyaki sauce
3 T peanut butter
1 dried red chili pepper, crushed (or substitute 2 teaspoons red chili pepper flake)
Thai noodles (see below)
1. Combine the sauce, peanut butter and pepper. Place chicken in a baggie and add the liquid. Marinade in fridge for 2 hours.
2. Heat grill over high heat. Shake of excess marinade and grill chicken 5 minutes per side. Reduce heat, and finish cooking chicken over indirect heat, about 5-10 more minutes.
Thai Noodles
Makes: 4 servings
Prep time: 5 minutes
Cook time: 5 minutes
Ingredients:
8 oz noodles, cooked
1/2 cup chicken stock
3 t teriyaki sauce
3 t peanut butter
1 1/2 t honey
1 1/2 t fresh ginger, grated
1 t red pepper flakes
1/4 cup peas (if frozen, thaw first)
1/4 cup carrot, shredded
1/4 cup red bell pepper, diced
1. Heat a wok over medium high heat. Add the stock, teriyaki sauce, peanut butter, honey, ginger, bell pepper and red pepper flakes. Mix well.
2. Add the noodles, peas and carrots. Mix to coat. Heat through, then remove from heat.