Oh my these meatloaves are good. The kind of good you dream about the night after you've had them. You can hardly sleep in anticipation of the leftovers... if there are any.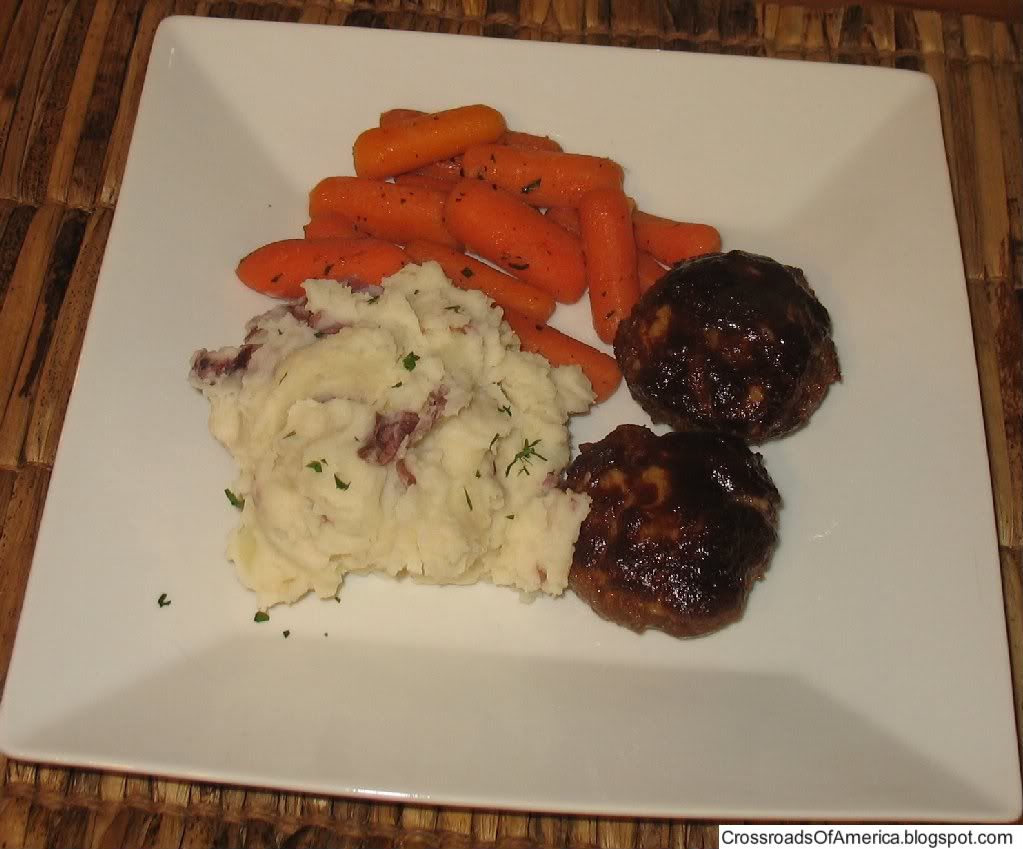 You can modify the heat to suit your tastes by using a different salsa in the sauce/glaze.
And the mashed potatoes? They rock too. On the side we had
sauteed carrots
.
The original recipe can be found
here
.
For the meatloaves:
Makes: 16 mini meatloaves
Prep time: 15 minutes
Cook time: 20 minutes
Printable Recipe
Ingredients:
2 lbs ground beef
1 medium white onion, chopped
2 ribs celery, chopped
1 green bell pepper, chopped
1 large egg
1/2 T milk
1 cup plain bread crumbs
2 T Montreal Steak Seasoning (see below or use McCormick's)
1 cup barbecue sauce (I used Russ & Franks Sassy)
1/2 cup salsa (I used Mrs. Renfro's Habanero)
1 T Worcestershire sauce
1. Preheat oven to 450 F.
2. Place onion, celery and green pepper into a blender. Pulse until chopped, but not quite pureed. Squeeze out any excess moisture.
3. Place beef into a large bowl. Add onion mixture.
4. Whisk egg with milk and add to beef, along with the bread crumbs and steak seasoning.
5. In a separate bowl, combine the barbecue sauce, salsa, and Worcestershire sauce. Pour half of the sauce onto the meat and combine all ingredients well. Reserve the remaining sauce.
6. Spray 2 1/2 cup muffin pans with non-stick spray. You'll need about 16 muffin cups. Spoon the meat mixture into each cup, filling almost completely. Spoon remaining sauce over each cup.
7. Bake 20 minutes or until centers are done.
For the potatoes:
Makes: 8-10 servings
Prep time: 5 minutes
Cook time: 35 minutes
2 1/2 lbs red potatoes, unpeeled
3 cloves garlic, peeled
2 T butter
1/2 cup milk
1 t salt
1/4 cup fresh grated Parmesan cheese
1. Place the potatoes and garlic in a large pot and cover with water. Bring to a boil and continue cooking for 25 minutes or until potatoes are done.
2. Drain potatoes and let cool slightly.
3. Place potatoes in a large bowl. Add butter, milk, and salt and mash until potatoes are the desired consistency.
4. Stir in cheese and serve.
For the steak seasoning:
Makes: About 1/2 cup
Ingredients:
4 T salt
1 T black pepper
1 T dried minced onion
1/2 T dried minced garlic
1/2 T red pepper flake
1/2 T dried thyme
1/2 T dried rosemary
1/2 T dried fennel
1. Place all ingredients into a spice grinder and grind until a coarse powder.