We had a pretty bad ice storm come through the area the other night. We needed some good, stick-to-your-ribs hearty food, and this Mexican pizza fit the bill! We made our own dough and taco seasonings, but you can use a store-bought ones if you wish. Our pizza didn't brown up like usual, but it was crispy good!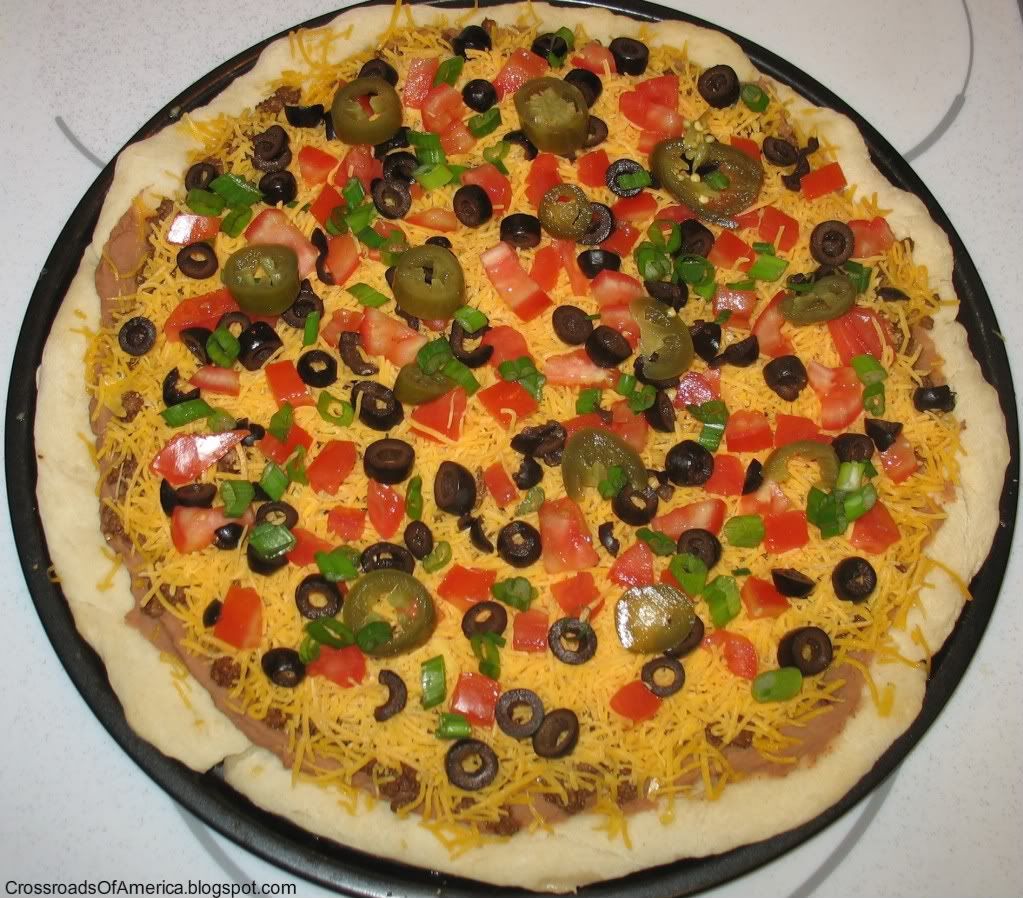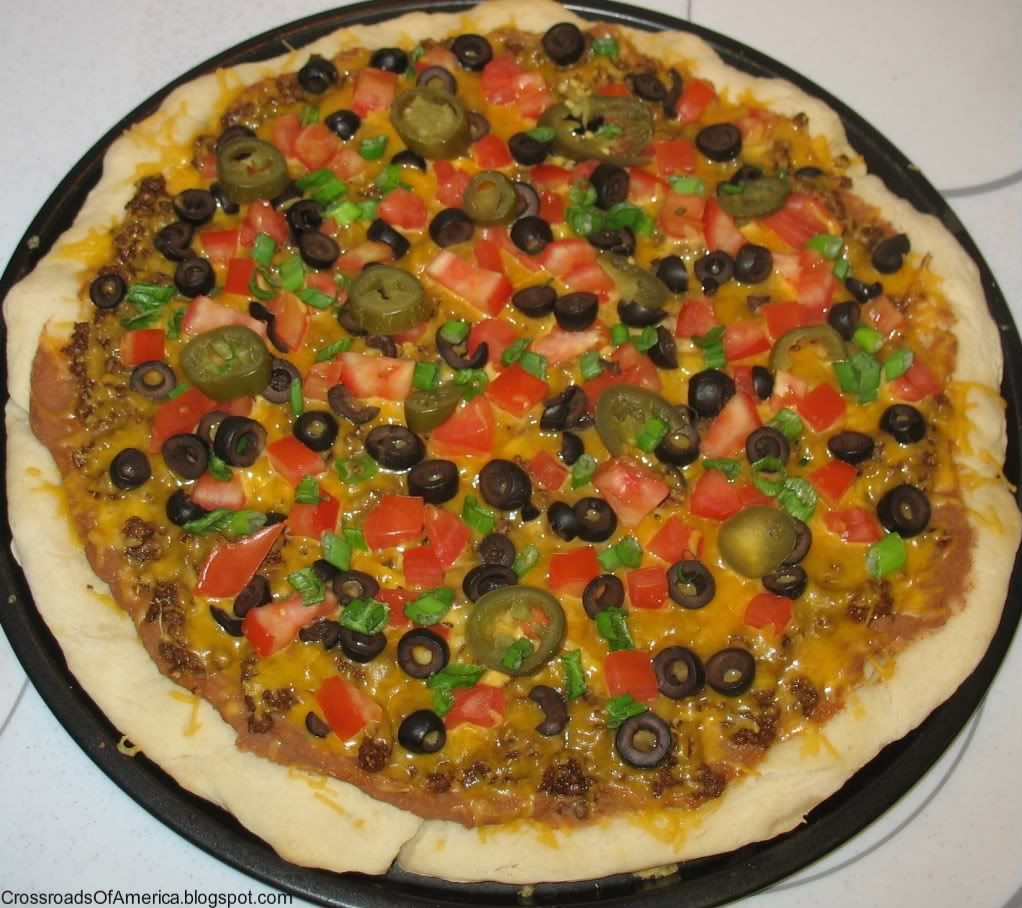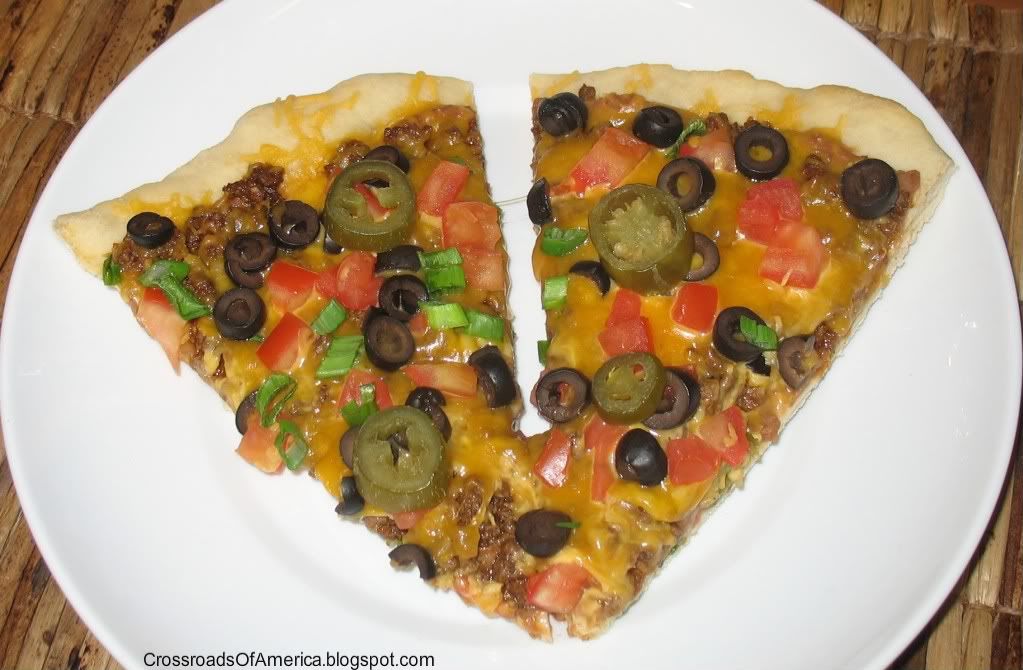 Use whatever toppings you want! We found the original recipe over at
Real Mom Kitchen
.
Makes: 4 servings
Prep time: 5 minutes
Cook time: 40 minutes
Printable Recipe
Ingredients:
1 lb ground beef (or Mexican chorizo), crumbled
1 pizza dough (see below or use a store-bought dough)
2-3 T taco seasoning mix (see below or use 1 package store-bought)
1 16oz can refried beans
1/2 cup tomatoes, seeded and chopped
2-3 cups shredded cheddar cheese
1 2.25 oz can black olives, sliced and drained
4 green onions, chopped
Pickled jalapeños, to taste
1. Preheat oven to 375 degrees F.
2. Brown ground beef in a large skillet. Drain. Add taco seasoning and mix well. Remove from heat.
3. Place dough on a pizza stone or pan. Bake for 10-15 minutes or until slightly crispy.
4. Place the refried beans in a bowl and microwave for 45 seconds-1 minute or until spreadable. Spoon over the top of the dough and spread out like you would a tomato pizza sauce.
5. Top beans with beef. Add cheese, tomatoes, black olives, green onion and jalapeños.
6. Bake for another 5-10 minutes or until the cheese is melted. Cut into slices and serve.
Basic Pizza Dough
Makes: Enough for 1 large pizza
Prep time: 5 minutes
Cook time: 1 hour 45 minutes
Ingredients:
1 cup warm water
2 1/2 t active dry yeast
1 t sugar
Olive oil
3 cups all-purpose flour
1 t salt
1. Combine the water, yeast, sugar and 1 tablespoon of olive oil in a large bowl. Stir. Let sit until foamy, about 5 minutes.
2. Add the salt and 1 1/2 cups of the flour to the bowl and mix by hand. Continue adding flour 1/4 cup at a time, mixing well each time. Tough will be slightly sticky. Form into a large ball.
3. Turn dough out onto a lightly floured surface and knead until smooth but still sticky, 3-5 minutes.
4. Drizzle 1-2 teaspoons of olive oil into a large bowl and spread along sides and bottom until the bowl is well-coated. Add the ball of dough, rolling it around inside the bowl to coat it completely in the oil. Cover bowl with plastic wrap and place somewhere warm. Let rise 1 1/2 hours until doubled in size.
5. Punch dough down before using.
Taco Seasoning Mix
Makes: 1/2 cup
1/4 cup dried onions, minced
1/4 cup chili powder
1 tablespoon salt (or less)
4 teaspoons cornstarch
1 tablespoon dried garlic, minced
1 tablespoon cumin, ground
1 tablespoon red pepper flake (or more)
2 teaspoons beef bouillon granules
1 1/2 teaspoons dried oregano
1. Combine all ingredients in a bowl and mix well. I prefer to then transfer it to a spice grinder and give it a little grind so the resulting mix is a little finer.
2. To use, add 2-3 tablespoons to every 1 pound of ground beef, along with 1/3-1/2 cups of water.
3. The mix will keep for up to a year in an airtight container in a pantry or closet.