This is a very tasty dish. The cheesy polenta really went well with the tender pork slices.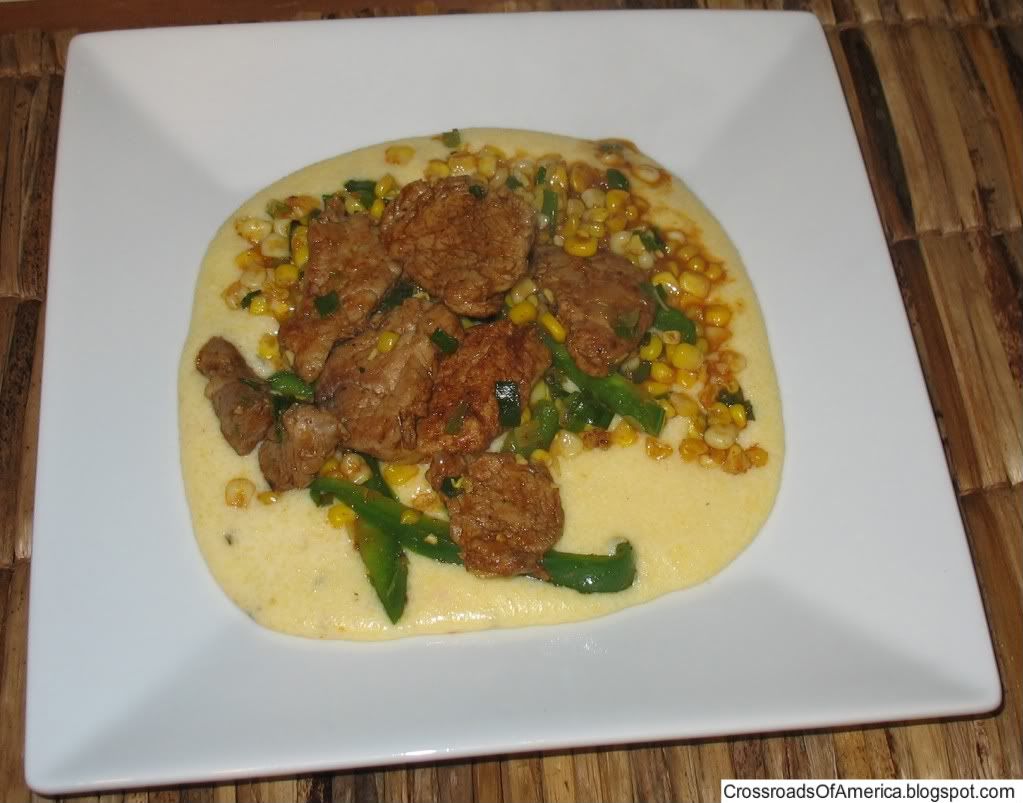 You can cut the pork into thinner pieces, if you want. I decided to do something different and keep them more silver dollar-sized. The
original recipe
came from
Rachael Ray's magazine
.
Makes: 4 servings
Prep time: 10 minutes
Cook time: 20 minutes
Printable Recipe
1 1/2 lb pork tenderloin, cut into thin strips
3 T olive oil
1 T chili powder
1 large bell pepper, cut into thin strips
1 bunch green onions, chopped
3/4 cup instant polenta
1/2 cup heavy cream
4 oz pepper jack cheese, cut into 1/4" cubes
1 can corn kernels
1. Bring 2 1/2 cups of water to a boil in a saucepan. Add the polenta, 1/4 teaspoon salt, and some white pepper and whisk well. Cook for 2 minutes. Reduce heat to low and add in the cream and cheese cubes. Stir, then cover and remove from heat.
2. Heat 2 tablespoons of the olive oil over high heat in a large skillet. Add the pork and cover with the chili powder. Add 1/2 teaspoon of salt and 1/4 teaspoon black pepper. Cook until the meat is browned and cooked through. Remove to a plate.
3. Add the remaining olive oil, the green pepper, and the green onions and cook until just starting to get tender.
4. Add the corn add heat through. Add the pork back to the skillet and heat.
5. Serve pork and vegetable mixture over polenta.